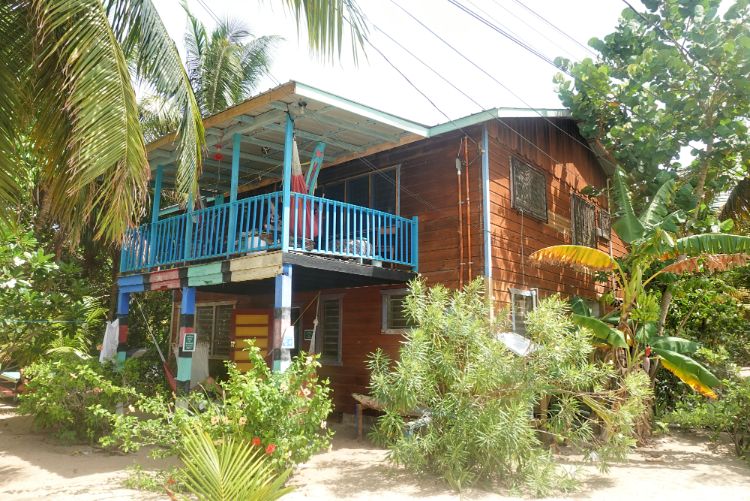 Belize: Affordable Lodging Recommendations in Placencia | Anda Di Hows Hostel – A Backpacker's Haven by the Beach, Just One Minute Away, Priced at $15 Regardless of Weekdays or Weekends
In the charming town of Placencia, Belize, several hostels cater to backpackers. However, many of them are situated quite a distance from the town center and key event locations like the Municipal Pier or Point Bay. This can pose a challenge for travelers who haven't rented a car or golf cart. Enter Anda Di Hows Hostel, a cozy retreat tailored specifically for backpackers. Despite its small size, the hostel exudes warmth and offers a well-equipped kitchen. If you're in search of an affordable and conveniently located backpacker hostel, Anda Di Hows Hostel is undoubtedly the top choice for you.
English is not my native language, but I am currently learning it. I am attempting to write articles in English to help others who may be searching for information. Some sentences might sound awkward or unusual, and I hope you understand. I welcome any questions you may have, and I'll be happy to respond.
Budget-Friendly Accommodation in Placencia – Anda Di Hows Hostel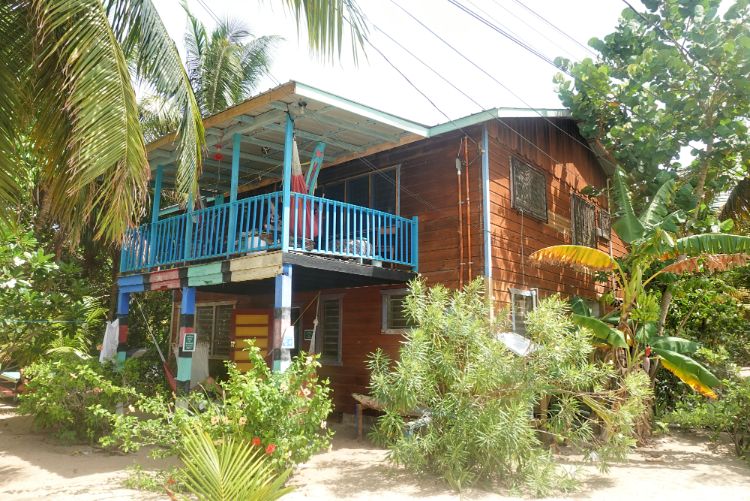 Anda Di Hows Hostel is a two-story building, with the owner's residence on the second floor and backpacker accommodations on the first. Situated along the coast, the hostel boasts expansive ocean views, allowing guests to immerse themselves in the scenic beauty of the sea right outside their doorstep. Popular bay points and the bus station are just a short five-minute walk away, eliminating the need for renting a golf cart and making it easy for you to reach key destinations.
Surrounded by lush greenery, the hostel's exterior resembles a hidden seaside cabin, making it easy to overlook its identity as a hostel unless you take a closer look.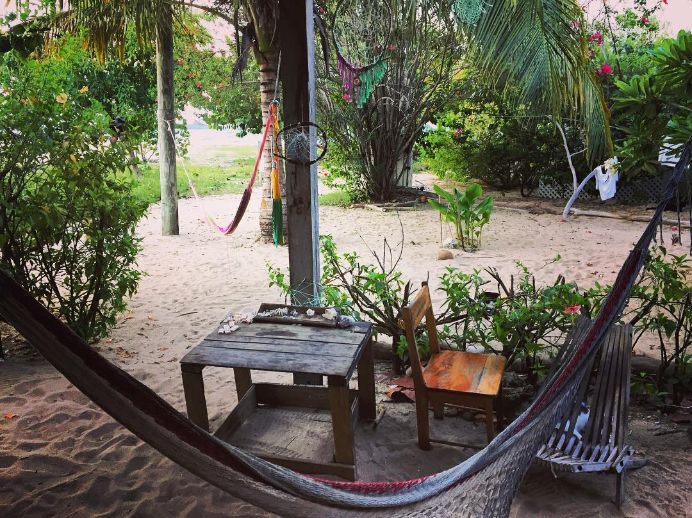 Upon check-in, all you need to do is contact the owner, Pandora, who will personally guide you through the hostel facilities and take you to your designated bed. The accommodation fee is settled upon check-out, fixed at $15 per night regardless of regular or peak days. On busy days, Pandora also offers tent and hammock options at $10.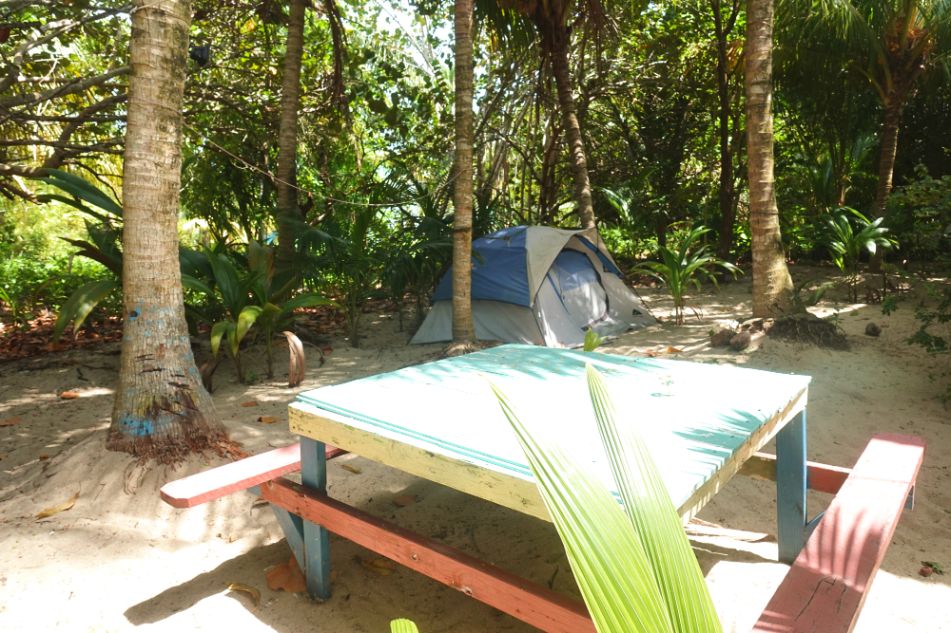 Having inquired about availability the night before Independence Day, the hostel was fully booked, so I ended up staying in an outdoor tent. Fortunately, Pandora had just acquired a new tent, equipped with a mattress, pillow, and bath towel, providing surprisingly comfortable outdoor sleeping accommodations. However, on the unfortunate morning of my stay, heavy rain revealed a leakage issue in the new tent. It is recommended to choose this option on sunny days.
Entering the hostel, you are welcomed by a cozy living room and social area, featuring complimentary floatation devices and kayaks for use.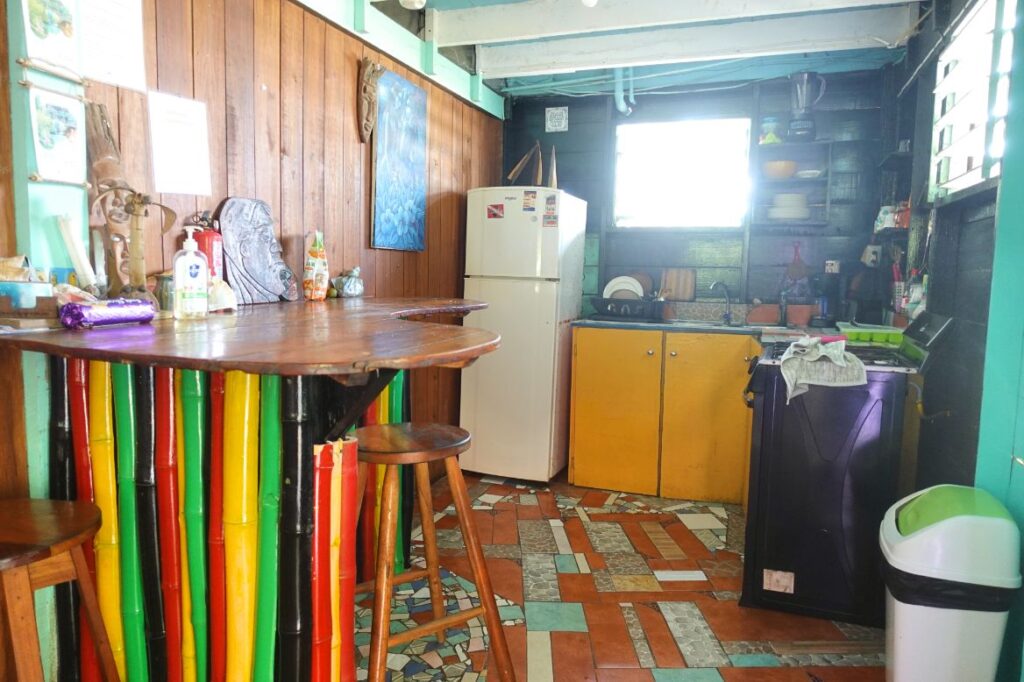 The compact and adorable kitchen is fully equipped with a refrigerator, gas stove, toaster, juicer, coffee machine, and more. There is also an outdoor barbecue grill.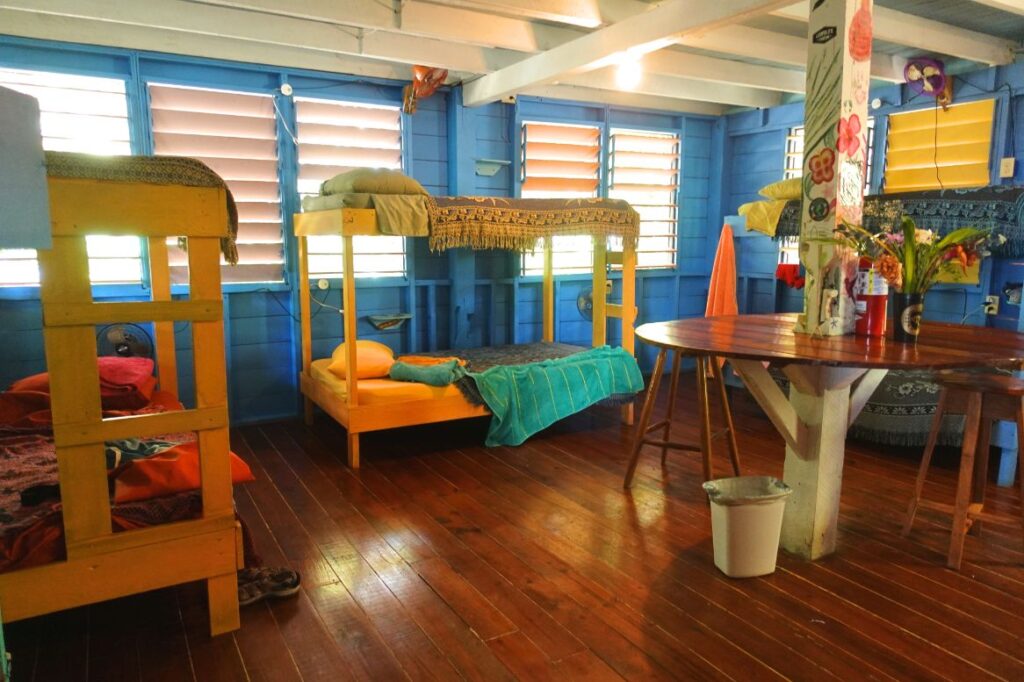 The entire hostel's color scheme seems to convey the warmth of Central American sunshine and its vibrant culture. Whether in common areas or private rooms, you can feel the strong local atmosphere.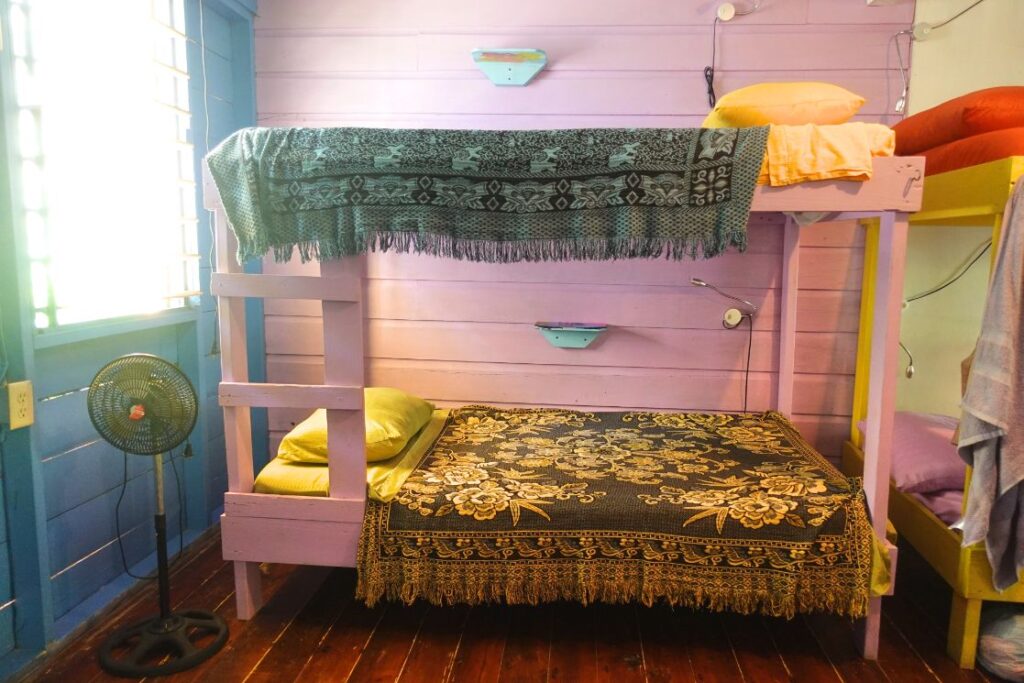 The hostel accommodates a total of 10 beds, each with thick mattresses, individual power outlets, and small fans.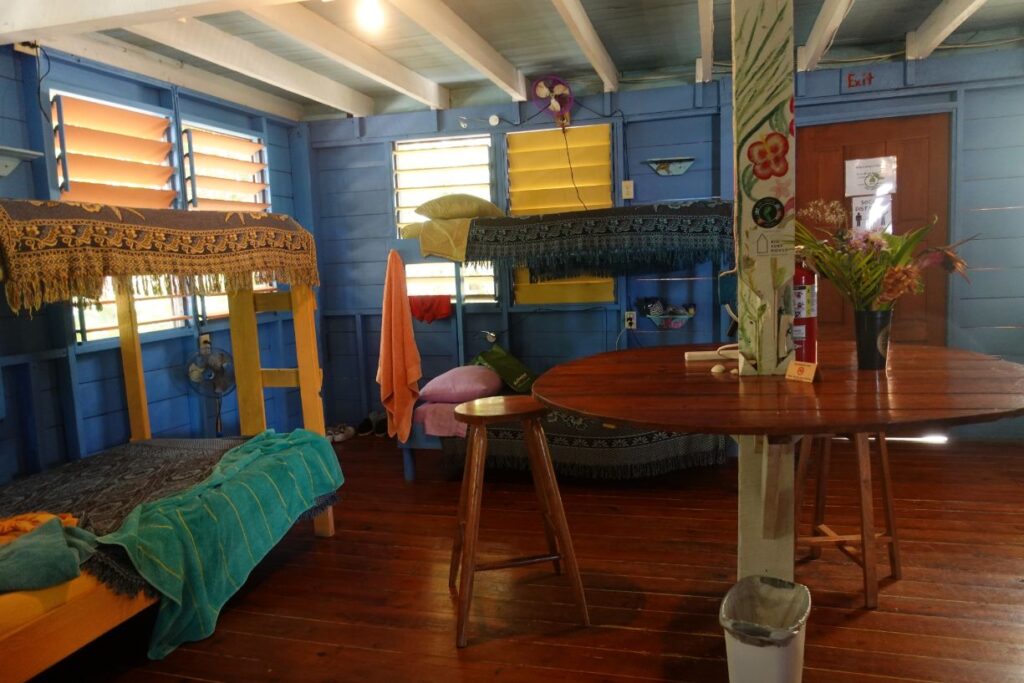 The spacious design of Anda Di Hows Hostel's rooms includes a central table surrounded by additional power outlets, creating an open and practical space. This clever setup not only offers convenient charging options but also enhances the overall comfort of the room.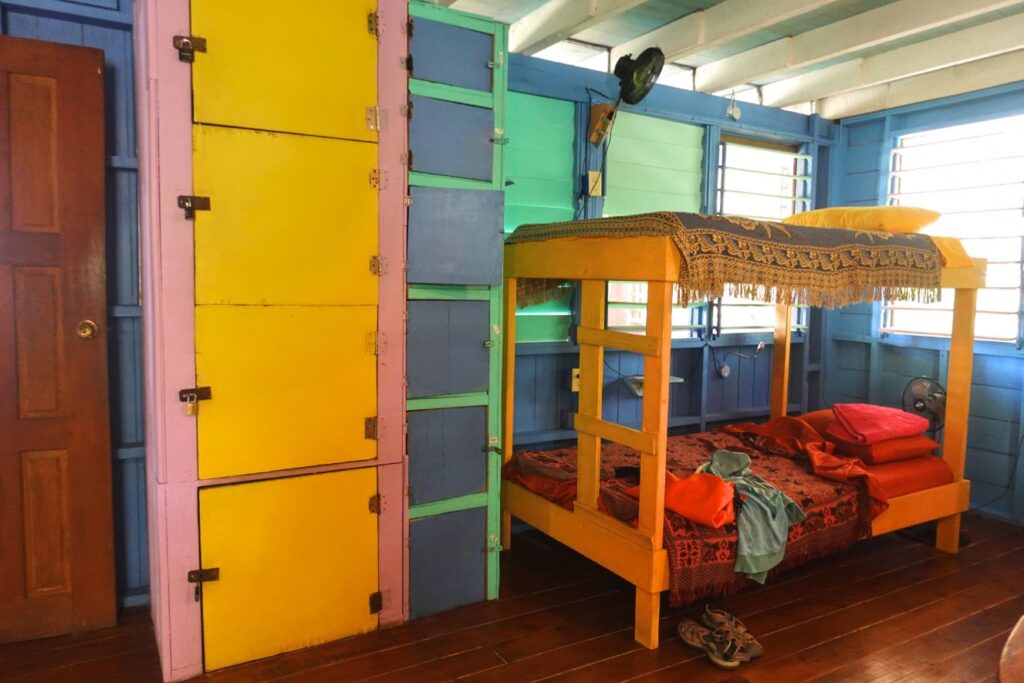 Lockable storage lockers are provided on the side; however, guests need to bring their own padlocks.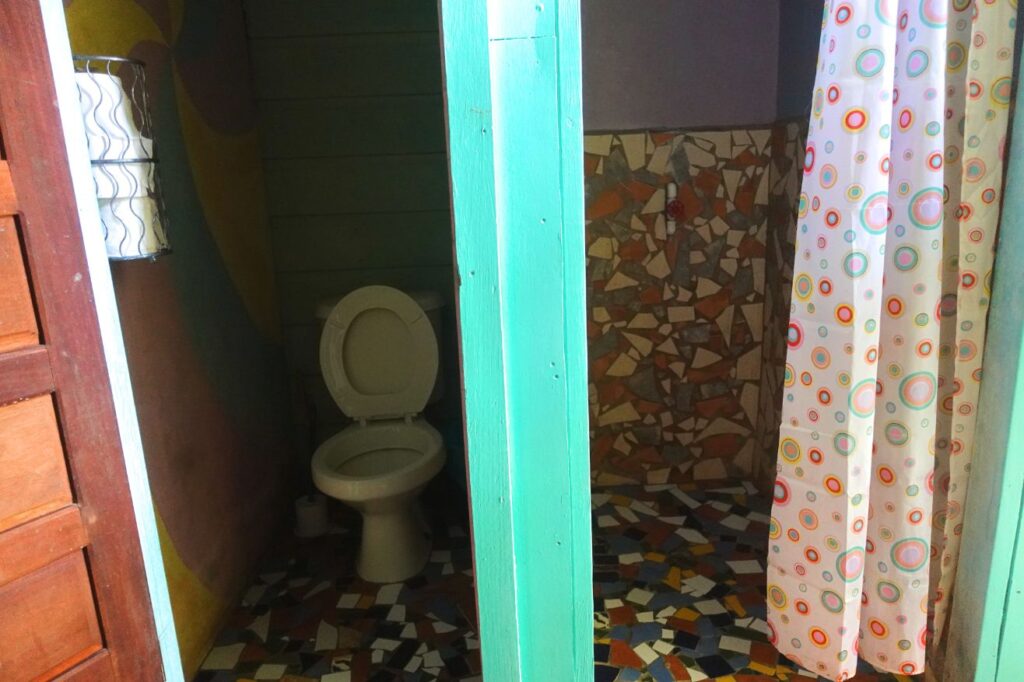 The bathrooms and showers are clean, but the shower only offers cold water, and the curtain is rather basic. This may be a slight inconvenience for those accustomed to mixed dormitory-style accommodations. Towels and toiletries are provided by the hostel.
To Recommend or Not: Anda Di Hows Hostel?
Pandora, the exceptionally warm-hearted owner of this hostel, left a lasting impression on me. During my first solo trip to Placencia for the Lobster Festival, the direct bus was full, requiring a transfer to reach Placencia. Upon learning about my situation, Pandora went out of her way to send me transportation information via WhatsApp, ensuring a smooth journey for me.
Overall, I highly recommend Anda Di Hows Hostel. It offers affordable prices, an excellent location, and maintains a high standard of cleanliness. Although the rooms are not equipped with air conditioning, the ventilation is excellent.
Anda Di Hows Hostel is undeniably one of the most budget-friendly youth hostels in the area. While we couldn't find the hostel on accommodation platforms during the Lobster Festival (it is now available for booking on major platforms), we are grateful for the recommendation from a fellow classmates who visited earlier. This allowed us to enjoy a truly great value accommodation experience.
For More Exciting Articles About My Adventures in Belize
September Activities in Belize | What's the Experience for Taiwanese in Belize, Celebrating Its 42nd Independence Day in Placencia?
Belizean Culinary Delights in Belmopan: Aria's Lounge, a 4.1-Star Garden-Style Local Cuisine Restaurant
Your Ultimate Guide to Belmopan Nightlife |Five Fusion Restaurant & Bar
Belize | San Ignacio Travel Recommendations: Unraveling the Adventure of Ancient Tombs at Actun Tunichil Muknal – One-Day Tour to the Mayan Temple Crystal Cave
Belize Travel Guide: Placencia, a Hidden Gem for Tourists・25 Years of Traditional Lobster Festival and Fresh Lobster Delights
Discover the Best Fresh Lobster Shopping Experience in Placencia, Belize: Buy and Cook Your Own Lobster at the Gym!