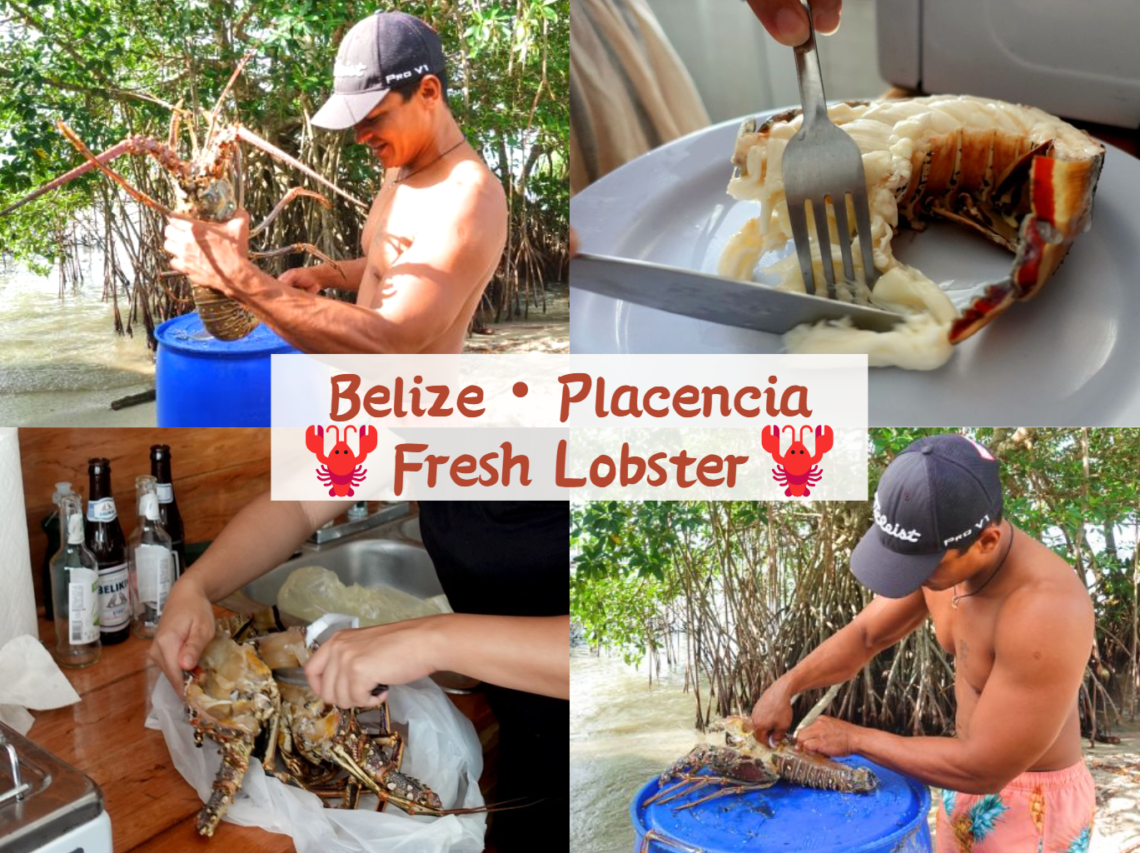 Discover the Best Fresh Lobster Shopping Experience in Placencia, Belize: Buy and Cook Your Own Lobster at the Gym!
Finally, the long-awaited lobster season in Placencia, Belize has arrived! After trying out three different restaurants without being able to taste the lobster dish I had been eagerly anticipating, I was filled with frustration. That's when I decided to take matters into my own hands and try my hand at cooking lobster myself! Before making the purchase, I relentlessly bothered my chef friends who graduated from prestigious culinary schools and sought recommendations from kind-hearted online foodies. Thanks to the kind recommendations from generous online friends, I managed to find a gym that sells lobster! In this blog post, I'll share my experience of purchasing fresh lobster at the gym and embarking on my very own lobster culinary adventure!
English is not my native language, but I am currently learning it. I am attempting to write articles in English to help others who may be searching for information. Some sentences might sound awkward or unusual, and I hope you understand. I welcome any questions you may have, and I'll be happy to respond.
Placencia Lobster Season in Belize
The lobster season in Belize's Placencia region runs from July to the end of February, while the lobster fishing ban is in effect from March 1st to June 30th annually. During this period, most lobster fishermen utilize free diving techniques to harvest the prized crustaceans from the sea floor. Armed with long sticks equipped with hooked ends, they skillfully and swiftly hook the lobsters, ensuring a sustainable and responsible fishing practice.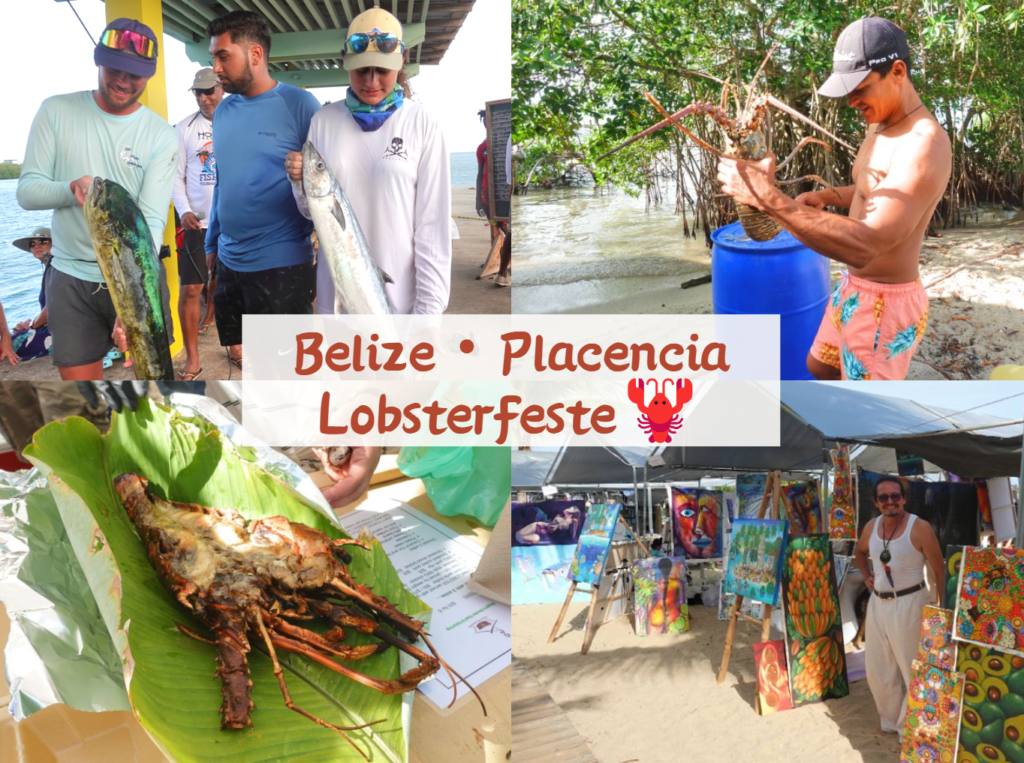 The annual Lobster Festival is one of Belize's highly anticipated and significant celebrations, drawing attention from all over. Belize hosts three major Lobster Festivals, located in Caye Caulker and San Pedro, as well as in Placencia.
Placencia Lobster Festival: A Celebration of Lobster Delights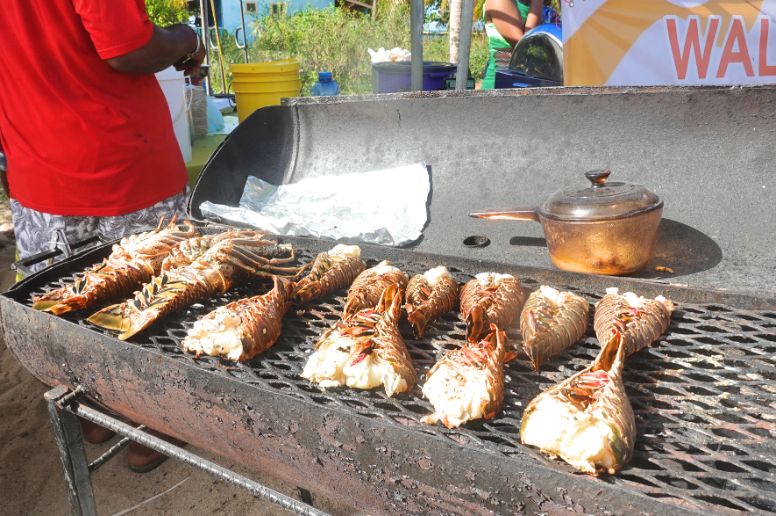 Before our visit to Belize, I did some research, and posts on Little Red Book showed that lobster prices in Belize were incredibly cheap, only 18 BZD per pound. I thought we would be able to enjoy a daily feast of lobster during our time in Belize. However, reality turned out to be quite different. The school we attended was located in the only non-coastal area in Belize, and the limited scholarships we received were all used to pay for rent, leaving us with no chance to indulge in the abundant seafood cuisine. It wasn't until May when we finally had the opportunity to travel to Caye Caulker that we realized it wasn't even the lobster season in Belize yet.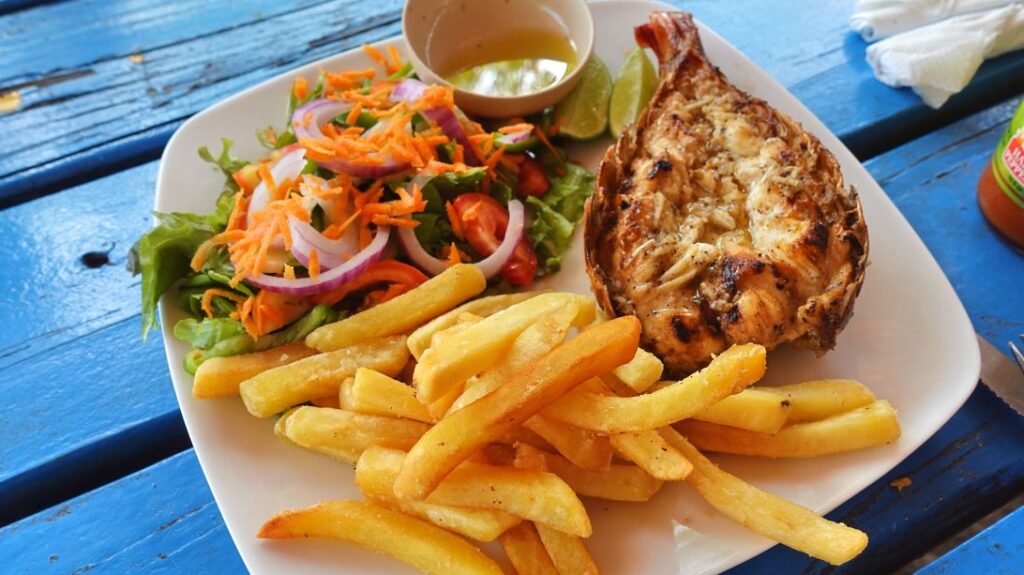 Our first visit to Placencia was primarily motivated by our desire to feast on lobster. However, upon arrival, we were taken aback by the higher-than-expected prices at the restaurants. On the first day, the four of us had lunch together at The Shak Beach Cafe , where we shared half a lobster at the cost of 80 BZD.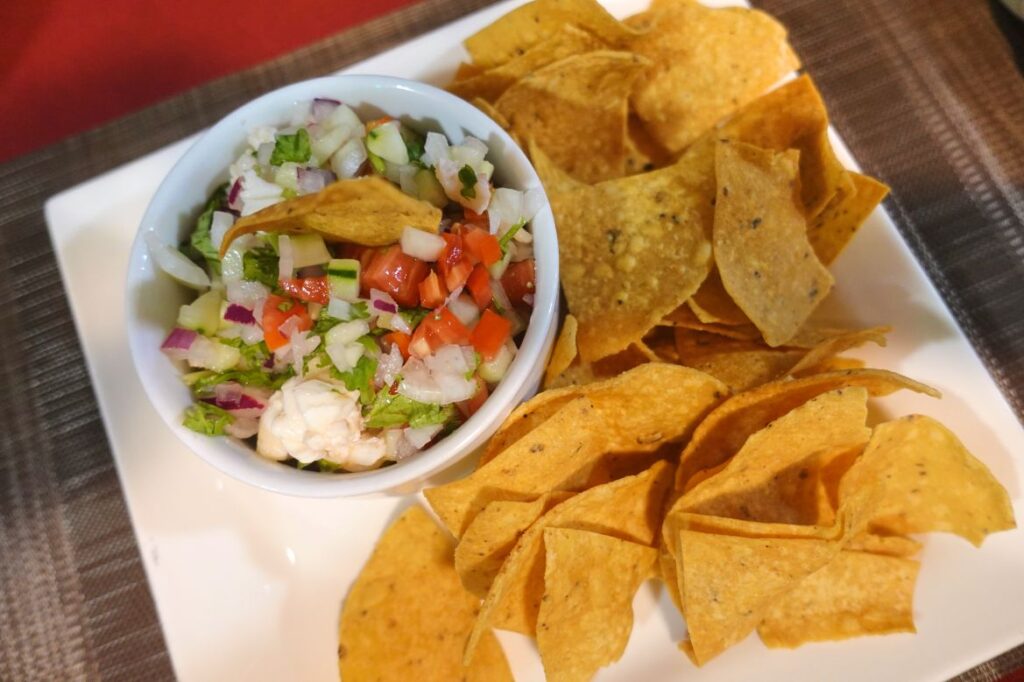 For dinner, following a recommendation on Google Maps, we headed to Dawn's Grill and ordered the Lobster Ceviche, which cost 32 BZD.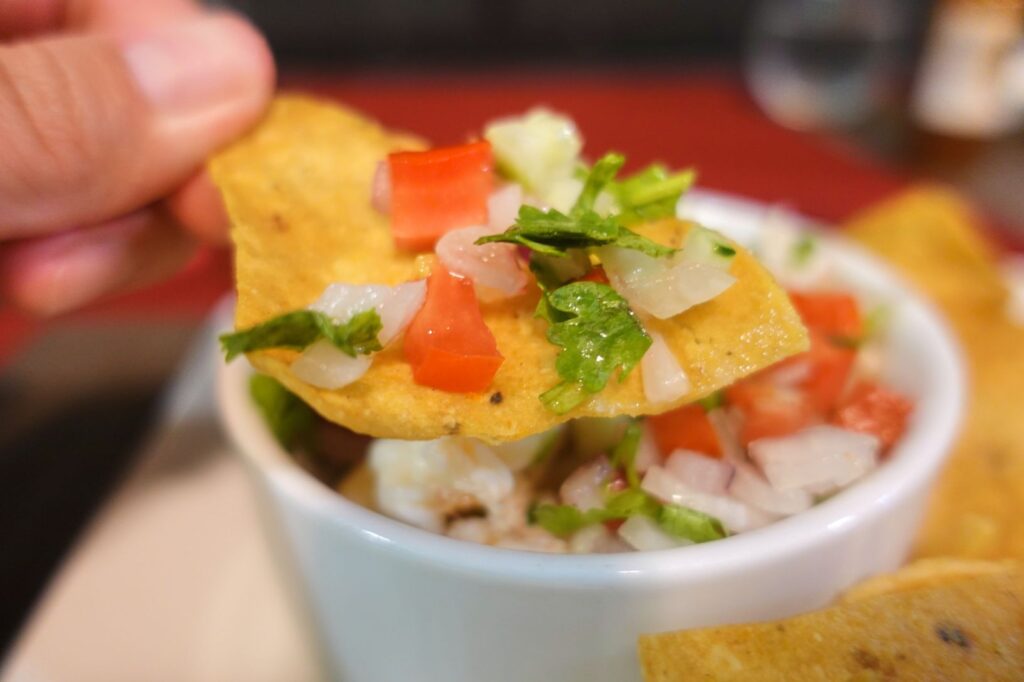 Ceviche is a common dish originating from the coastal regions of Latin America, with its roots traced back to Peru. Typically, it is prepared by marinating seafood in lime or lemon juice, along with a blend of various chili peppers and spices. In Belizean restaurants, this dish is frequently encountered. However, I must admit that the overwhelming lemon flavor almost entirely masked the original taste of the lobster, leaving us somewhat disappointed.
Fresh Lobster Shopping Recommendation – Buying Lobster at a gym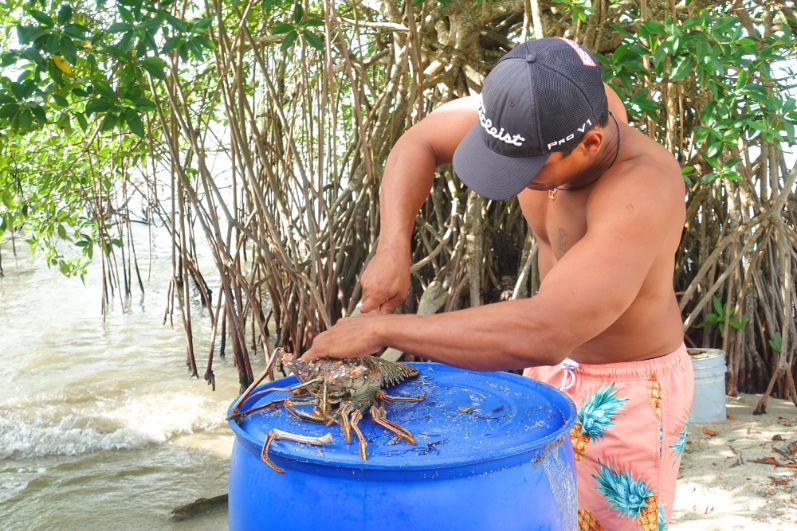 Frustrated by not being able to taste the lobster as we had hoped, and with the convenience of having a kitchen in our accommodation, we were inspired to try cooking lobster ourselves. So, we turned to the Belize Travel Facebook group to inquire where we could buy lobster.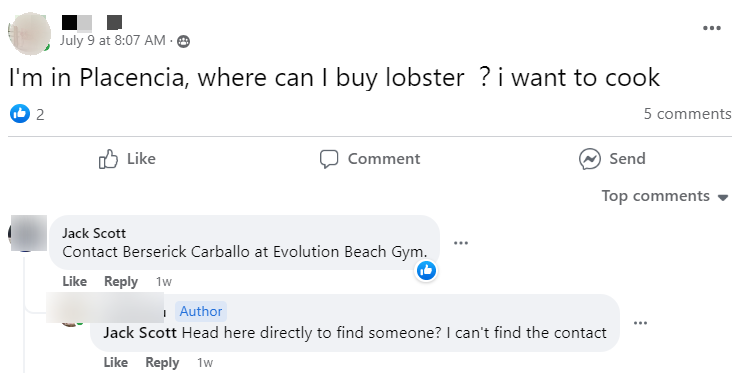 After posting my inquiry, I quickly received a response recommending that I look for a local gym. Although the person didn't provide any contact information, I found the suggestion quite confusing. Who would buy lobster at a gym? but feel a bit embarrassed since my English proficiency is limited, and I was reluctant to directly ask the gym if they sell lobster.
Evolution BEACH GYM
Adress: Placencia Rd, Placencia
Business hours:06:00–18:00
Whatsapp:501-6081633
Facebook
Feeling more and more awkward, I hesitated to approach the location directly and ask, "Is this the place?" Struggling to find a contact method, I was worried about how to proceed. However, just when I was at a loss, I came across the person's tweet in the Placencia News and Happenings Group . We arranged to meet the next morning to purchase the lobster.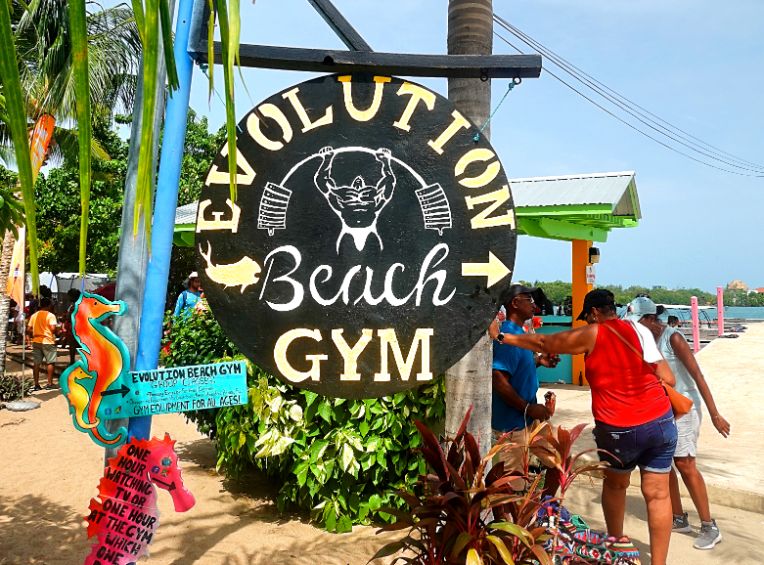 Arriving at the location, I had imagined a fish market near the sea and assumed that it might be a gym employee with multiple roles. However, to my surprise, the person was indeed selling lobster at the gym! It was an unexpected but intresting discovery.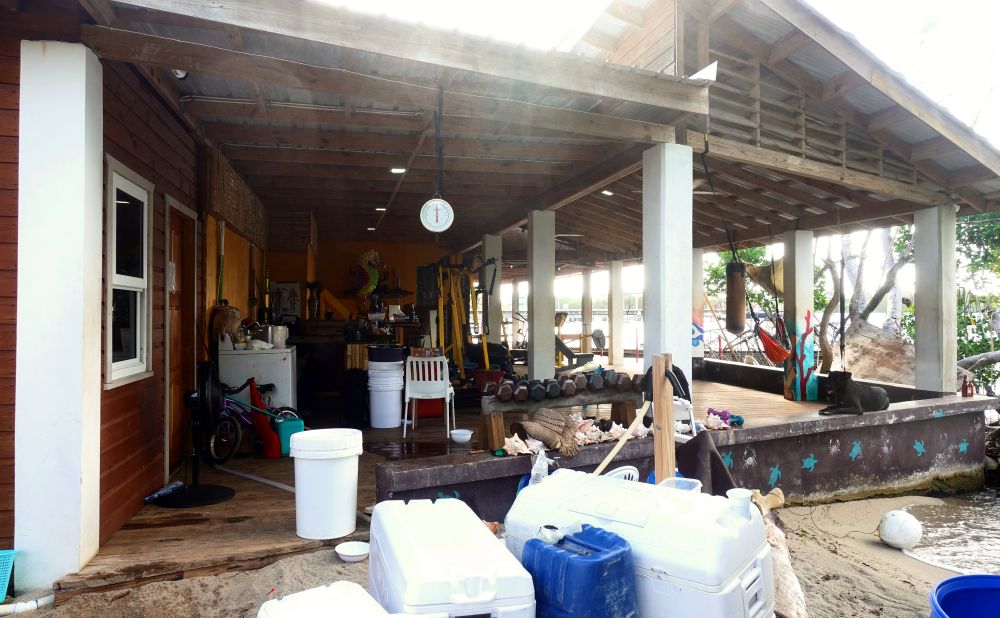 The Evolution BEACH GYM is located right by the beach, offering a unique experience where you can exercise while enjoying the breathtaking sea views. The nearby beach is dotted with fishing boats and containers for storing freshly caught fish, adding to the picturesque scenery. It's truly a one-of-a-kind setting that combines fitness and natural beauty seamlessly.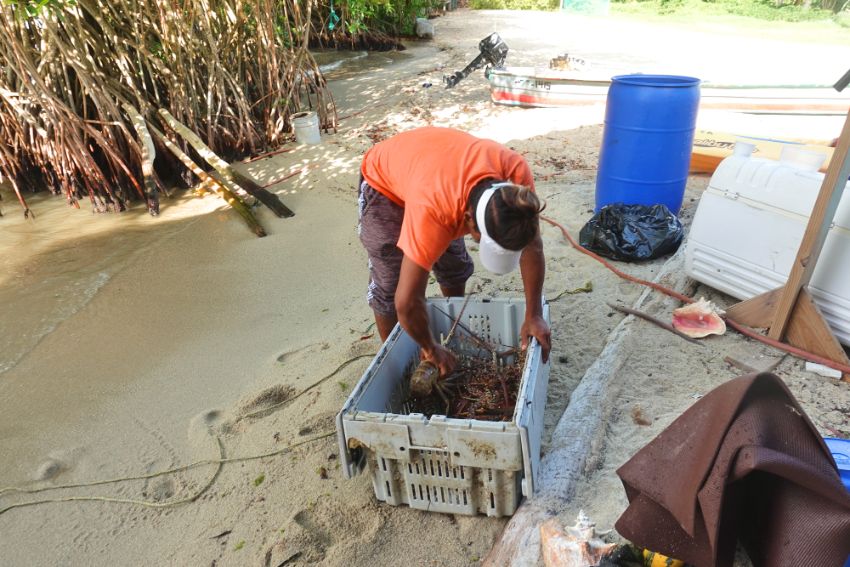 Upon our arrival, the staff swiftly selected two fresh lobsters from the container for us to choose. The container was still immersed in seawater, ensuring the freshness of the catch. The sight of the lobsters in such a natural and well-preserved state was a reassuring indication of the quality of our seafood selection.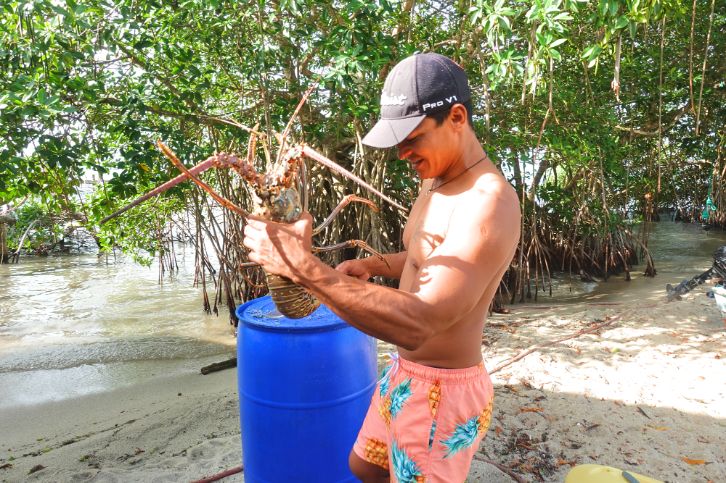 After selecting the lobsters, they were weighed to determine the price. Each pound of lobster was priced at 23 BZD.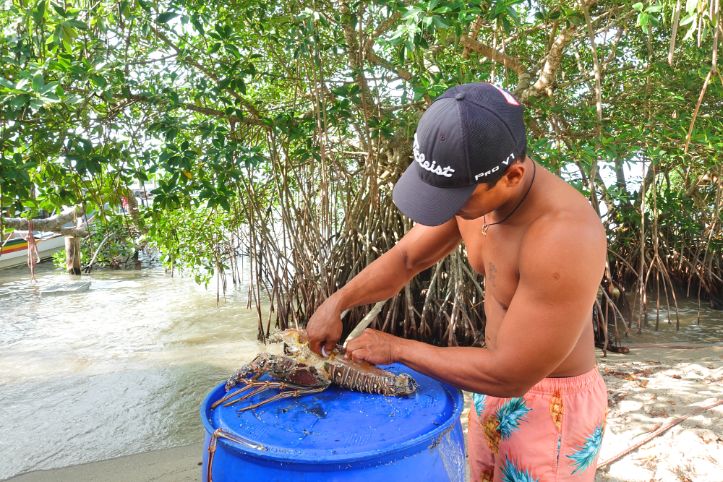 To our surprise, the lobsters we purchased that day were a hefty four pounds in total. We were excited about the feast that awaited us.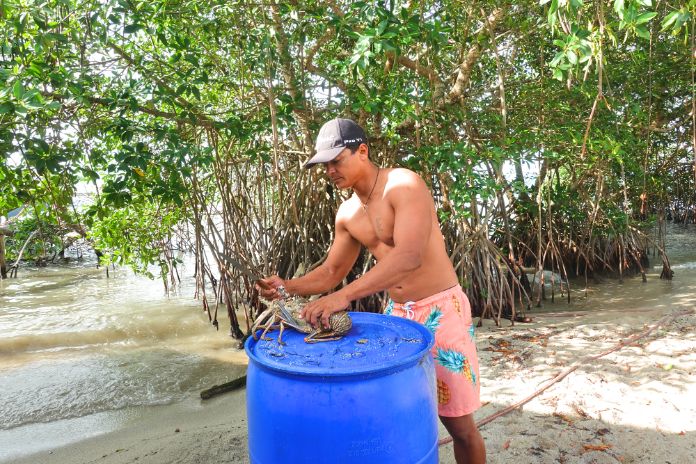 As novices in lobster cooking, we were grateful that Carballo, the shop owner, showcased his skilled craftsmanship. With ease and precision, he deftly handled the lobsters, demonstrating his professional and agile techniques. It was evident that he was well-versed in the art of preparing lobsters, which put us at ease and heightened our anticipation for the delectable meal ahead.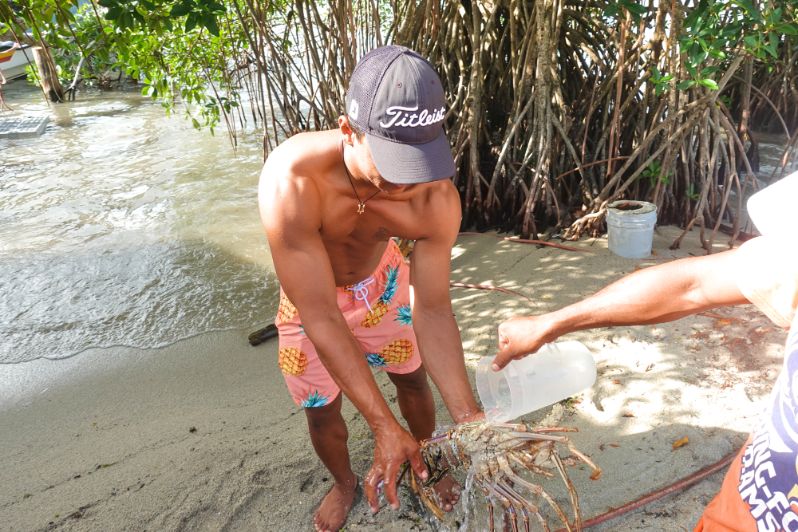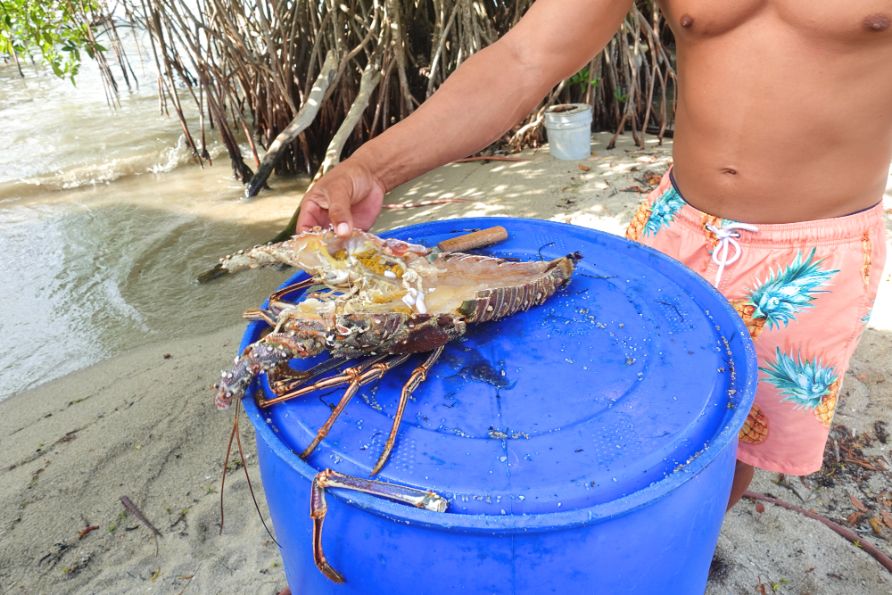 After slicing open the lobsters, Carballo meticulously cleaned them, ensuring that there were no unwanted parts left. As first-time buyers, we felt relieved that we didn't have to worry about how to handle the lobsters ourselves.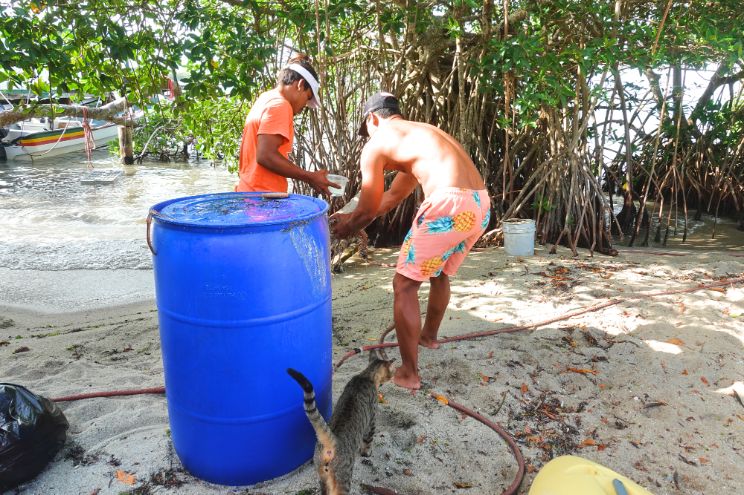 As our lobsters were nearing completion, a mischievous little cat approached, eyeing our big lobsters with curiosity and longing. It seemed like the enticing aroma of the seafood had caught the attention of this feline visitor. We couldn't help but chuckle at the adorable sight of the cat trying to get a taste of our delectable lobsters.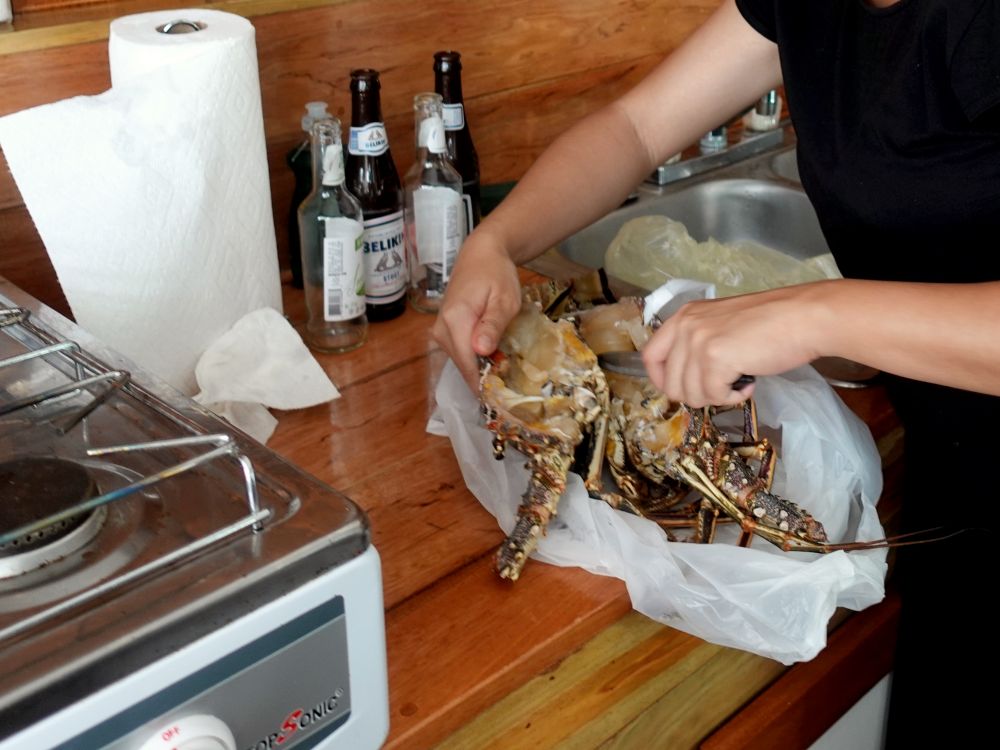 Back at the hotel, we couldn't wait to start cooking the lobsters. It was my first time handling lobsters, and I felt a bit nervous as I touched them. It was not as difficult as I had imagined, and soon, we had the lobsters ready for cooking.As we began cooking, we could still feel a slight movement from the lobsters. It was a bit nerve-wracking, and I must admit, I almost let out a scream!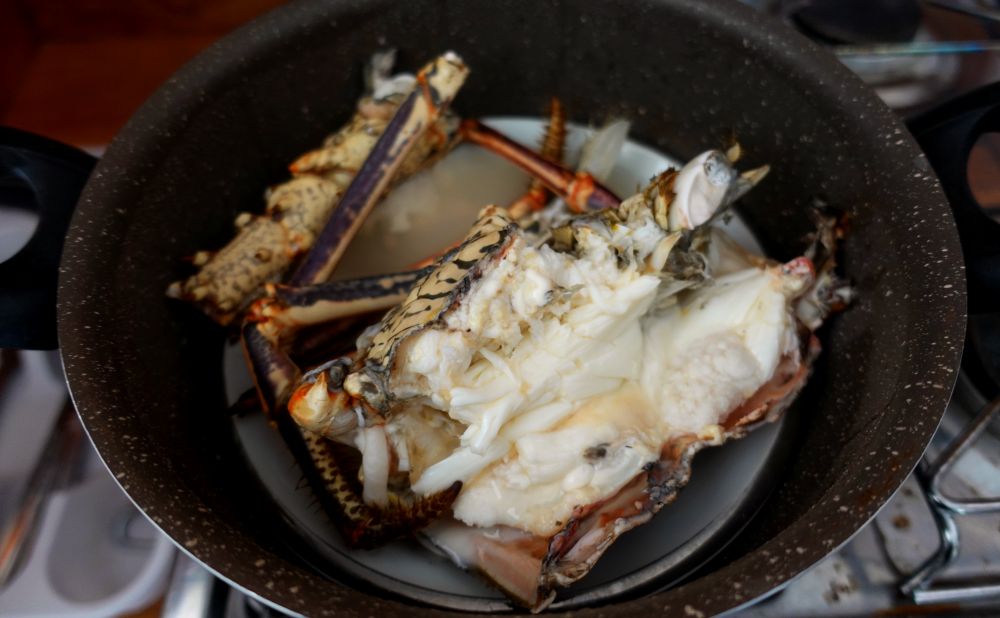 Divided by the limited size of our pan, we had to cook the lobsters in four batches. But with such fresh and flavorful ingredients, we knew they wouldn't need any extra seasoning. We carefully placed each lobster piece on a plate and covered it with the pan's lid. Through the gentle process of steaming, we were able to preserve the natural essence of the seafood, keeping it tender and succulent.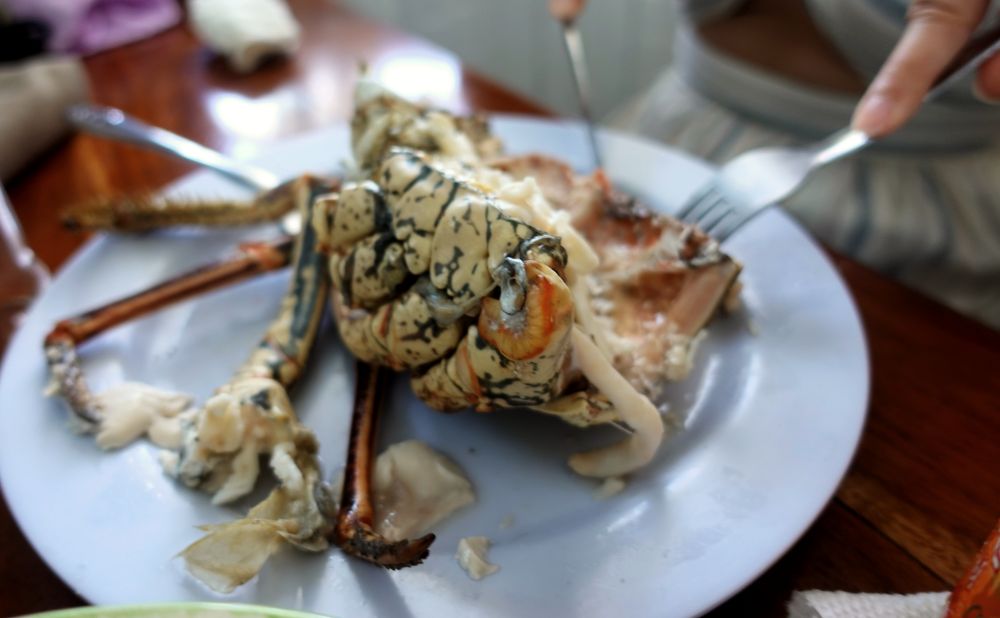 Indeed, cooking lobsters can be a bit nerve-wracking, especially considering their substantial size and the fine line between perfectly cooked and overdone. With every batch, we kept a close eye on the cooking time, ensuring that we struck the right balance between tenderness and doneness.Steaming proved to be an excellent method, as it allowed for gentle and even cooking, ensuring that the lobsters remained moist.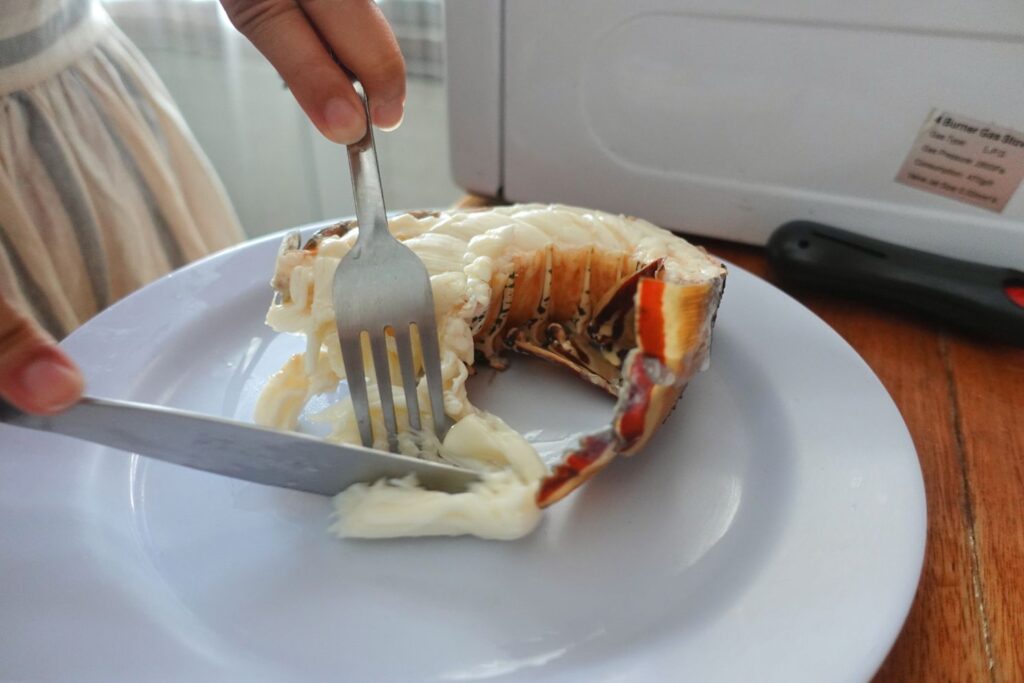 We eagerly plated the perfectly steamed lobsters and took our first bites. The taste was simply divine – sweet, juicy, and brimming with the essence of the sea. There were no overwhelming spices or heavy sauces, just the pure and natural flavors of the fresh lobsters. It was an unforgettable dining experience, and we savored every single bite.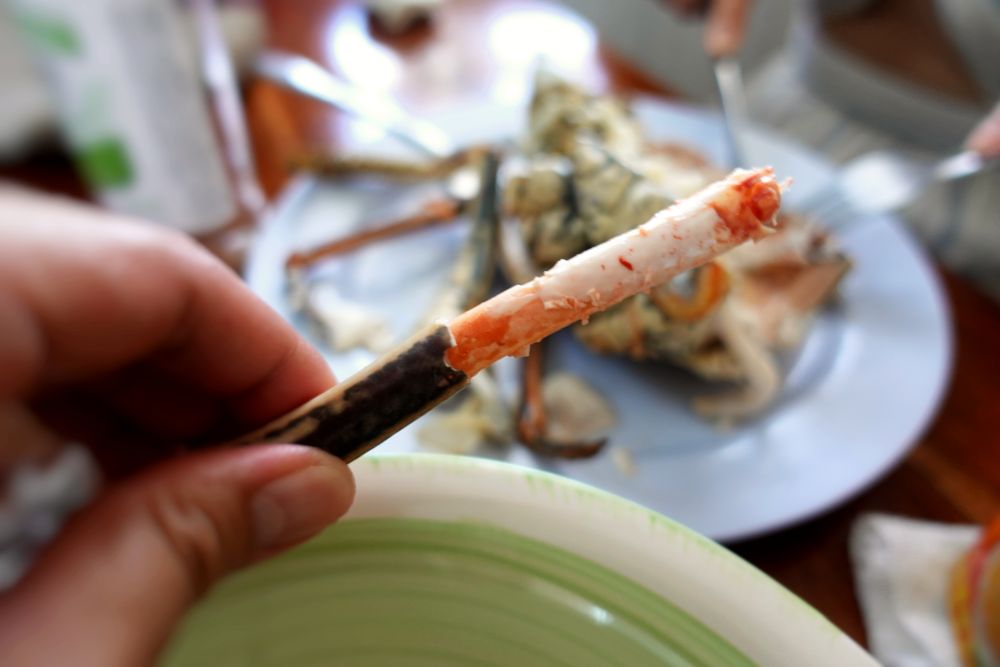 Indeed, our lobster-buying experience in Placencia was full of surprises and unexpected twists. Initially, we simply wanted to savor the authentic local delicacy, never imagining that we would stumble upon fresh lobsters in a fitness center of all places. It turned out to be a memorable and unforgettable adventure.It was a memorable experience, and we felt proud of ourselves for successfully cooking our first-ever lobster dish.This unexpected adventure not only satisfied our culinary cravings but also became a cherished memory of our trip. It reminded us that sometimes, the best experiences come from being open to surprises and embracing the unexpected.
As we reflect on our time in Placencia, we fondly remember the day we found fresh lobsters in an unlikely place "a gym" and how it turned out to be one of the most memorable highlights of our Belizean journey.