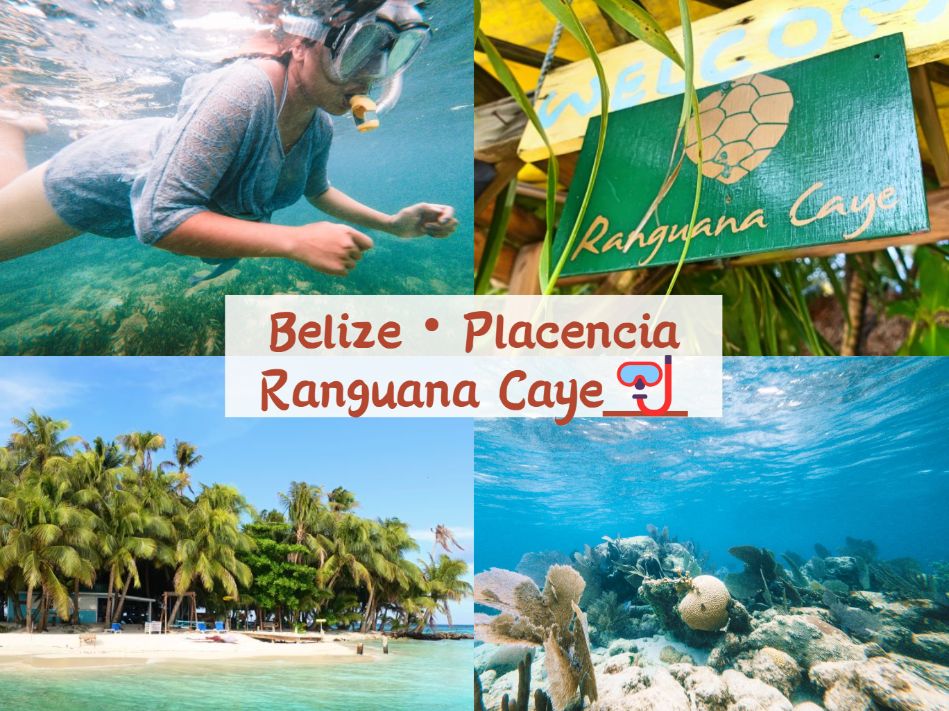 Discover the Best of Belize Placencia: Ranguana Caye Adventures, Top Accommodation Picks, and Must-Try Snorkeling Tours
This August, a local buddy from Placencia recommended me this insanely gorgeous island. Just in time for Belize's Independence Day in September, I made my third visit to Placencia. Thanks to the warm invitation of my new friend, I got the chance to spend two days and one night on Ranguana Caye, this awesome spot on Belize's must-visit list. The island totally swept me off my feet, adding another amazing memory to my Belize adventures.If you're seeking a secluded getaway away from the crowds, don't miss out on this blog post about Ranguana Caye.
English is not my native language, but I am currently learning it. I am attempting to write articles in English to help others who may be searching for information. Some sentences might sound awkward or unusual, and I hope you understand. I welcome any questions you may have, and I'll be happy to respond.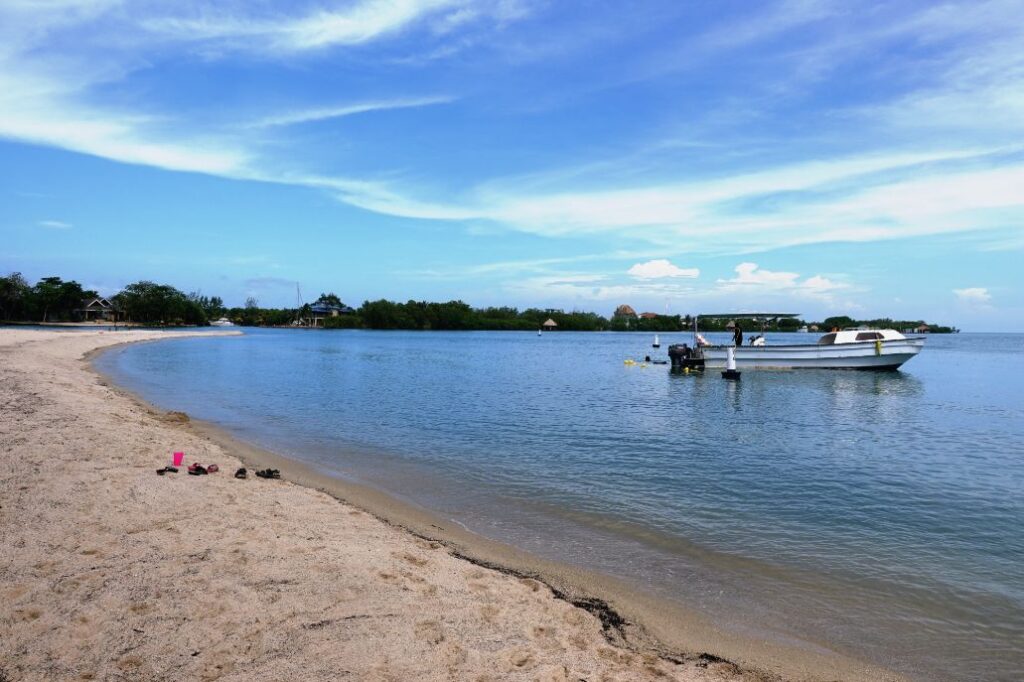 Placencia is one of the traveler-friendly areas in Belize, and solo female travelers don't have to worry too much about safety. This village is not only charming, with moderate and gentle sea waves, but the best part is that you can easily reach the Belize Peninsula without taking any boats.
Placencia boasts an exceptional geographical advantage and is rich in natural resources, with its most distinctive feature being the abundance of nearby islands. Among them are Silk Cayes、Moho caye、Laughing Bird Caye、King lewey's Island、Ivan's island、ray caye,, and many more. In comparison to the more well-known but commercially bustling islands of Caye Caulker and San Pedro in Belize, Placencia, with its private island charm, is unquestionably a destination worth exploring for a tranquil vacation.
Ranguana Caye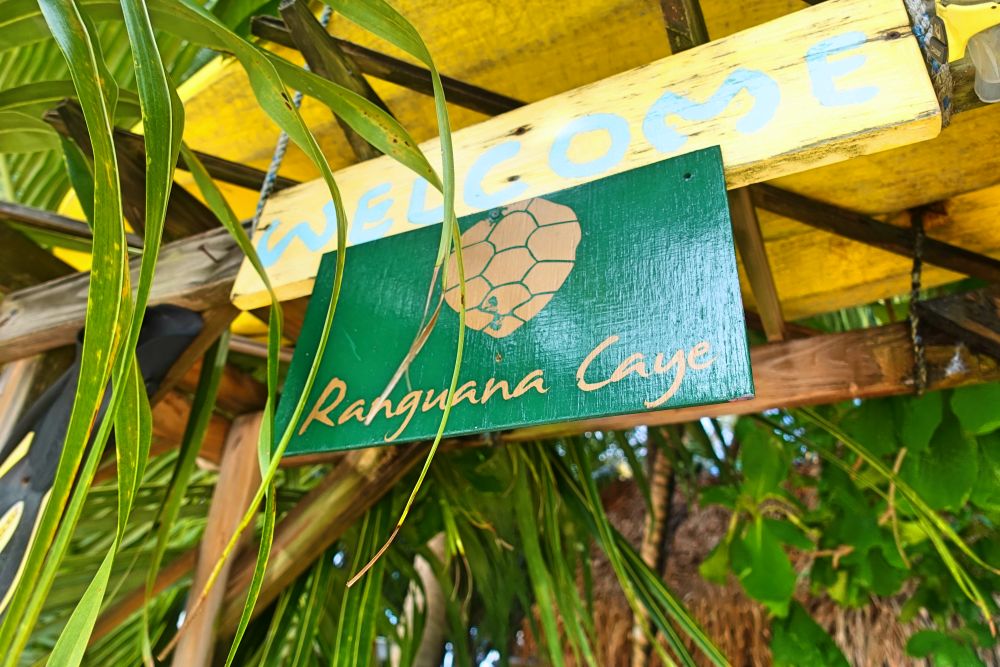 Ranguana Caye is a private island situated approximately 20 miles from Placencia, covering an area of around two acres. Located near the Belize Barrier Reef, it stands out as one of Belize's popular snorkeling islands.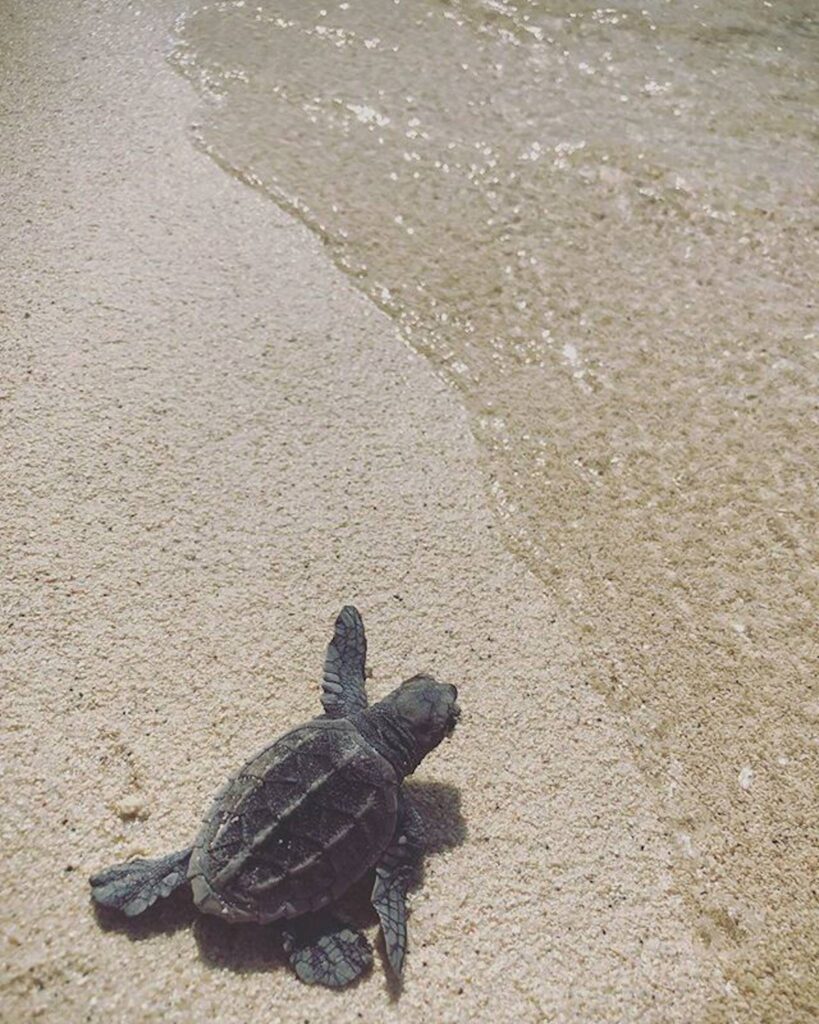 One of Ranguana Caye's most famous features is its turtle nesting area. The island serves as a protected zone for turtle nesting, and the best season to witness turtle hatchings is from August to October each year. However, encountering this natural spectacle requires a bit of luck. Unfortunately, this time, I was not fortunate enough to spot any turtles or check off that wish from my bucket list.
How to Get to Ranguana Caye?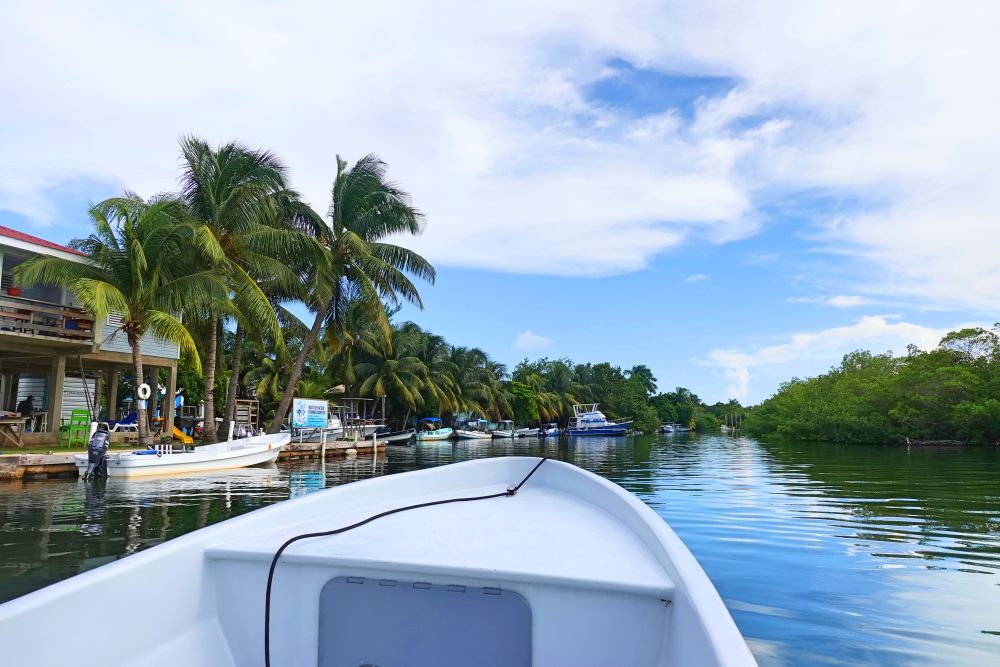 I took a boat near the MNM Service Station for Cars and Boats , right next to Hokey Pokey Water Taxi, located at the end of the local bus station. It was my first time exploring this area, and I was surprised to find out that it was actually a refueling station for boats.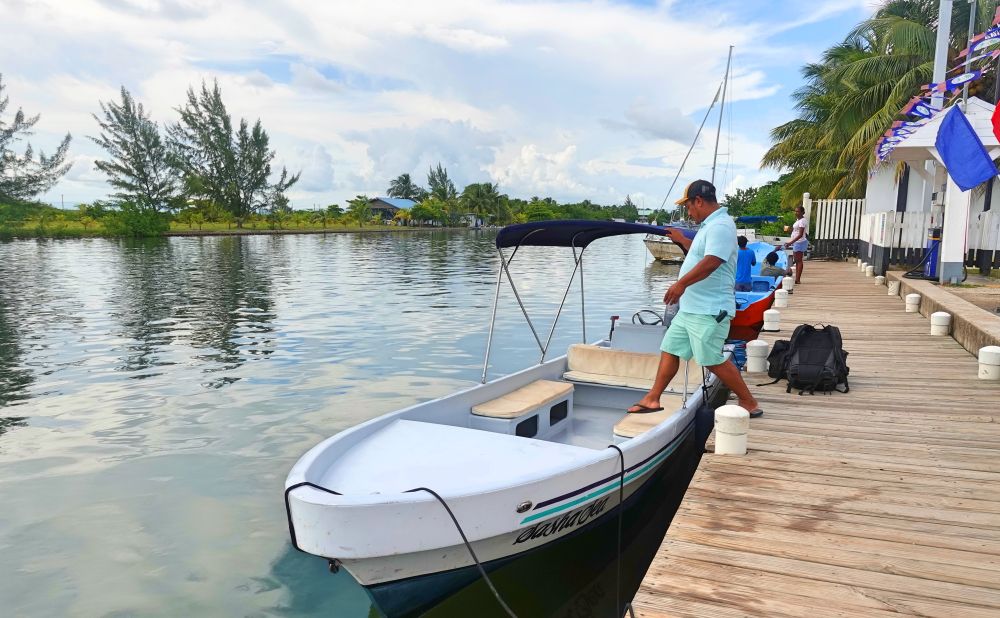 As soon as the scheduled time arrived, the boat quickly reached the agreed-upon location and was waiting for us.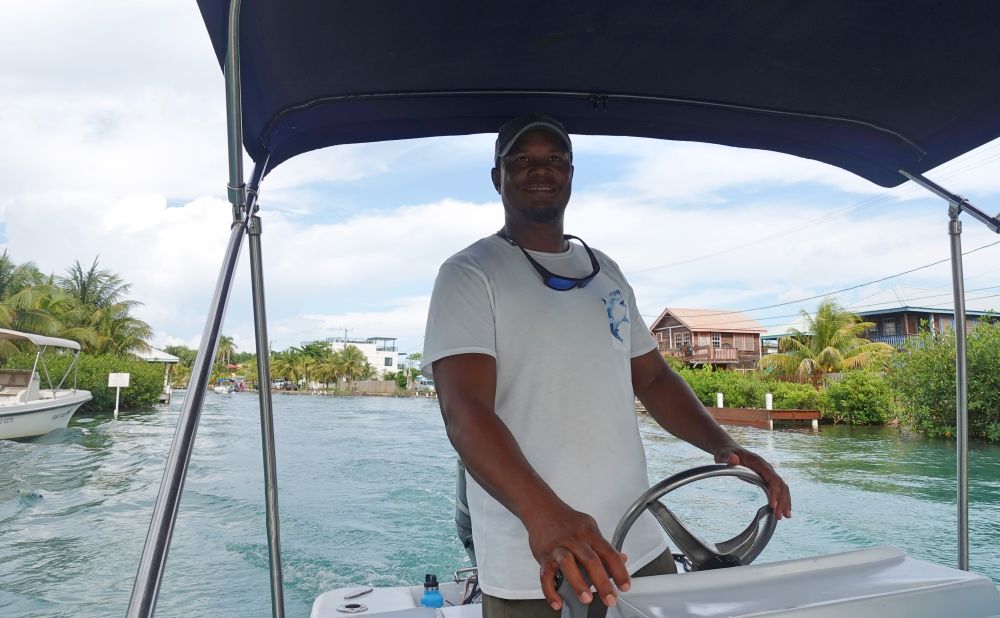 The journey from Placencia to Ranguana Caye takes approximately 30 minutes, depending on sea conditions and weather.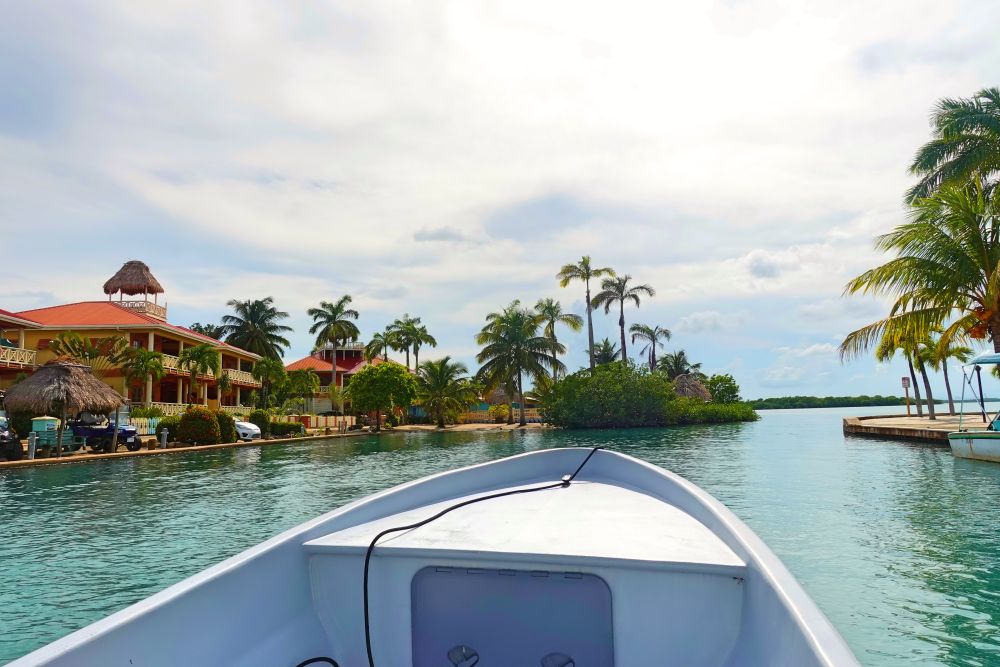 The weather was fantastic that day, and the boat ride was smooth, with plenty of islands to admire along the way.
For an overnight stay in one of the charming cottages on the island, I recommend booking directly with Ranguana Caye. They provide a complimentary boat service twice a week for overnight guests. You can even rent the entire island if you're feeling adventurous!
If you're staying at a local hotel in Placencia, you can also inquire about day trips to Ranguana Caye at their front desk or through various local tour operators.
Another option is to use third-party travel platforms to book a tour of Ranguana Caye. Several travel companies offer shallow water excursions to this beautiful destination.
Experiencing Paradise – A Must-Visit Ranguana Caye for Snorkeling Tours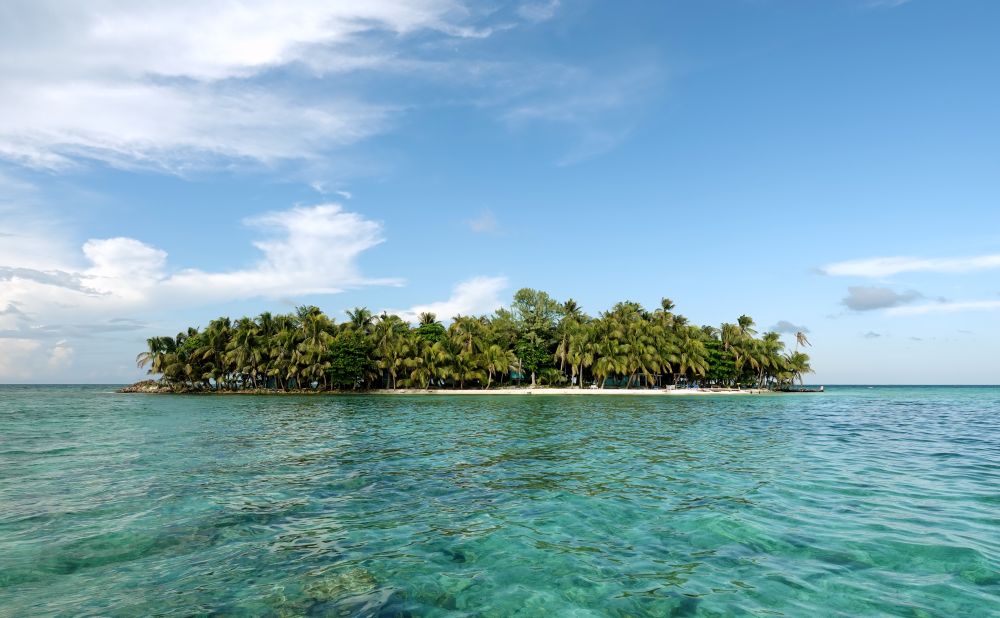 As I caught a glimpse of Ranguana Caye, surrounded by coconut trees, my excitement surged. What an adorable little island! The coconut trees swayed gracefully in the sunlight, the sea breeze gently caressed, creating a tranquil and mysteriously charming island atmosphere.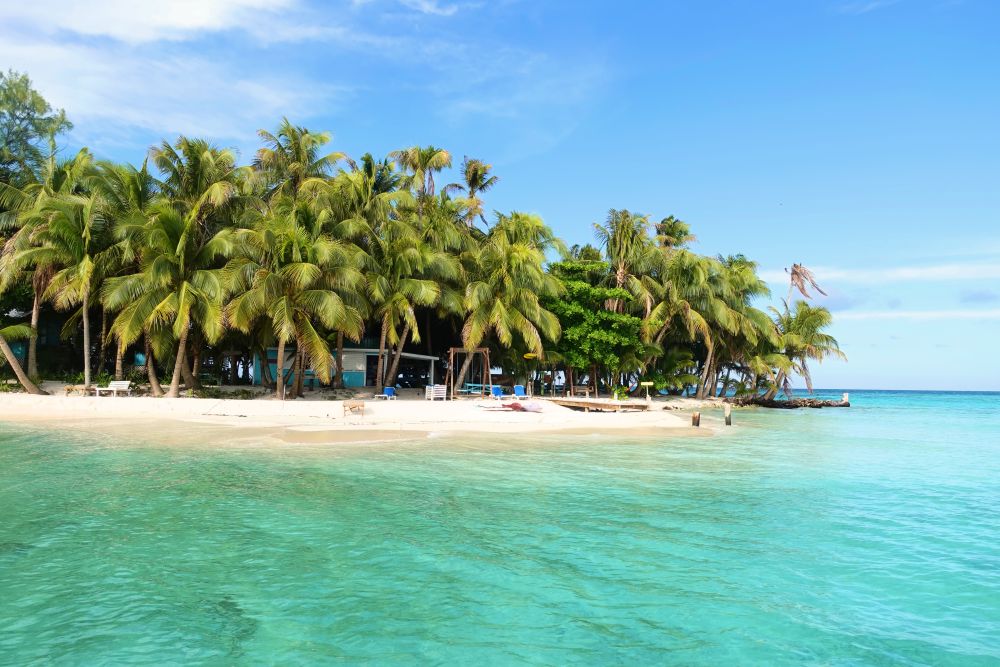 As the boat gradually approached, the scene before me resembled a paradise view only seen in dreams. The sparkling sea and blue sky radiated brilliantly in the sunlight, and this enchanting beauty kept elevating my excitement.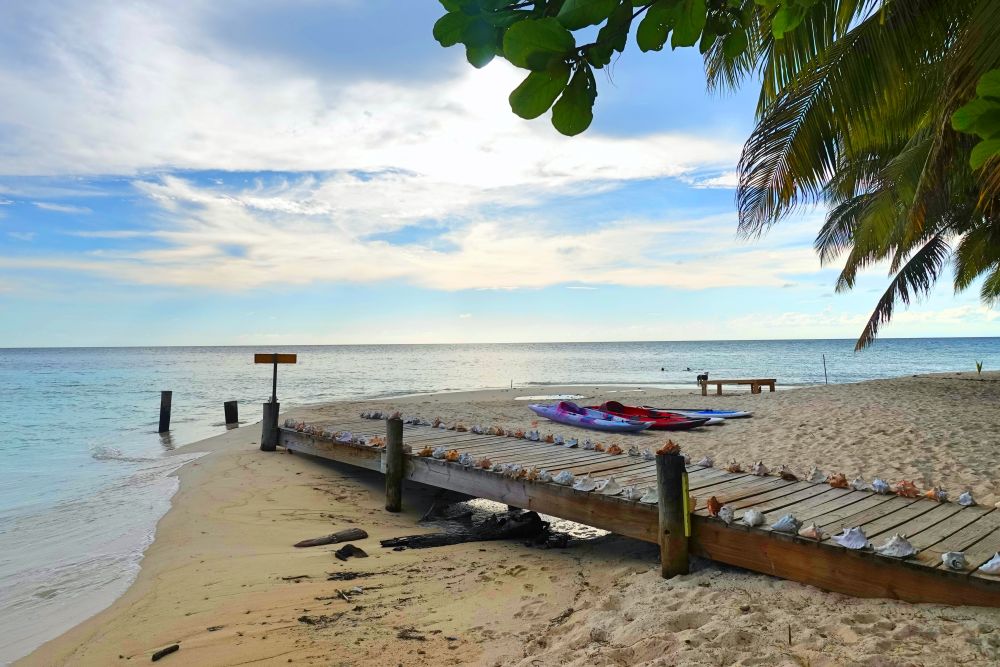 The island features a lovely dock where the boat gracefully docked. The dock was adorned with seashells, adorning every corner as if the ocean had presented beautiful and sincere gifts. It warmly welcomed every traveler stepping onto this island.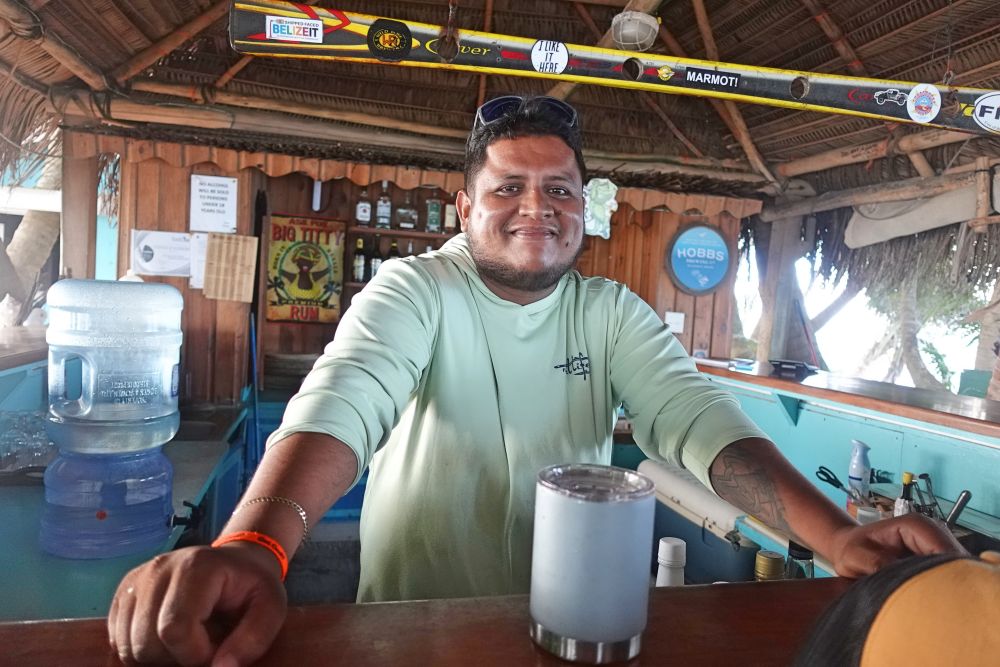 Once the boat was secured, I couldn't wait to disembark. We were greeted by the enthusiastic manager, Juan, who immediately welcomed us and assisted in unloading our luggage. While exchanging greetings with Juan, the island's two dogs gave us warm embraces, expressing their friendliness with wagging tails and hearty welcomes, instantly making us feel the island's warmth.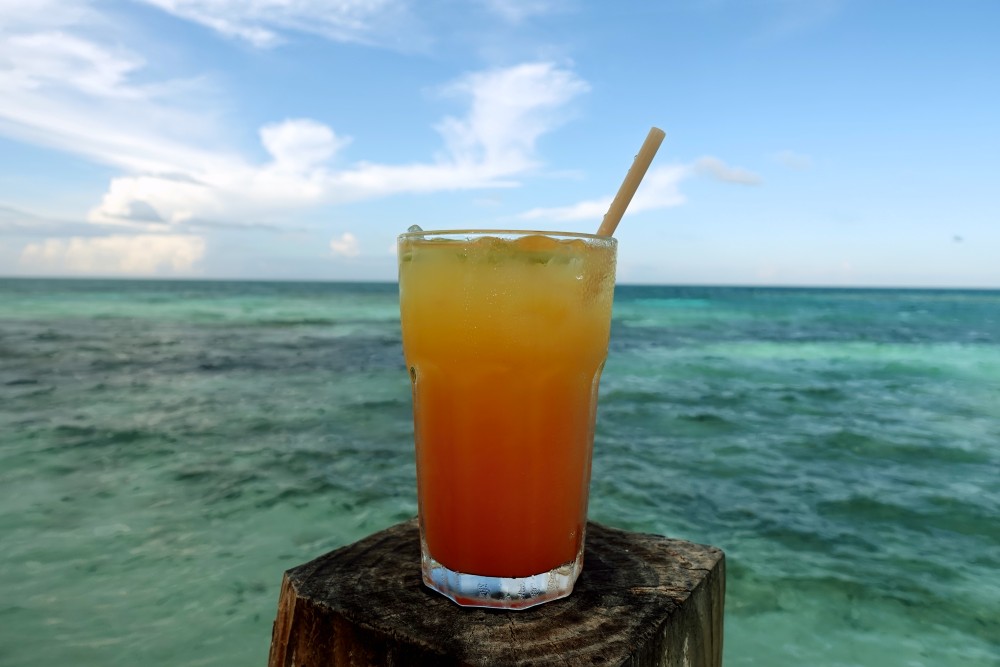 After temporarily storing our luggage in the restaurant, the staff promptly served refreshing cocktails to beat the heat. With my cocktail in hand, I eagerly strolled around the island.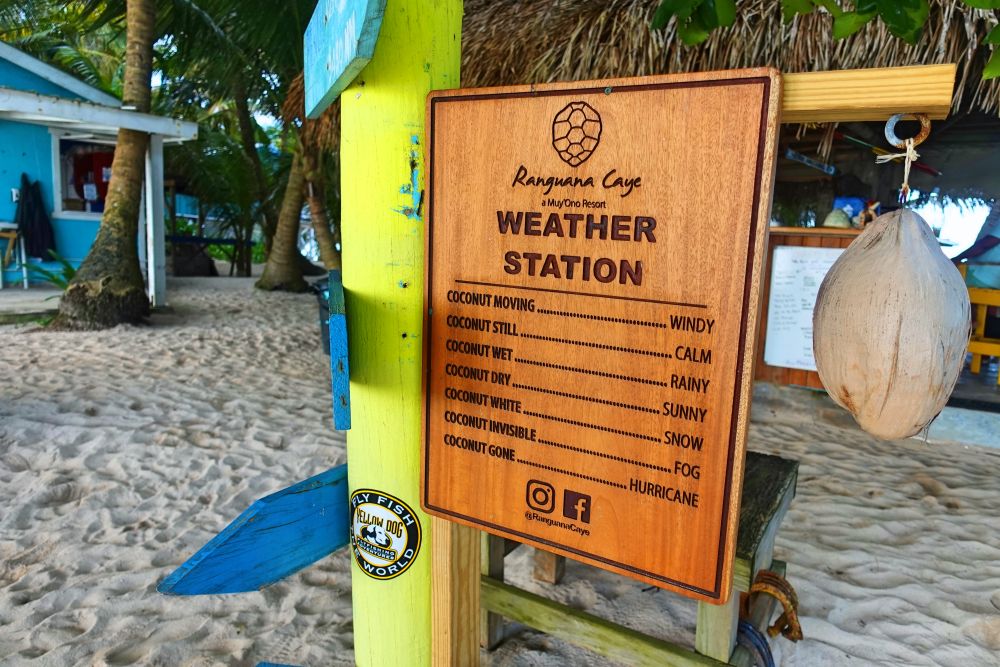 That's when I stumbled upon this cute and humorous weather sign, prompting a heartfelt smile.
Placencia Accommodation Recommendation-Cabana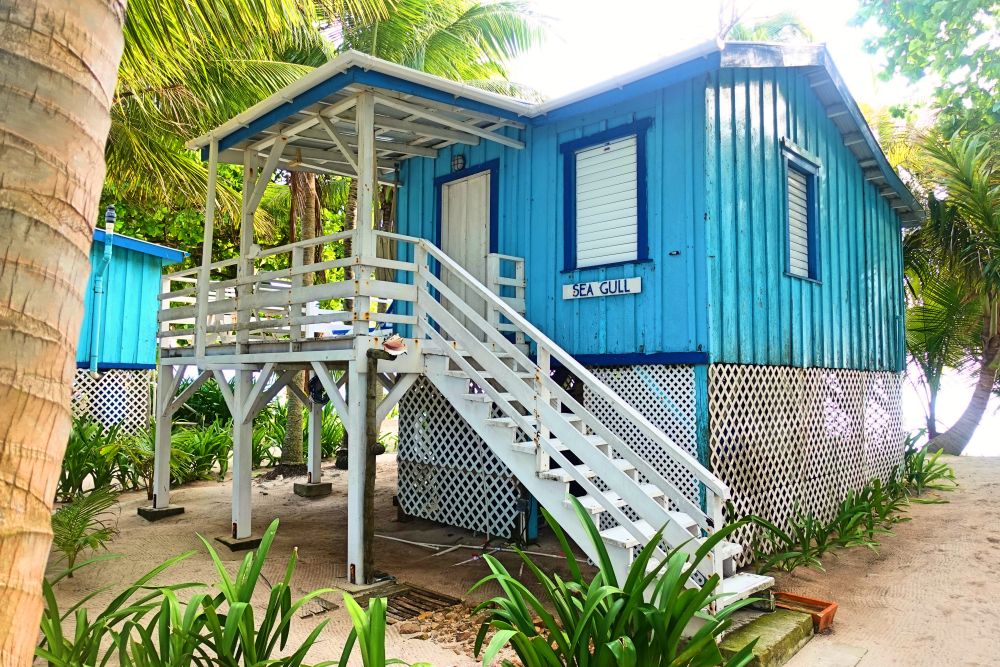 Ranguana Caye offers three overnight cabins on the island, each providing a unique and cozy experience.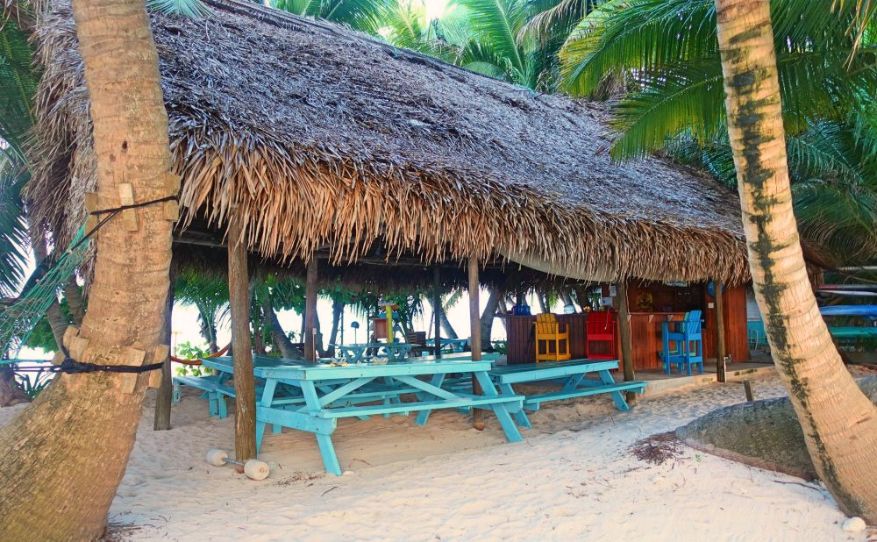 The accommodations include Bully's Beach Bar and Restaurant, serving both overnight guests and day-trippers.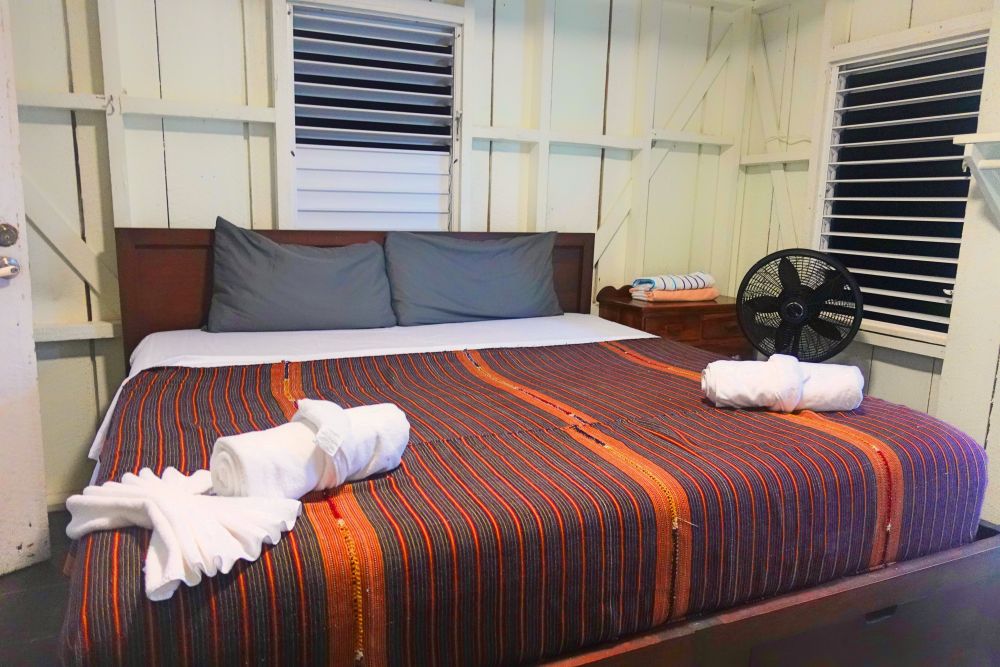 Upon entering the room, a luxurious king-size bed immediately catches your eye. While not a luxurious suite, the cabins are well-equipped, satisfying all basic needs. The rooms do not have air conditioning, but the excellent ventilation design maintains a cool and airy atmosphere throughout. Additionally, each room is equipped with an electric fan, providing a breeze on warmer days.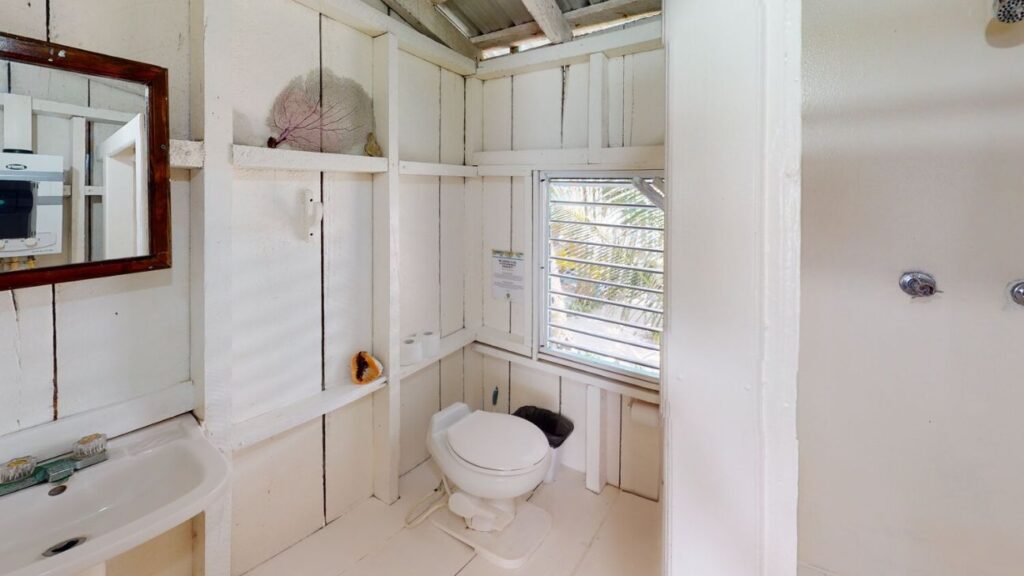 The bathroom is clean and bright, with a hot water shower. While the water pressure may not be entirely stable, it is sufficient for use.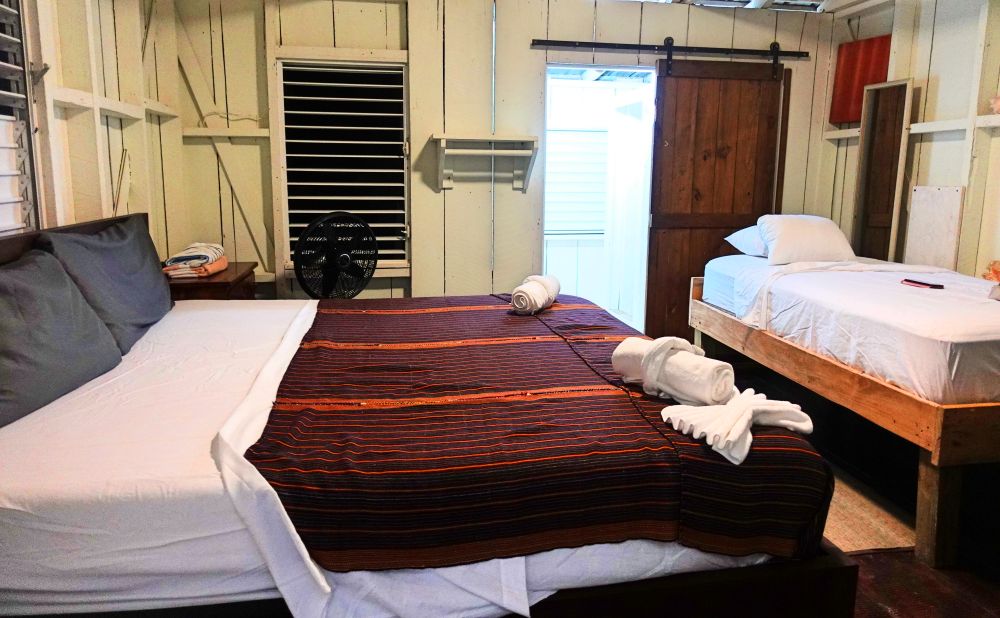 A thoughtful touch is the extra single bed at the foot of the main bed, allowing for the accommodation of small families and providing convenience for luggage placement. Even if you're traveling with children or have numerous belongings, there is ample rest and storage space in the room.
The accommodation here may not focus on luxury, but the practical and comfortable room setup ensures you can enjoy the gentle sea breeze and the sound of waves right from your room. The living environment doesn't lose out to high-end beachfront hotels!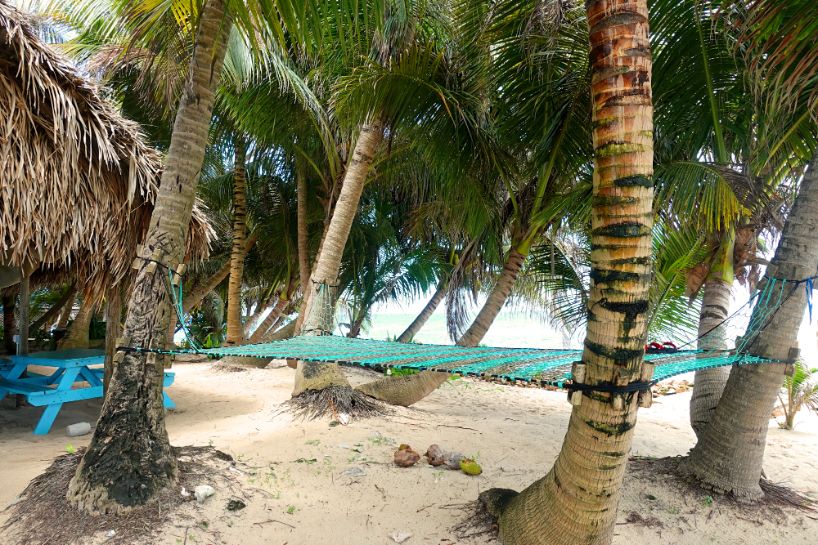 For those seeking a closer connection to nature, the cabin's balcony is equipped with two lounge chairs and a hammock. Of course, the island offers plenty of places to relax. As someone who initially slept outdoors in a hammock, I felt a bit nervous and scared around 2 am. Later, I returned to the cabin, grabbed a pillow and a blanket, and set up a makeshift bed on the balcony's lounge chair to sleep under the stars.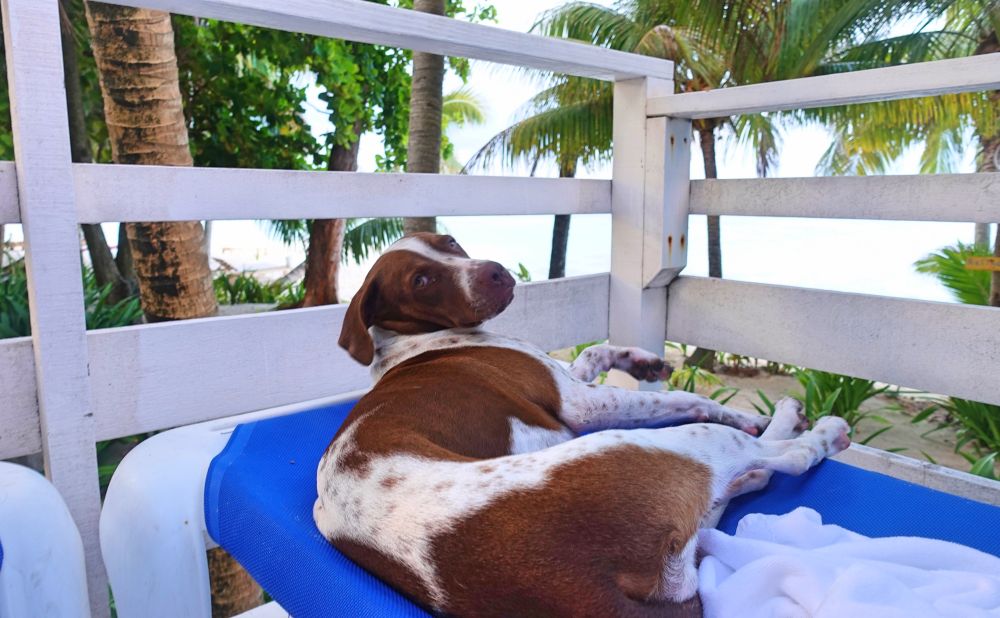 Oh, there's an unexpected guest! Remember the friendly dog mentioned earlier? Surprisingly, he unabashedly cuddled up to me, keeping me company all night! It was an unexpectedly heartwarming moment that made me feel the island's unique hospitality, offering a complimentary cuddle service.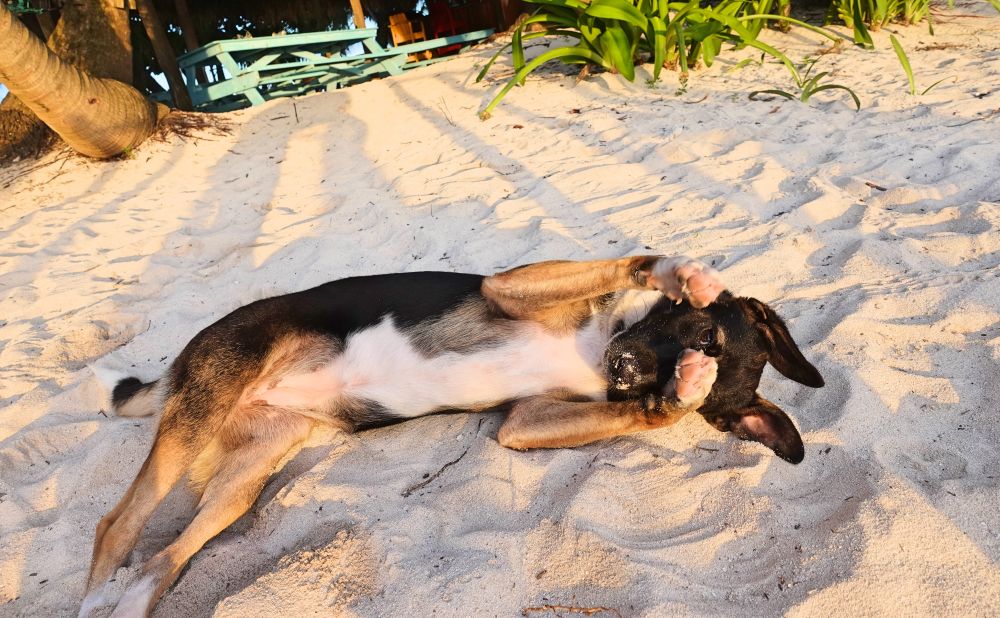 What's amusing is that despite having two comfortable lounge chairs available, the little dog chose to squeeze onto the same one, forcing me to curl up my legs to give him enough space.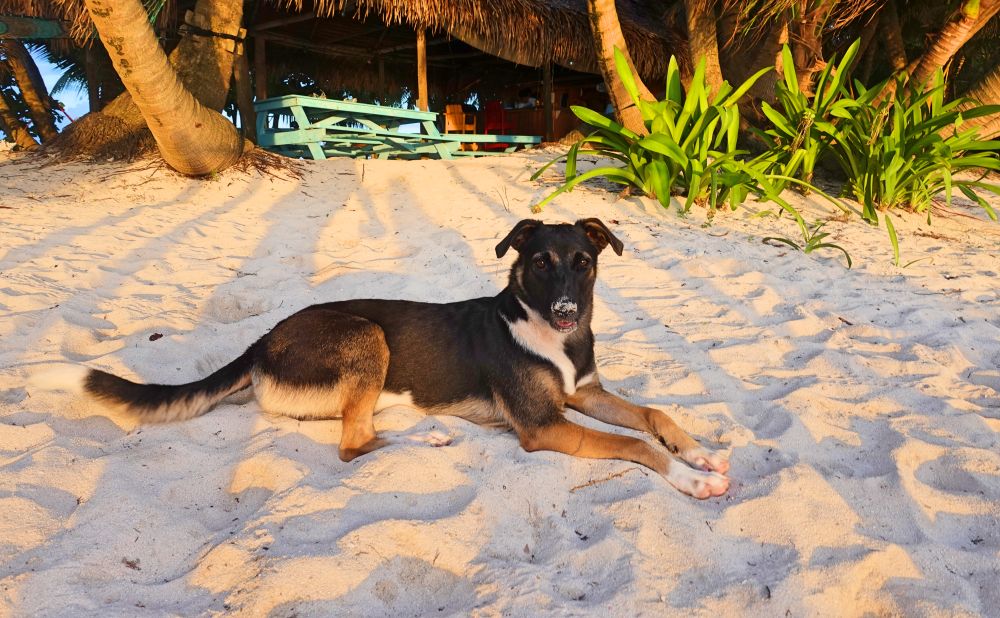 The two playful dogs on the island always enthusiastically approached visitors, regardless of where you were on the island. In the picture above, you can see one of them being cute as I enjoyed the sunrise. This kind of companionship makes it hard not to love them and adds a lively energy to the entire island.
What Activities Does the Island Offer?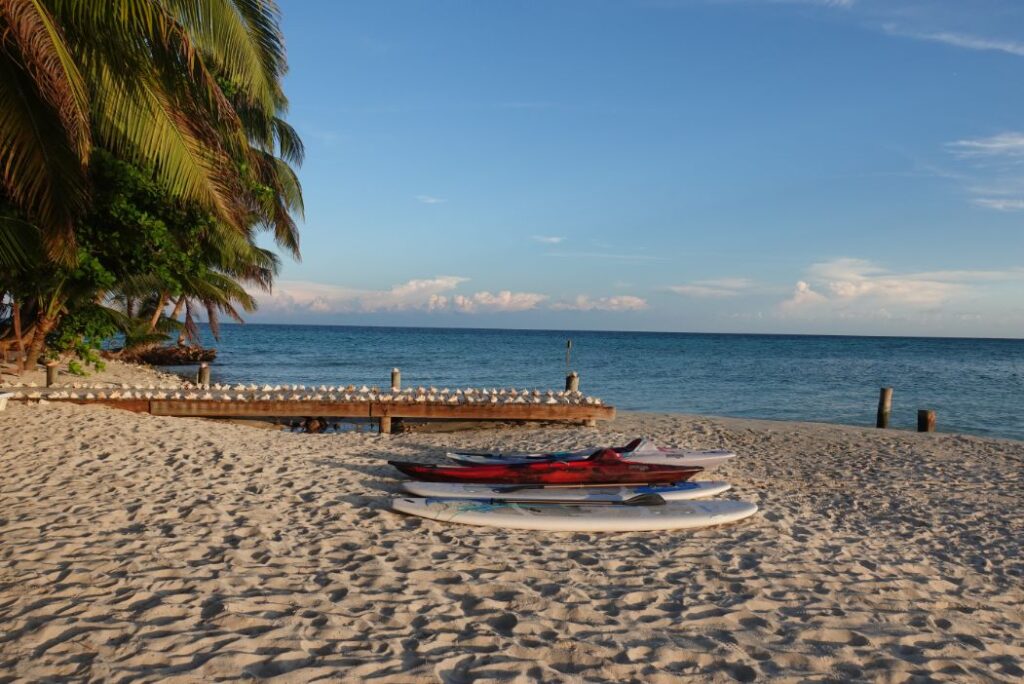 On this caye, you can let loose and do whatever your heart desires. Whether it's rolling around on the soft beach chairs or swaying in hammocks while soaking up the sun, spending the entire day immersed in the joy of fishing, paddling a kayak, trying out a SUP adventure, or even engaging in a lively volleyball match – it's all up to you.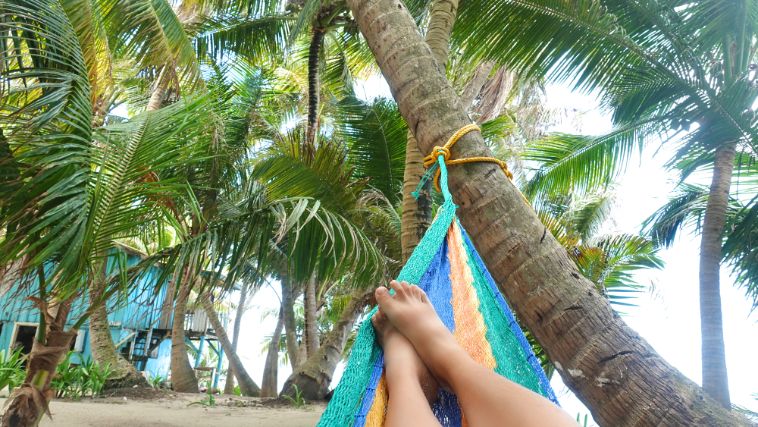 If you crave a moment of tranquility, find a secluded corner on the island, bask in solitude, and feel the gentle sea breeze. And when you desire some socializing or a casual drink, Bully's Beach Bar is an excellent choice.
Who Knew Fishing Could Be Done Without a Fishing Rod? Experience Traditional Fly Fishing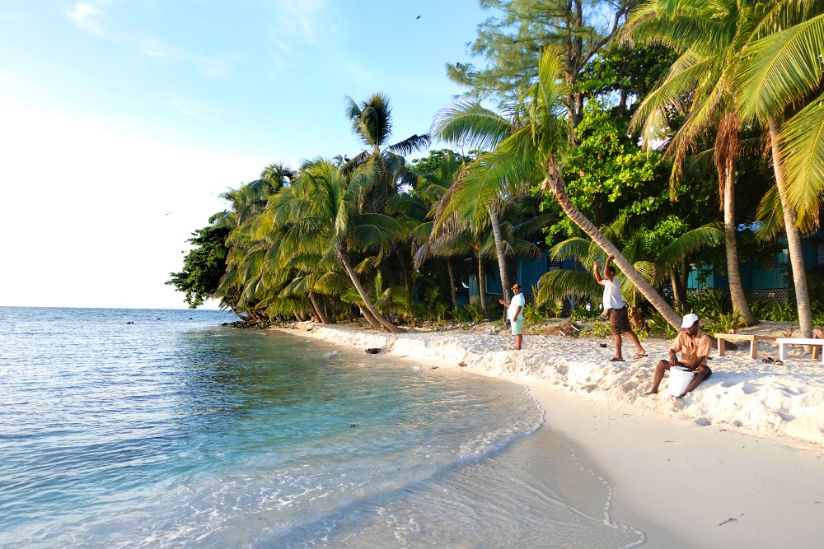 Fishing was one of the activities I was eagerly anticipating during my visit to the island. While I had once tried shrimp fishing in college, I had never had the opportunity to experience traditional fishing. When I learned that fishing on the island didn't involve a fishing rod, I was filled with shock and excitement, completely reshaping my understanding of fishing.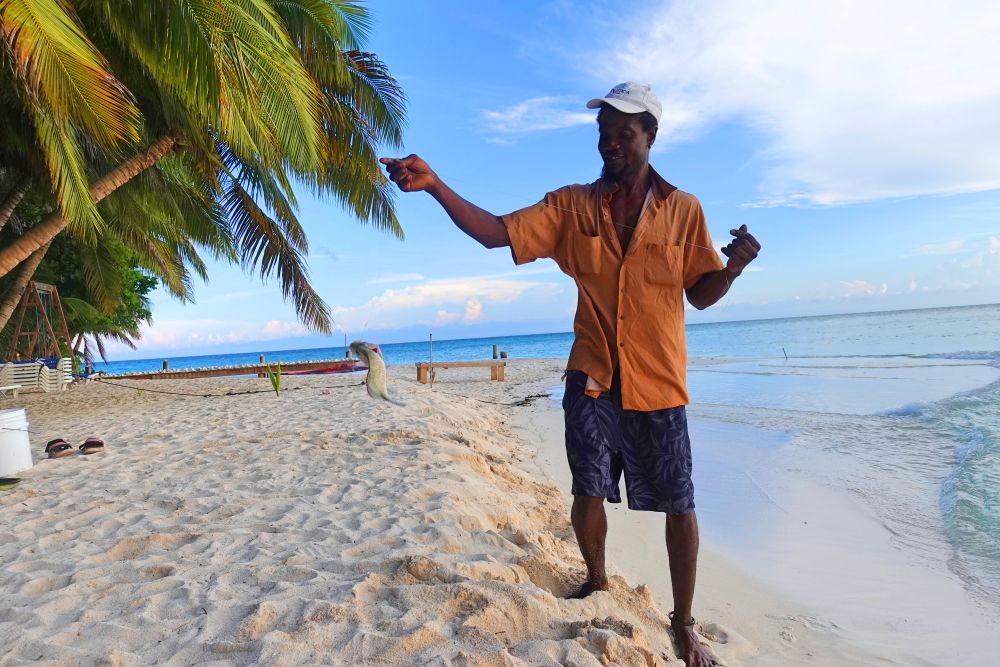 Fly fishing is a distinctive method of fishing that sets itself apart from traditional angling techniques.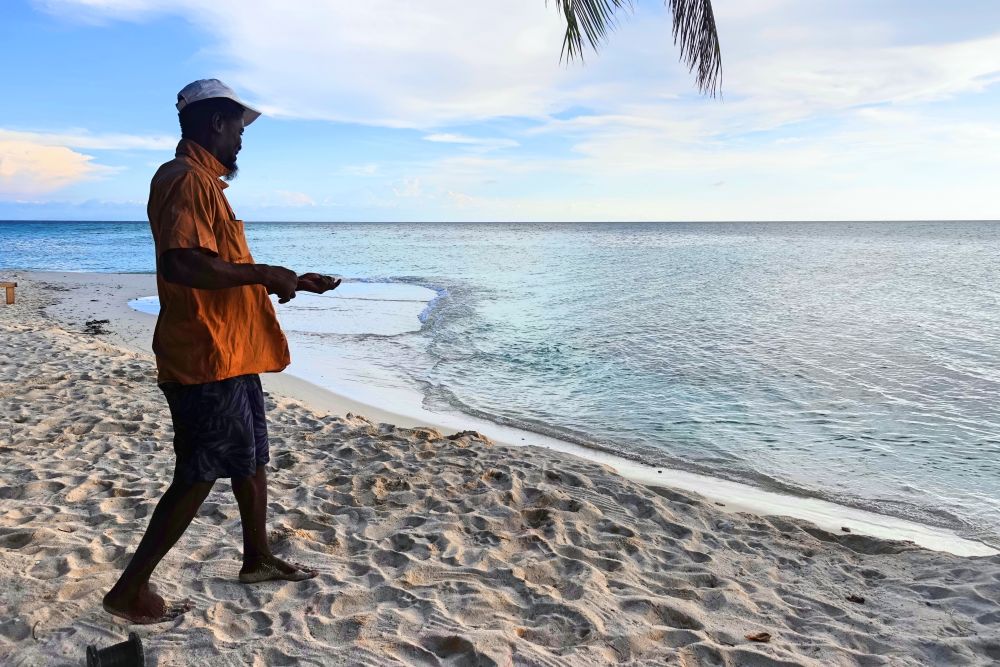 Unlike using a fishing rod, this technique relies on fishing line, a fish hook, and bait, employing a "casting" motion to directly capture fish.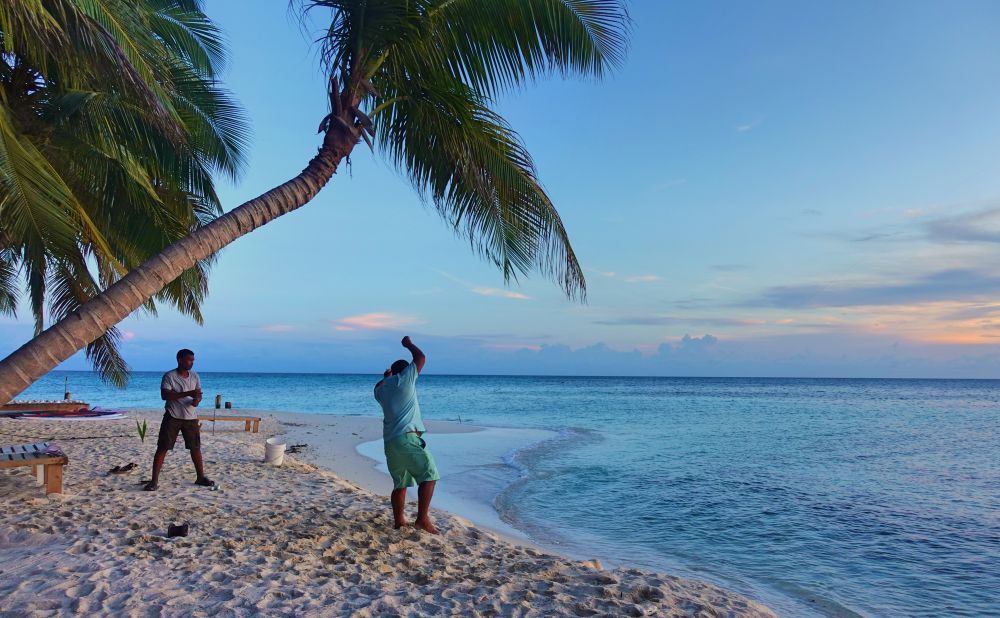 Similar to a cowboy throwing a lasso, the fish hook is rapidly spun and cast into the sea along a tangent. However, my skills weren't quite up to par, and my casts consistently landed in shallow waters! It seems that casting the fish hook into deeper waters requires more skill and experience.
What's It Like to Catch a Shark on Your First Fishing Attempt?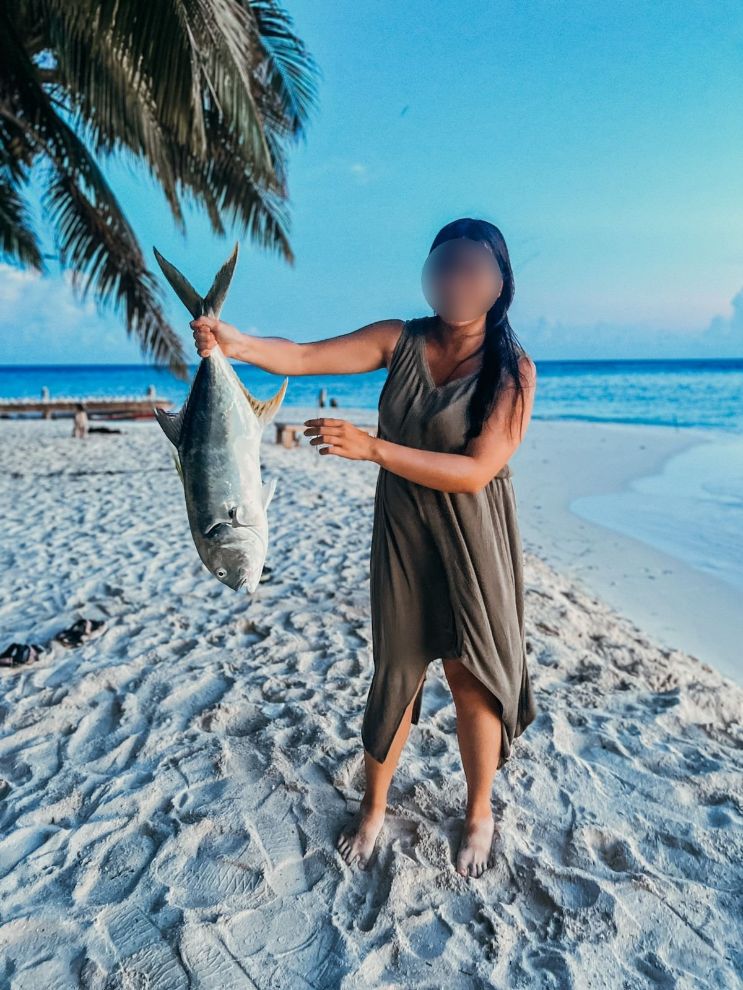 I initially thought it would be challenging to sense if a fish was hooked without a float on the fishing line, but as it turns out, that's not the case. After several frustrating attempts where the bait was eaten without any catch, I finally hooked a powerful big fish.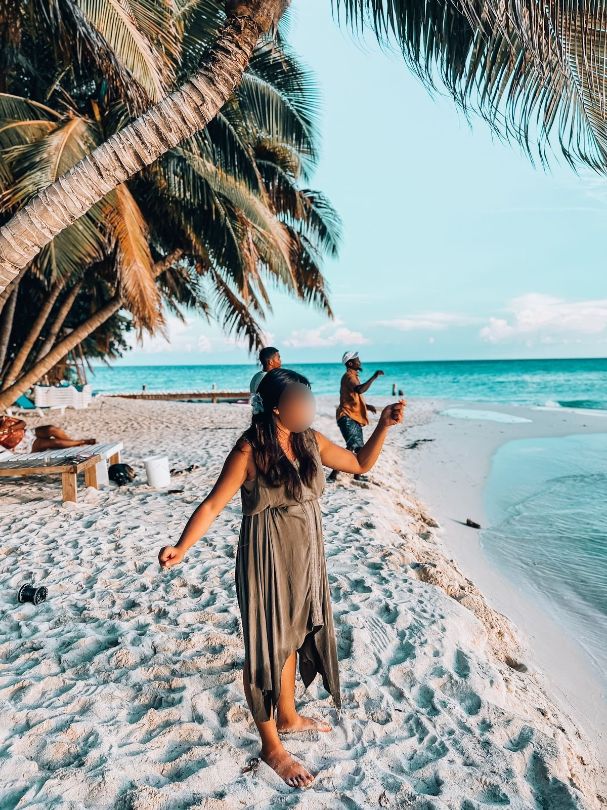 In my inexperienced excitement, I eagerly grabbed the fishing line to seize my first fish. However, in a foolish move, I ended up wrapping the fishing line around my wrist, resulting in a painful cut. When others came to assist, it was discovered that the catch was a nurse shark, prompting me to quickly let go.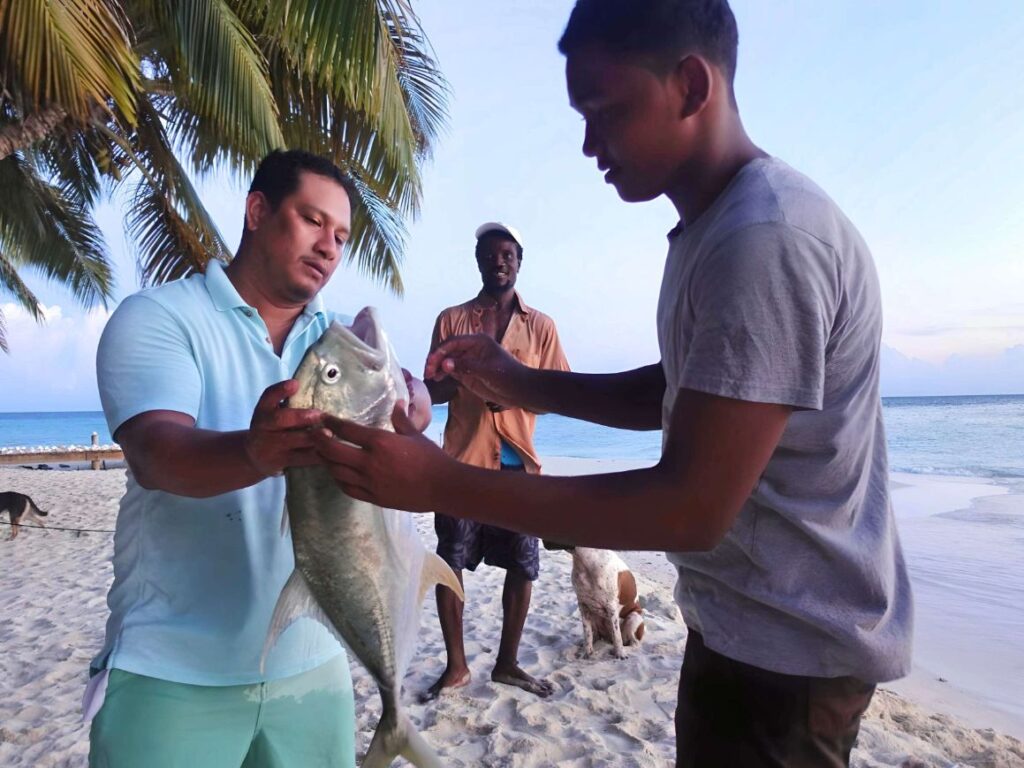 When someone catches a fish, there's a collective burst of excitement and cheers. However, as the boy successfully hooked his third fish, my catch was still nowhere in sight, deepening the disappointment within.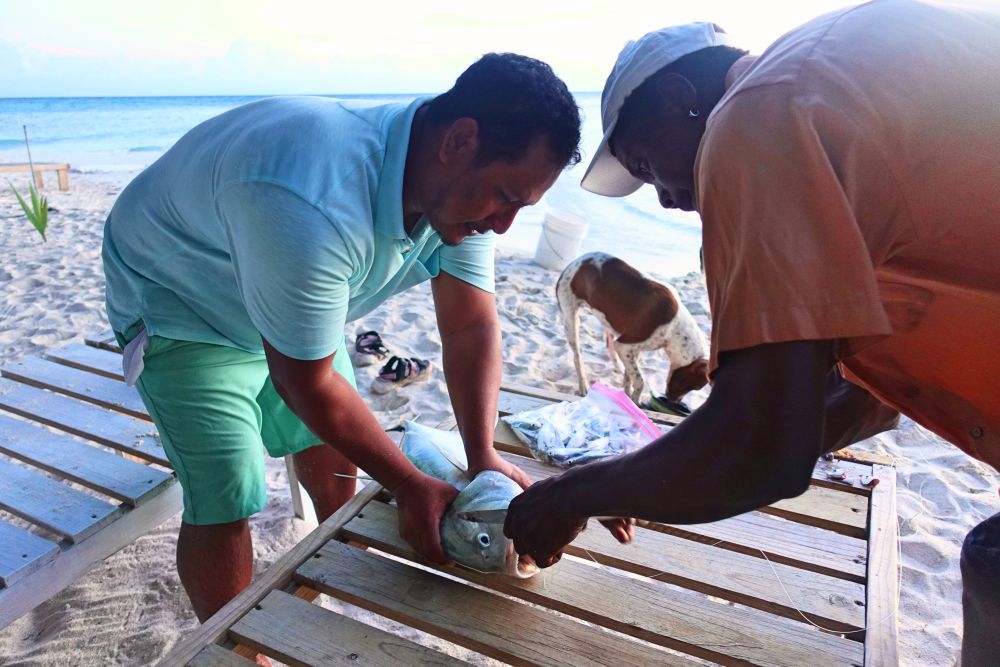 Upon catching a fish, the skilled staff swiftly cleaned and prepared the catch with expertise. Their experienced hands ensured a quick and precise processing of the fish, guaranteeing the freshness and quality of the fish meat.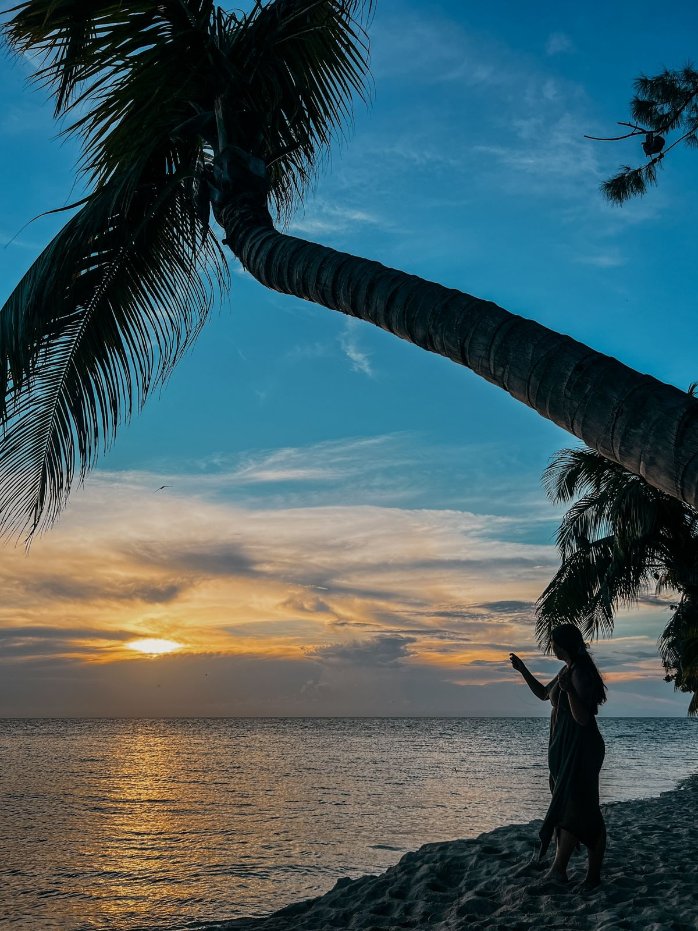 In the end, the story had no further developments. Even as night fell and the moon and stars appeared, I didn't catch a single fish.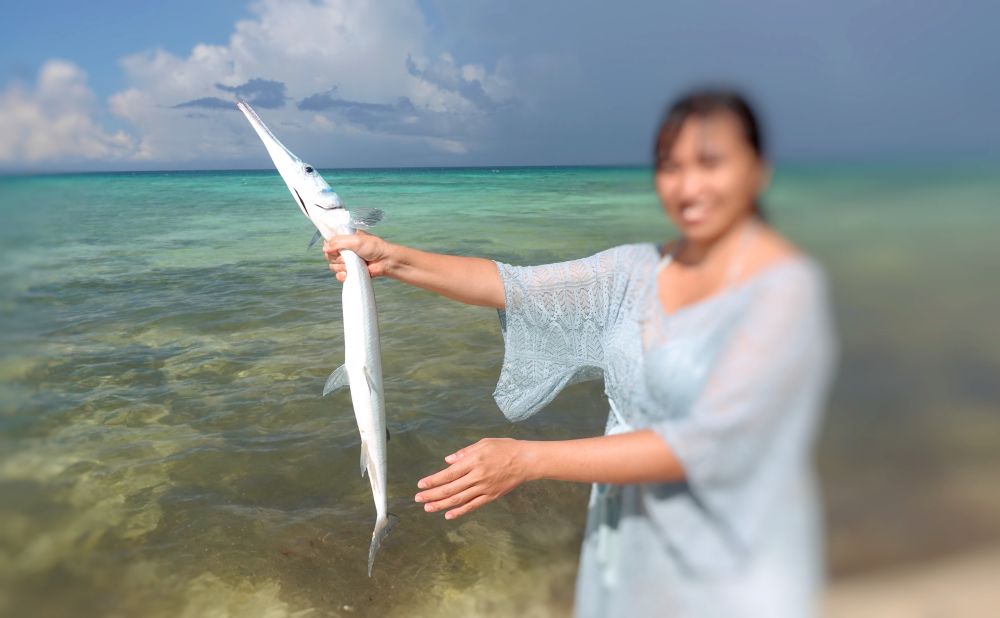 The next morning, after breakfast, I tried fly fishing once more. Fortunately, before leaving Ranguana Caye, I finally hooked a fish!
Oceanic Adventure – Snorkeling at Ranguana Caye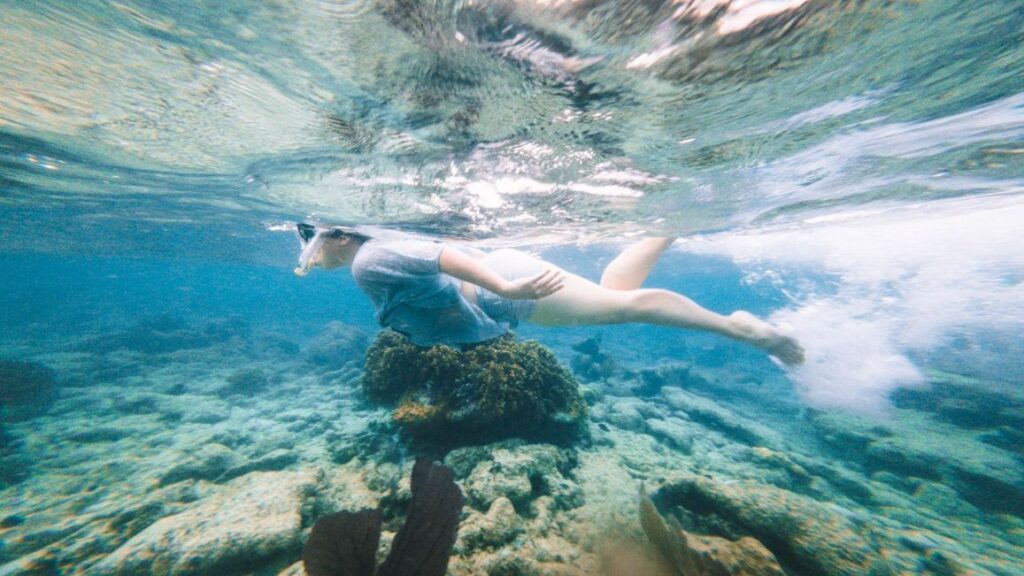 Ranguana Caye is a must-visit island for many local snorkeling enthusiasts, with its moderate coastal depths and calm waves making it an ideal location for snorkeling activities suitable for all ages. Equipped with snorkel masks, we embarked on an underwater exploration.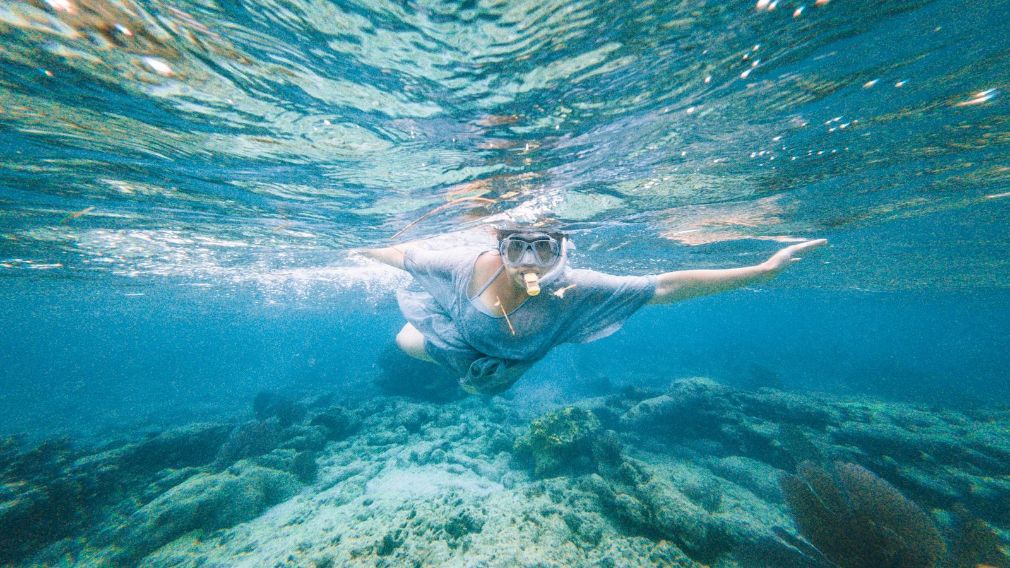 My first experience swimming in the sea came only upon arriving in Belize. I've always held a mix of fear and boundless curiosity towards the ocean. In this expanse of water, even for someone not particularly skilled in swimming like me, I felt a tremendous sense of security.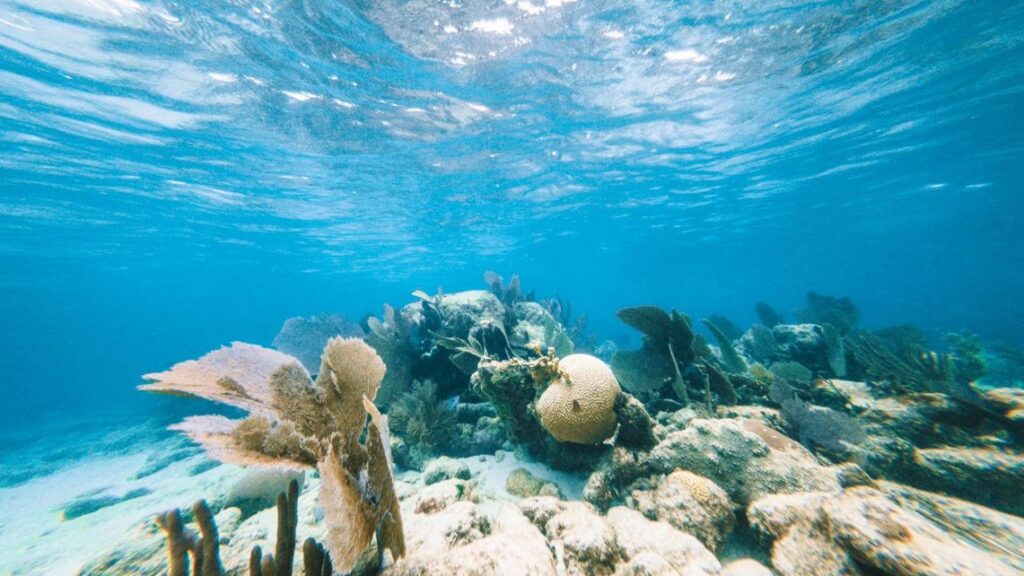 In the crystal-clear blue waters, schools of fish, coral reefs, and various marine creatures like sea urchins and starfish appeared extraordinarily vibrant under the sunlight. The underwater world of this sea area is a dazzling spectacle, no wonder it's a paradise for snorkelers.
Beneath the Beach Sky – Bioluminescent Beauty of the Blue Tears
As night blankets the entire island, strolling along the beach reveals scattered points of blue light shimmering. This romantic phenomenon has a beautiful name in Chinese – we call it "Blue Tears." These bioluminescent wonders, akin to stars dotting the shoreline, bring an air of mystery and romance to the island nights.
Unmissable Island Beauty – Starlit Skies and Sunrise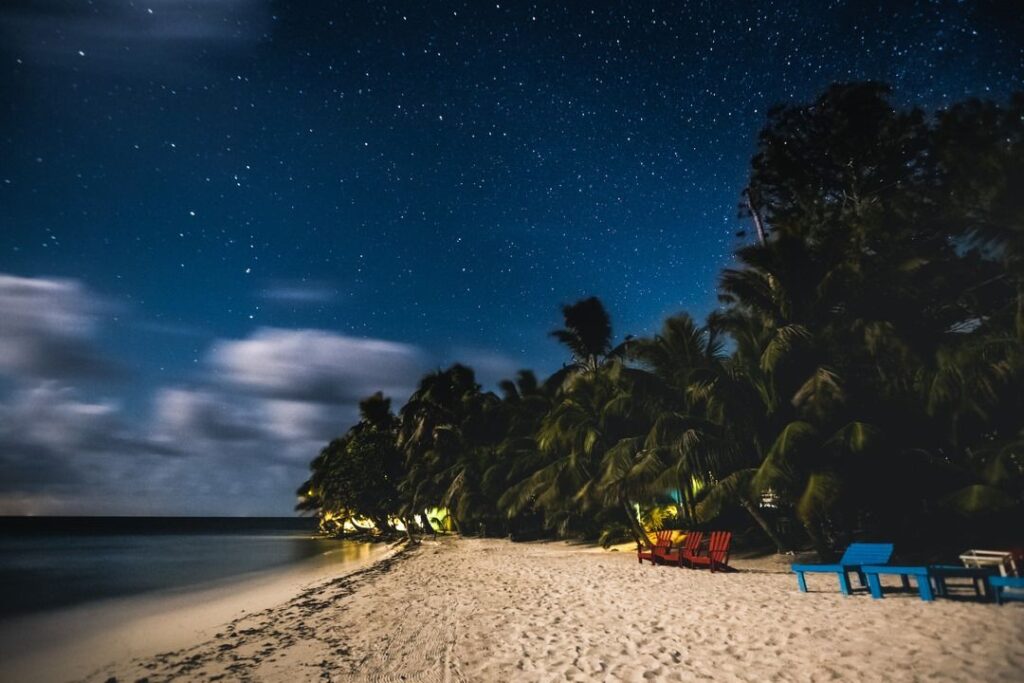 Ever since my visit to Tabacco Caye in April, my fascination and yearning for the night sky have deepened. Before coming to Belize, I always thought that I could gaze upon a starry sky on the streets of the capital, Belmopan. However, it wasn't until I spent a night on a private island that I truly experienced the enchantment of a light pollution-free night sky.
Beneath this sky, stars sparkled like countless diamonds, decorating the dark night and creating a brilliant celestial masterpiece. Away from the hustle and bustle of the city, immersed in this serenity accompanied by the white noise of the waves, I felt like I had crossed into another universe. It happened to be a full moon night, and while the bright moon overshadowed the brilliance of some stars, it also illuminated the entire sea and beach. In the moonlight, the ocean shimmered with silver, and the fine sand on the beach seemed to be laid out like a silver carpet.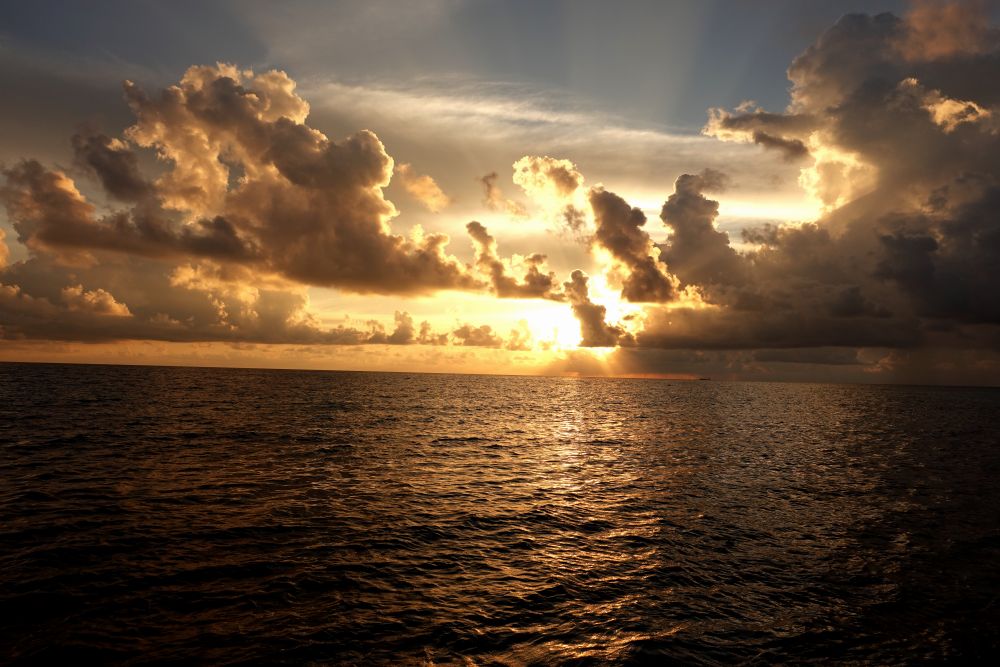 Waking up in the early morning with the company of both adorable dogs and shimmering stars, I arrived at the coastline ahead of the sunrise time according to the weather app. There, I patiently awaited the moment when the sun would gracefully ascend. The golden sunlight spilled over the ocean, instantly turning it into a canvas painted in shades of red.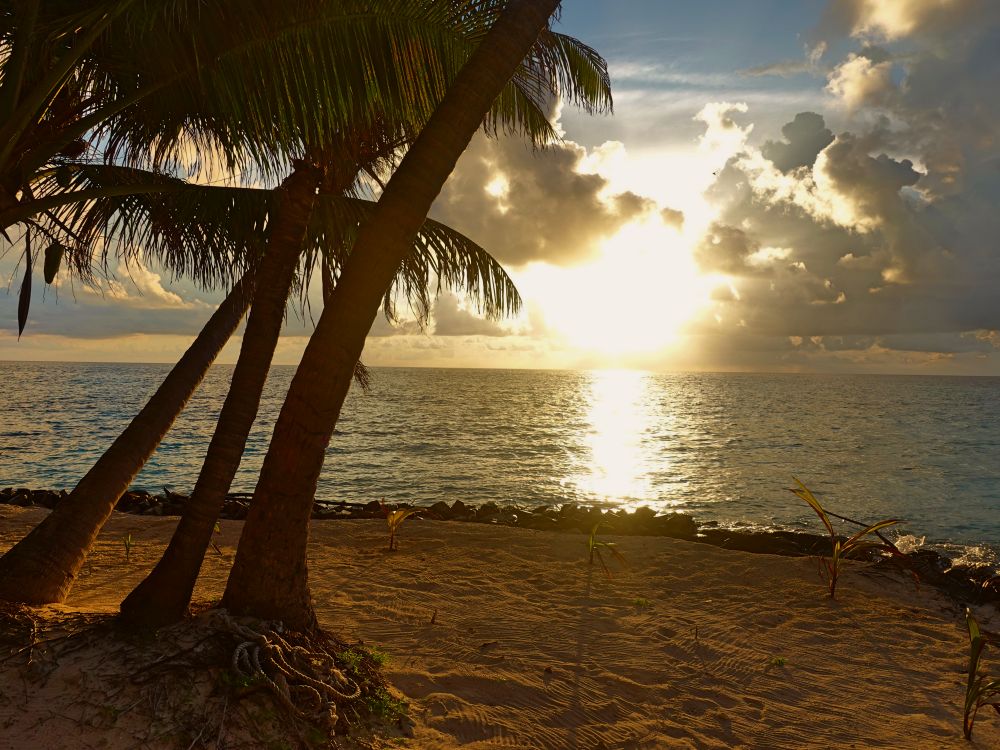 With a gentle sea breeze and the soothing sounds of the rippling waves, the staff had already prepared hot coffee and milk for this beautiful moment. It was truly a delightful and tranquil experience.
Dining Delight: Board Games and Laughter at the Restaurant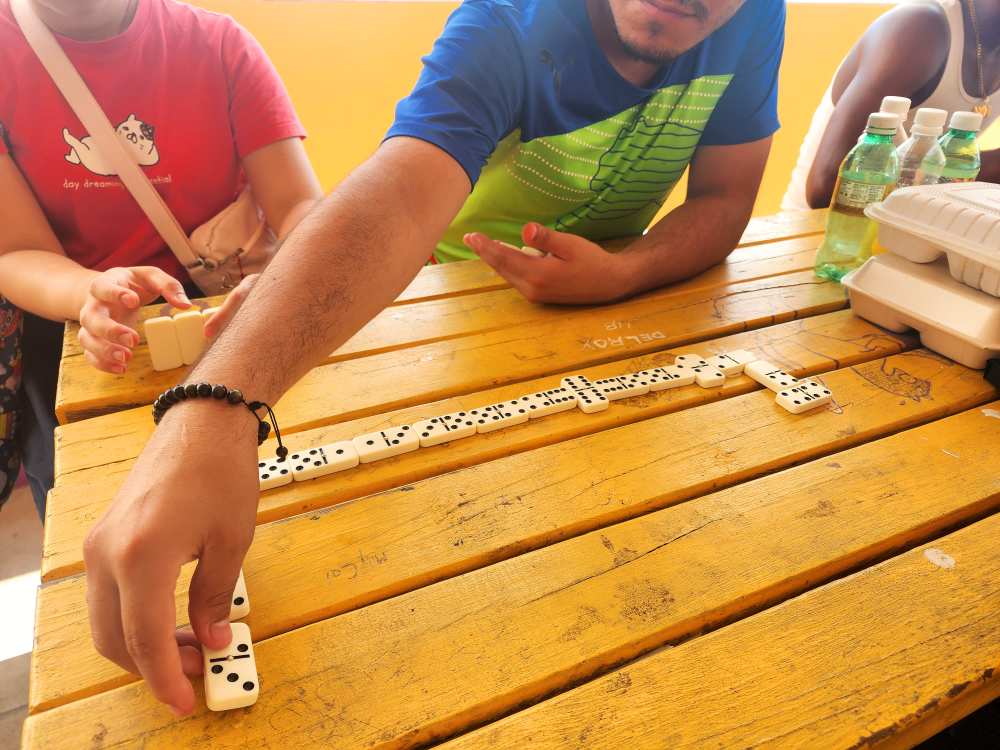 The restaurant thoughtfully provides a variety of board games on each table, creating a relaxed and joyful atmosphere for diners. I joined other patrons in playing a game, and it happened to be my secon encounter with Dominno, a game I had never played before coming to Belize. Surprisingly, as a novice, luck was on my side, and I managed to win several rounds. This led to some playful suspicions among the other players that I might not be as much of a newcomer to the game as I claimed to be.
Can You Visit Ranguana Caye Without Staying Overnight?
Ranguana Caye is undoubtedly a captivating island that merits an extended stay, but if time is a constraint, fear not! You can still catch a glimpse of its beauty by joining a day trip snorkeling tour. In Placencia, several tour companies offer island-hopping snorkeling day trips, allowing you to explore multiple nearby islands all within a single day.
Why do I recommend Ranguana Caye in particular?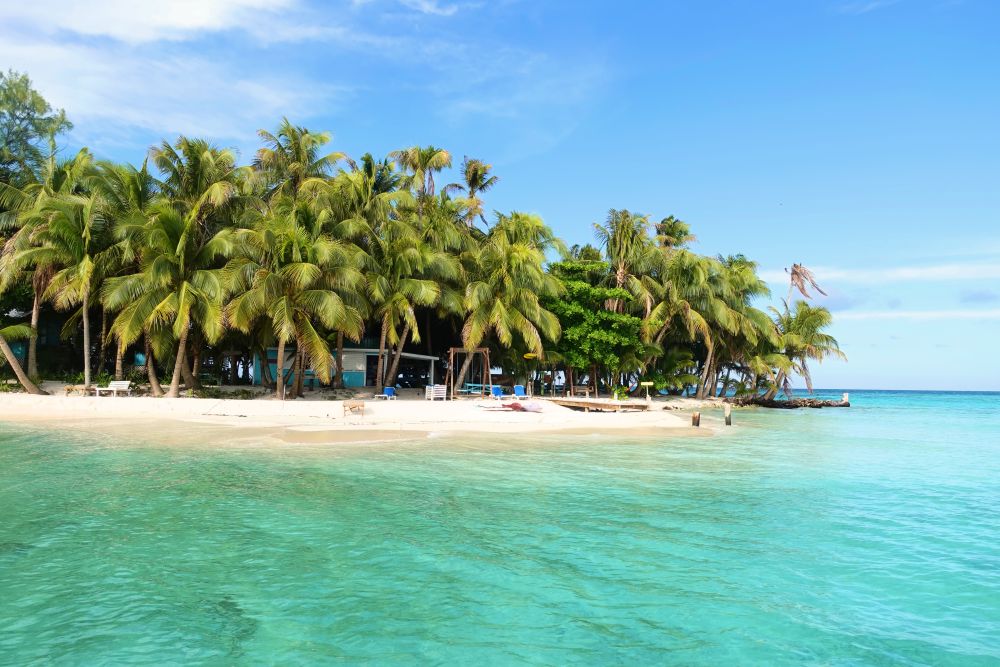 Diverging from the opulence of neighboring luxury resorts, a private island offers the purest form of island escapade. Rather than merely a vacation destination, it feels more like a haven, untouched by the hustle and bustle of crowds—an untouched natural sanctuary. For two days, I practically went barefoot, strolling along the soft sandy beaches.
In these moments, I can almost fathom why ancient poets yearned for seclusion in mountains, with carefree clouds and wild cranes. There were instances where I couldn't help but imagine; imagining a life where I could spend my days fishing, admiring the vast sea, stars, living free from worldly strife—a life of self-sufficiency. Do I really need to go back to work, write papers, pursue degrees, compete in the workplace for recognition? Until the moment I couldn't catch a single fish, and I began to worry about surviving on coconuts or eating sand from the beach, and then the dream faded.
During my exploration of Belize, I scrolled through Google Maps, exploring various islands. I've come across a few that seemed abandoned or not in operation. Curiosity led me to websites selling islands, making me wonder about the dream of owning one. I used to think owning an island was an unattainable fantasy, but it turns out the cost of buying an island is comparable to purchasing a townhouse in my hometown. However, the true cost of island ownership lies in development and cultivation.
This sparked a daring business idea—to create an island version of "Li Ziqi." Through live streaming, I would share the journey from cultivation and construction to daily life with the world. Once the island gains popularity, reality shows and variety programs could follow. Perhaps I should approach a TV station directly for investment. To bring this business idea to life, I'm considering crowdfunding on various platforms. Supporters would receive a certificate declaring them "Island Owners," even if only a select few could claim true ownership. If you find this business plan intriguing, feel free to leave a comment or send me a message. Hahaha.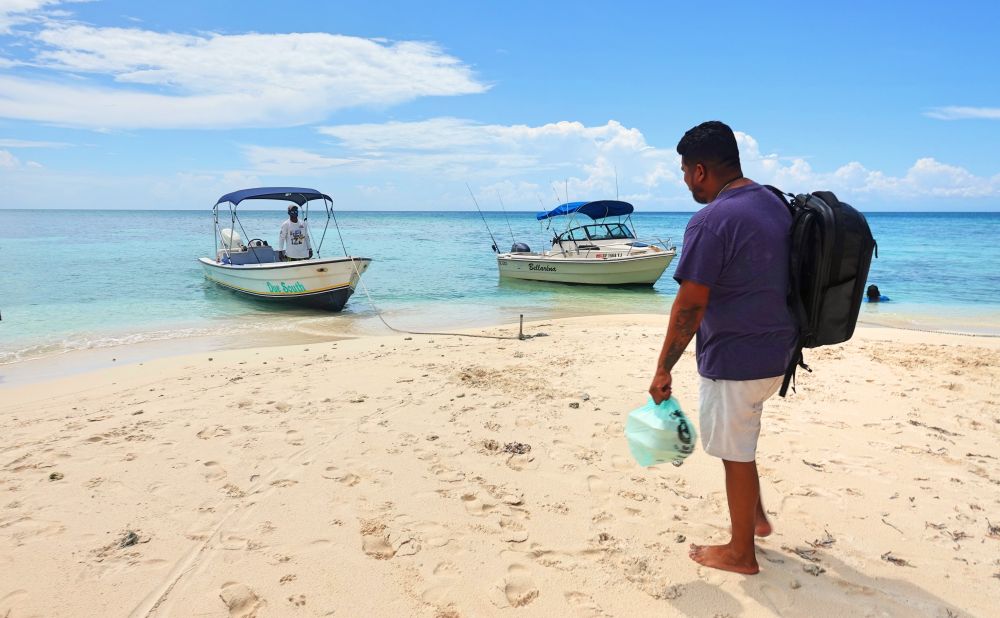 As we prepared to depart in the afternoon, my initial reluctance to trouble them with preparing lunch due to my seasickness concerns vanished when they thoughtfully packed a special meal for us—a delightful serving of pigtail rice! This unique culinary delight was not only a treat for the taste buds but also a testament to the island's warm hospitality.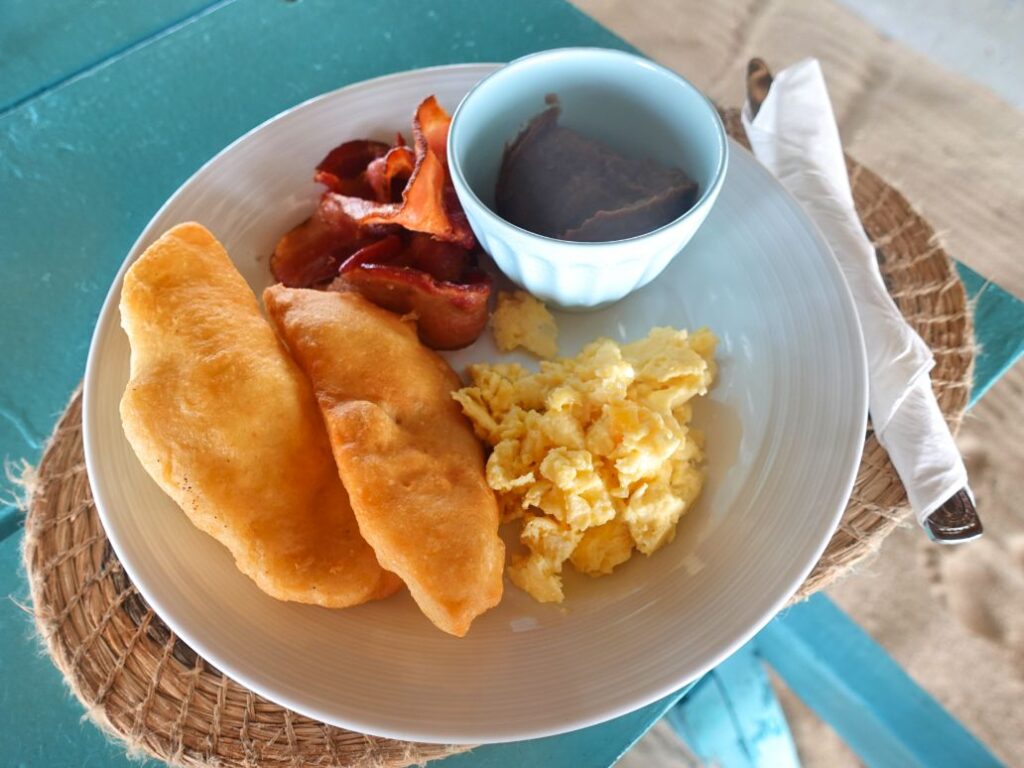 Filled with gratitude and a tinge of sadness, we bid farewell to this unforgettable island. Every moment on the island became cherished memories, making us realize that true luxury goes beyond landscapes; it's the profound connections between people.
With sincere hopes, I wish that one day, our friends from Belize can visit Taiwan or Asia, allowing me to reciprocate their warm hospitality and share our cultural experiences.
For More Exciting Articles About My Adventures in Belize
September Activities in Belize | What's the Experience for Taiwanese in Belize, Celebrating Its 42nd Independence Day in Placencia?
Belizean Culinary Delights in Belmopan: Aria's Lounge, a 4.1-Star Garden-Style Local Cuisine Restaurant
Your Ultimate Guide to Belmopan Nightlife |Five Fusion Restaurant & Bar
Belize | San Ignacio Travel Recommendations: Unraveling the Adventure of Ancient Tombs at Actun Tunichil Muknal – One-Day Tour to the Mayan Temple Crystal Cave
Belize Travel Guide: Placencia, a Hidden Gem for Tourists・25 Years of Traditional Lobster Festival and Fresh Lobster Delights
Discover the Best Fresh Lobster Shopping Experience in Placencia, Belize: Buy and Cook Your Own Lobster at the Gym!