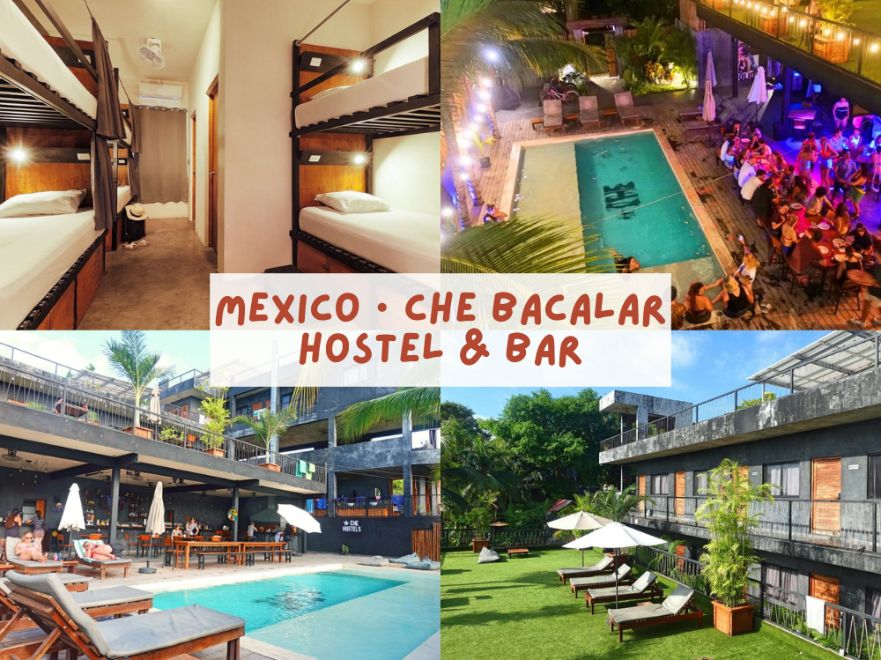 Bacalar, Mexico Accommodation Recommendation | Budget Youth Hostel with Digital Nomad-Friendly Vibes and Average $10 Price – Che Bacalar Hostel & Bar
As a backpacking enthusiast, my first stay at a youth hostel in Mexico was a delightful surprise. Che Bacalar Hostel & Bar, located just a five-minute walk from the enchanting Bacalar Lagoon, offers a tastefully designed space with a bar, restaurant, swimming pool, free yoga sessions, and various relaxation areas. What sets this place apart is its exceptional friendliness towards the LGBTQ+ community and digital nomads. Not only is the ambiance incredibly chill, but the mattress in the rooms is also surprisingly comfortable. It's hands down the most satisfying and beautiful backpacker hostel I've ever stayed in, and the best part is that you can book a night for less than $10 in advance. If you're looking for a Bacalar accommodation review, this is it!
English is not my native language, but I am currently learning it. I am attempting to write articles in English to help others who may be searching for information. Some sentences might sound awkward or unusual, and I hope you understand. I welcome any questions you may have, and I'll be happy to respond.
This trip to Mexico was incredibly last-minute. I found out on a Sunday that my Colombian classmate had secured a job and would be returning to her home country on Friday. So, we decided to join her on her journey to Mexico. Our first night was spent in Bacalar, a place highly recommended by several of my Mexican classmates. The hostel was chosen by my Colombian friend, and I only inquired about room availability when we arrived on the spot.
Bacalar Accommodation Recommendation – Che Bacalar Hostel & Bar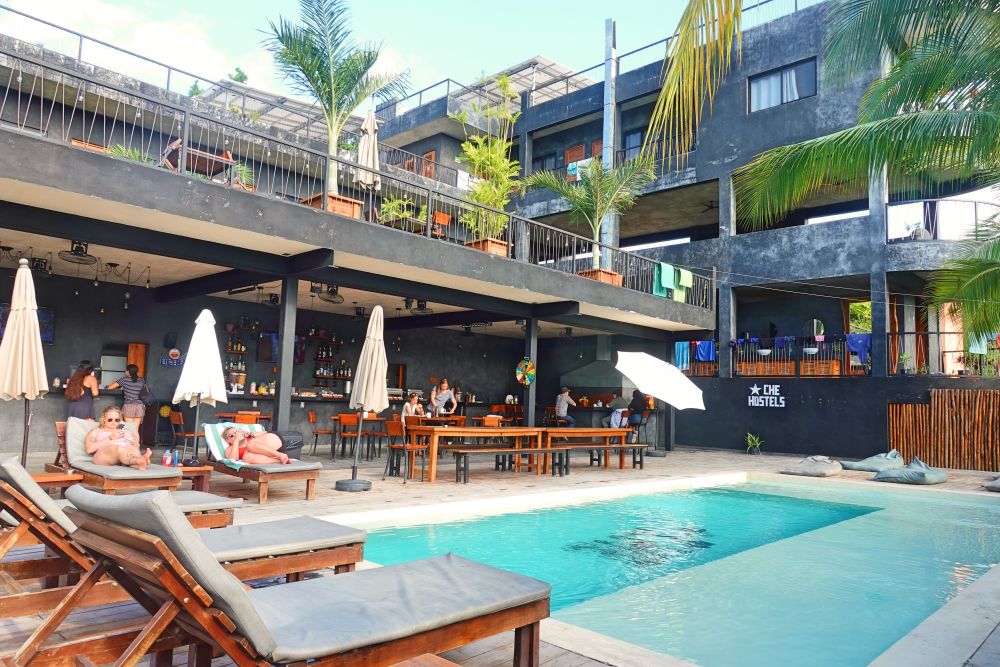 Che Bacalar Hostel & Bar, a chain of hostels in Mexico, opened its doors in October 2021. This renowned chain has branches in major Mexican tourist destinations like Playa del Carmen, Tulum, Holbox, Valladolid, Puerto Escondido, and Merida. They also offer suite-style accommodations at Che Suites Playa del Carmen and Che Suites Tulum. The Bacalar branch is conveniently located within a five-minute walk of the stunning Bacalar Lagoon.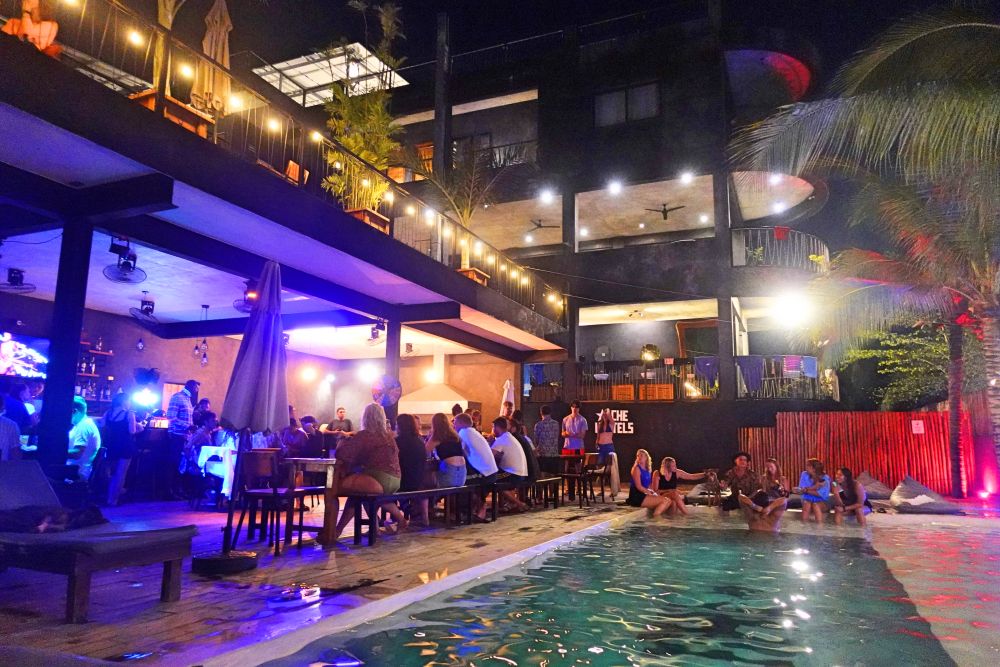 This is a multifaceted hostel that combines a bar, restaurant, and swimming pool. They host different themed parties every night, making it a lively and vibrant place to stay. In addition to backpacker dorms, they also offer private suite-style rooms for those seeking a more personalized accommodation experience.
Stylish Villa-Inspired Backpacker Hostel with a Vacation Vibe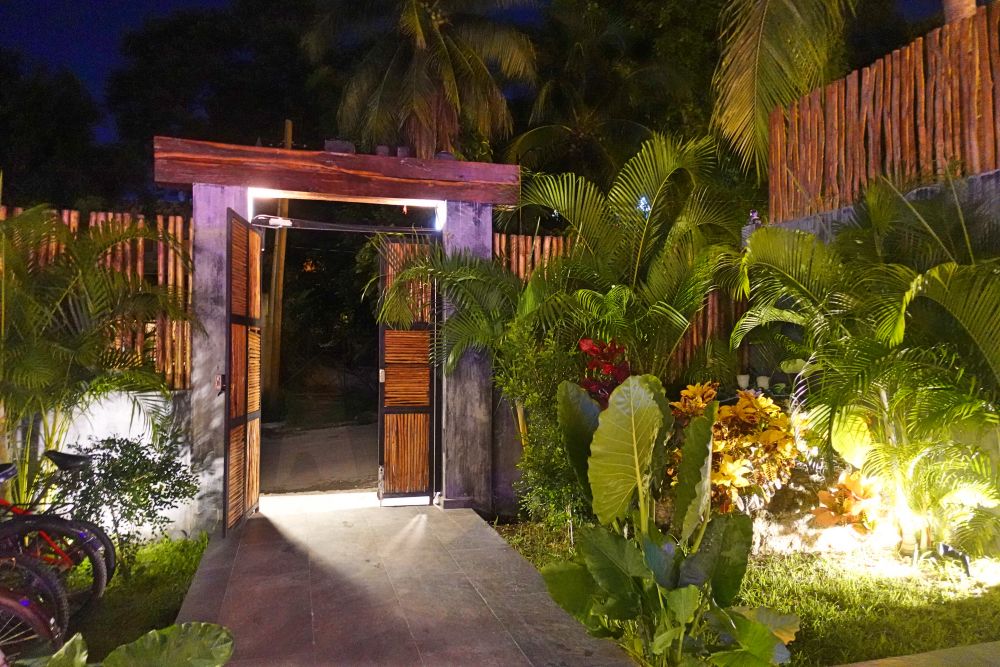 Che Bacalar Hostel & Bar is a treasure trove of design, both inside and out. As you enter the hostel, you're immediately surrounded by lush greenery, creating an atmosphere reminiscent of a meticulously designed villa. For your security, the doors are locked late at night, but all you need to do is ring the bell for access.
At Che Bacalar Hostel & Bar, Design Meets Nature Inside Out – Step into a Unique, Green Oasis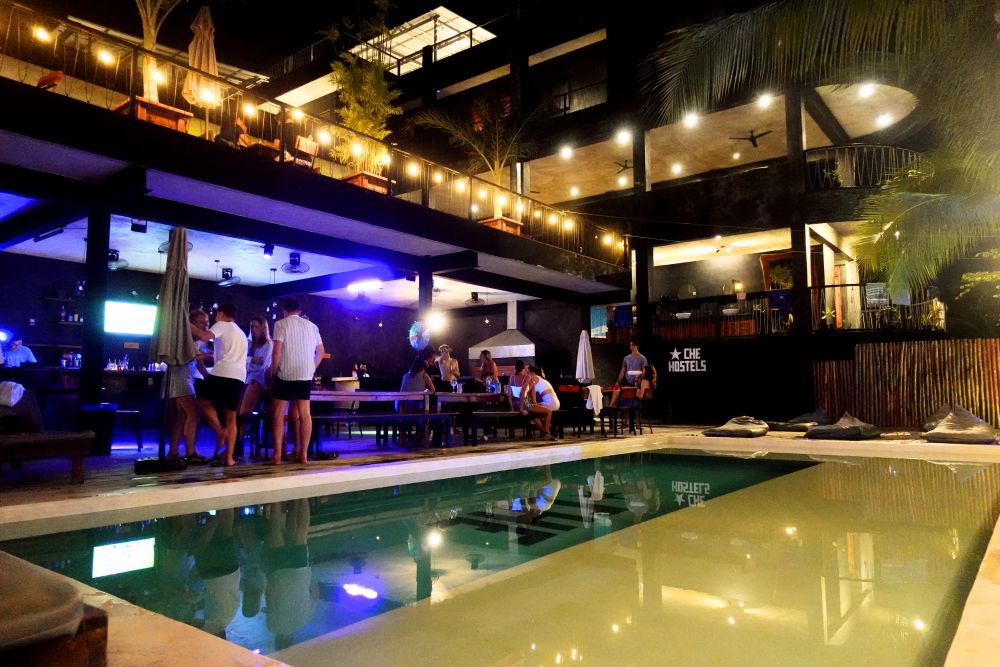 Right before your eyes, you'll find a massive swimming pool. When I arrived in the early evening, the adjacent bar next to the reception was already hosting a pool party. The pool area is beautifully landscaped with real palm trees and plenty of loungers and cushions for a relaxing time by the water.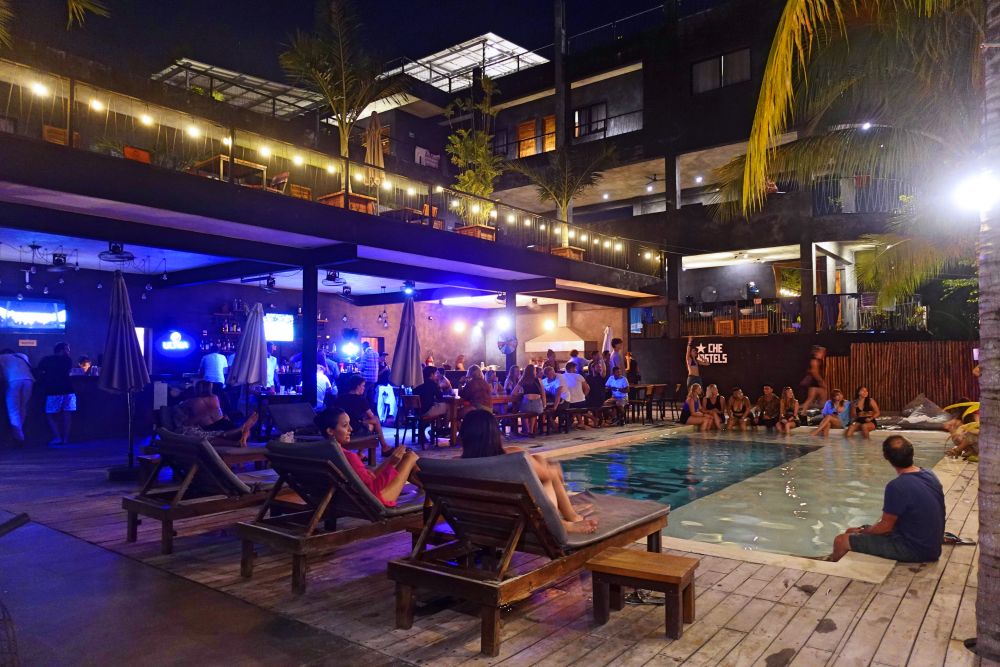 The previous image was taken after the late-night crowd had gradually dispersed. In reality, the night scene is like this: the pool and bar on the ground floor are open to the outdoors, creating a welcoming and open atmosphere.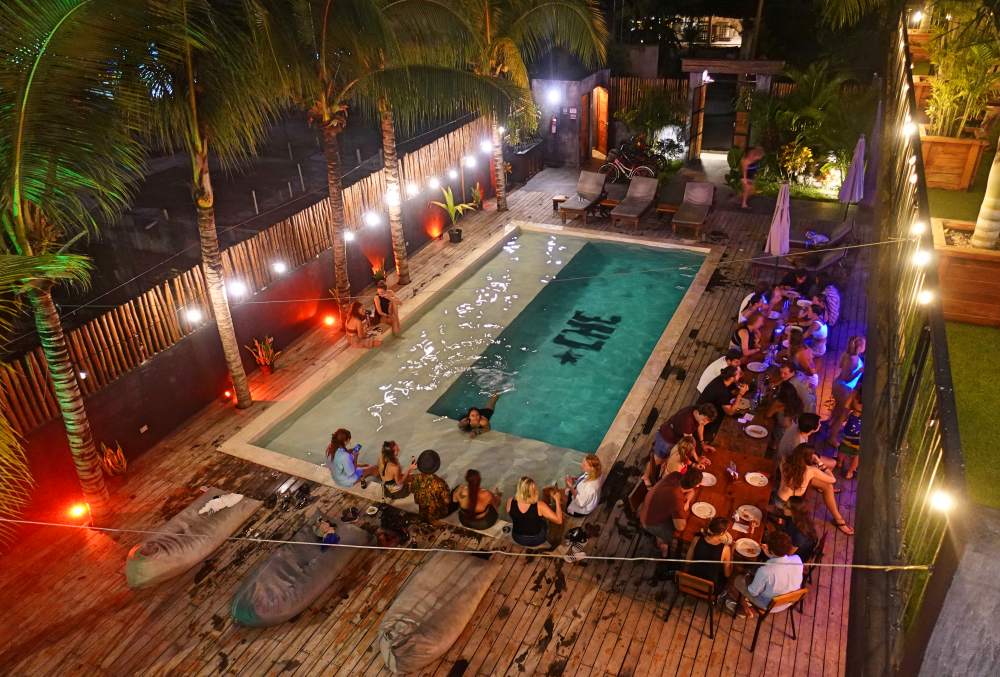 The pool has limited opening hours, typically closing around 10 PM, while the bar continues to operate until 11 PM. During my stay, I had a room on the third floor, and I was pleasantly surprised by the good soundproofing. I could rest peacefully in my room without being disturbed by the party music on the first floor.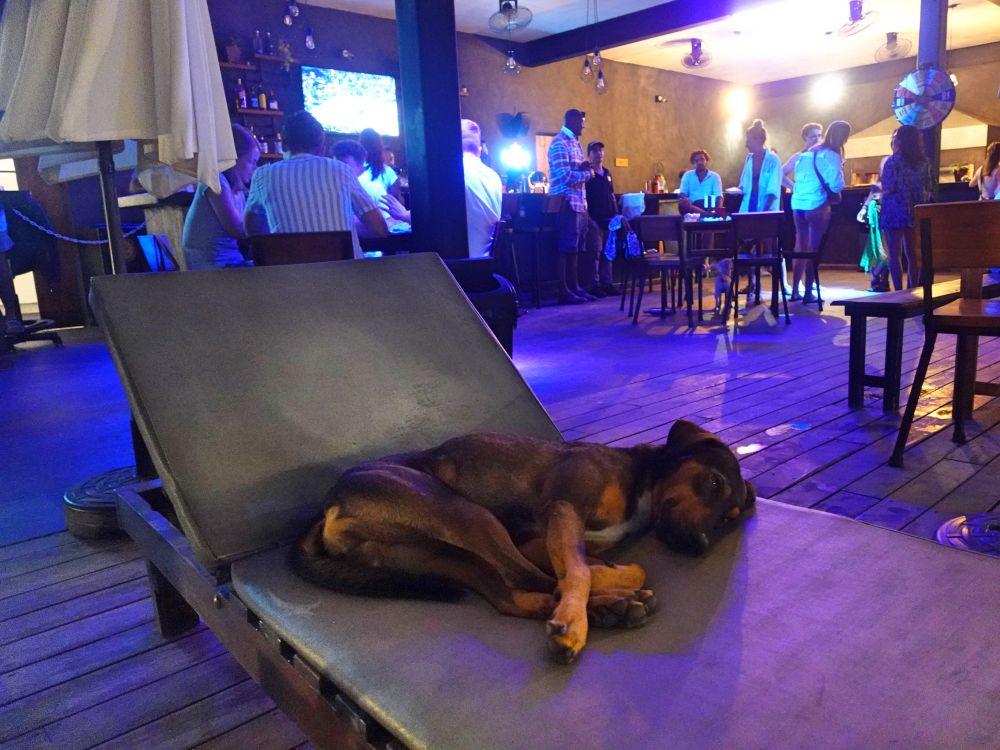 Inside the hostel, there are a few incredibly friendly dogs that love to roam around the bar area, playing and occasionally coming up to guests looking for attention or treats. At times, they even take it upon themselves to sprawl out on what seems to be the guest loungers, all with an air of nonchalant charm.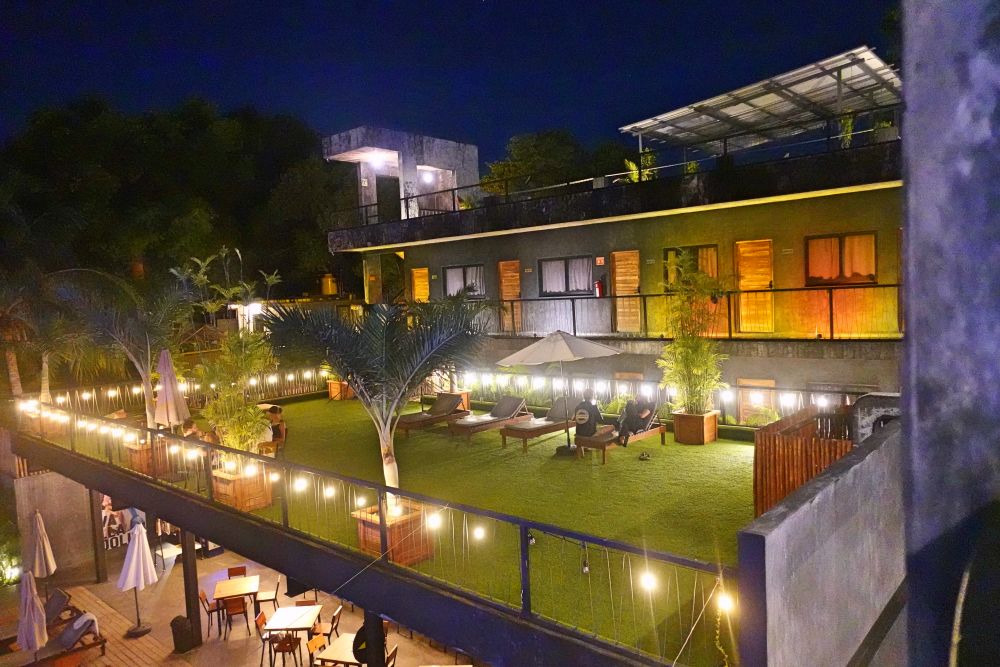 The entire hostel exudes a strong sense of design and is well-suited for long-term stays. Besides the pool, the second-floor spacious terrace is one of my favorite spots. It follows an open architectural design, providing a versatile space to lounge, sit, or simply roll around. While there's a posted opening hour at the entrance, it's not strictly enforced. In the late hours, even after the first-floor bar closes, you'll find many travelers still enjoying a drink and conversation on the terrace.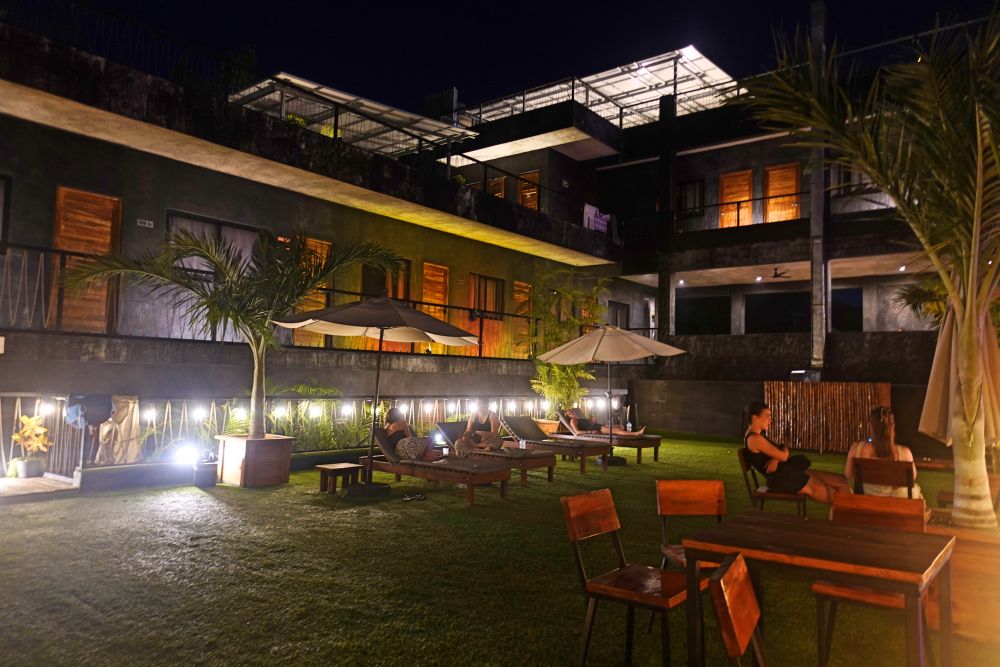 The artificial green lawn, surrounded by palm trees, loungers, and cushions, creates a vacation paradise ambiance.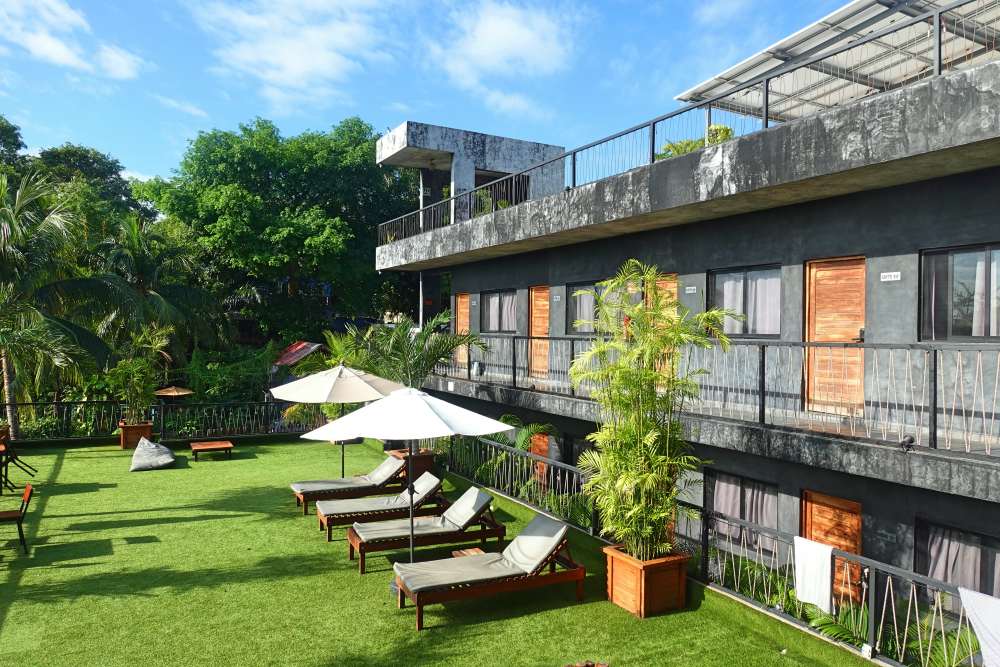 The terrace has a completely different atmosphere during the day and night. Staying here, I felt like I could spend the whole day at the hostel without any worries.
A Budget Backpacker Hostel for Only $10 a Night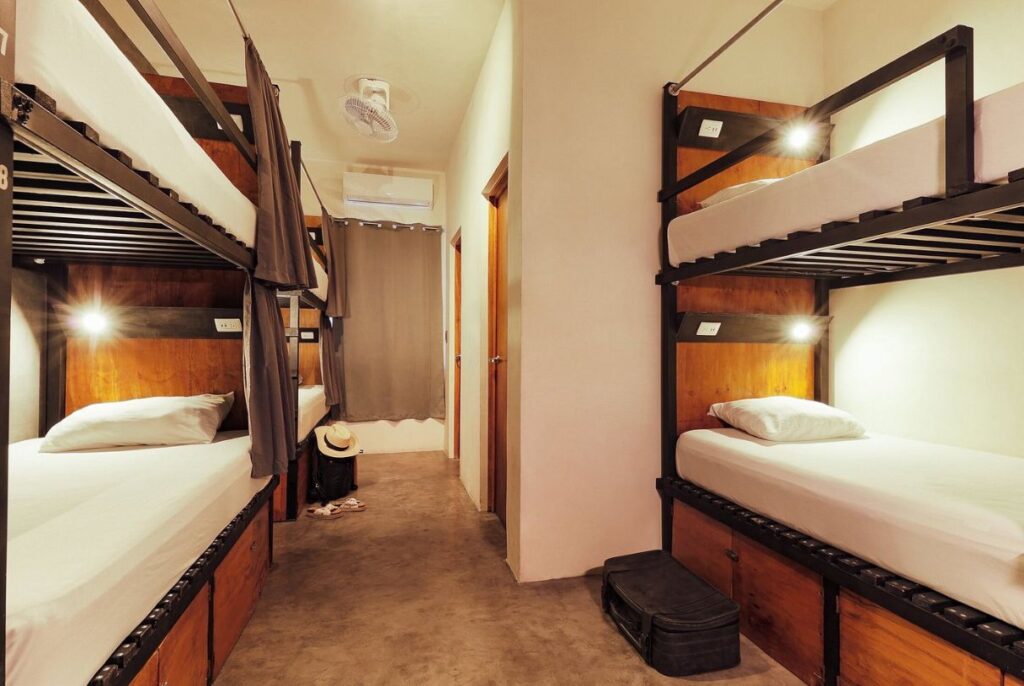 Che Bacalar Hostel & Bar offers a variety of room types, including both dormitories and private suites. The dorms come in two categories, mixed and female-only. During my stay, I opted for the 8-bed female dorm suite, which featured a private bathroom and shower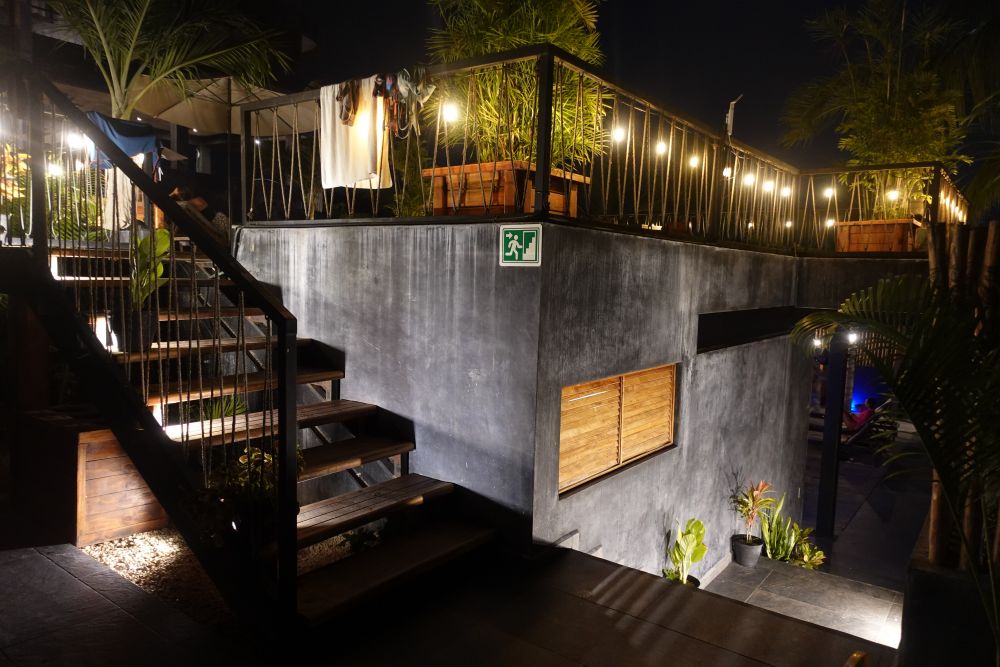 The hostel layout is very convenient, with staircases on either side of the first floor leading to the upper levels. Public spaces are interconnected, and the staircases are particularly spacious and adorned with greenery, reminiscent of a visit to an art gallery.
The lighting throughout the hallways is thoughtfully designed, ensuring a pleasant ambiance wherever you are in the hostel.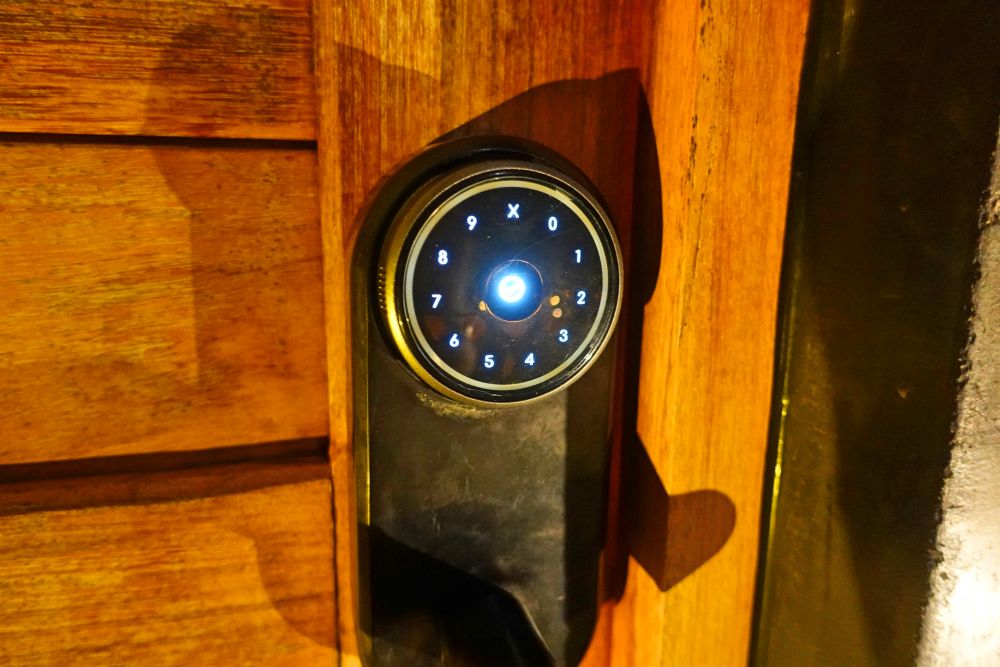 The female dorm suite is secured with electronic locks, while the 10-bed mixed dorms provide physical keys. Upon check-in, you receive a wristband that can be loaded with credit for purchases, and the consumption is deducted from it.
The staff guides you to your room, provides an introduction to the door lock and room basics. The electronic lock code is verbally shared, which might be a concern if you forget it. The circular electronic lock is touch-sensitive and responsive, allowing for quick access. Due to the language barrier, I didn't catch any specific instructions during this process.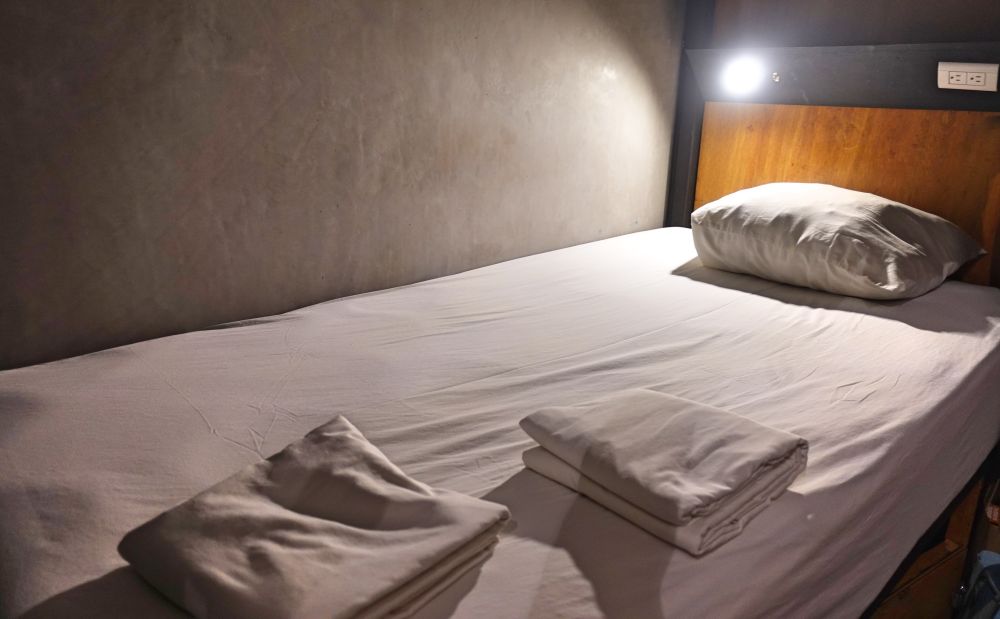 The mattresses are delightfully thick, striking a perfect balance between comfort and support. However, the thickness might lead to an occasional bump when sitting on the bed. Bedside lights and outlets are a welcome addition, and the storage space design is quite practical, making it easy to store charging cables and other small items.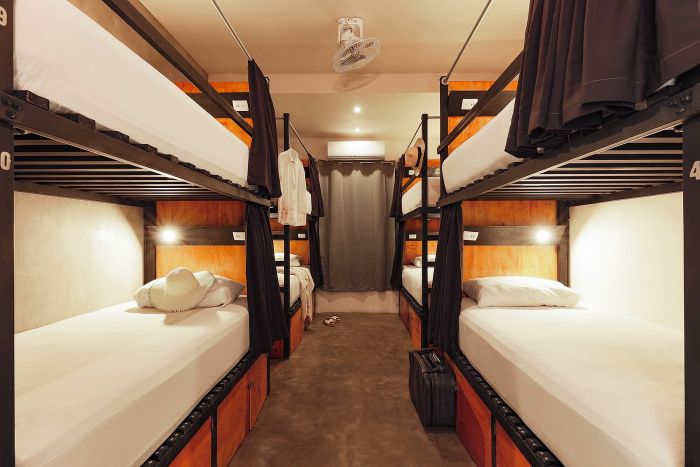 Underneath the beds, there's ample storage space large enough to accommodate suitcases, and it's designed with lockable compartments. Each bed also features a curtain, providing some personal space, even in mixed dorms.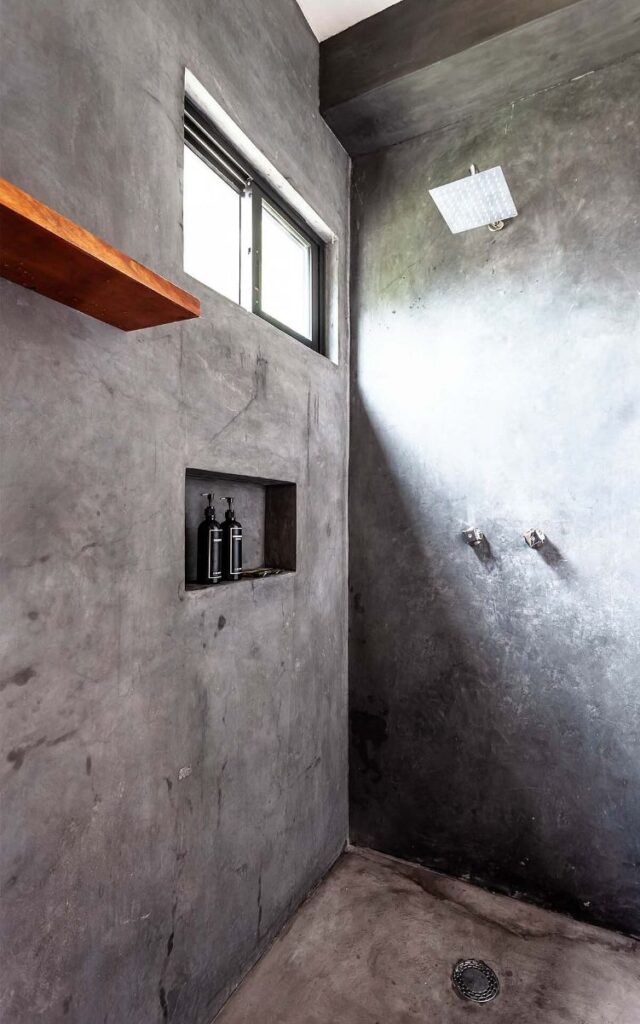 The bathroom has a stylish wooden and industrial design, with high ceilings that create a spacious atmosphere. The thoughtful inclusion of hooks and shelves enhances the functionality. There's a separate shower room and a toilet, each with its dedicated space.
The shelving might be a bit high for some, but the room's size ensures that your items won't get splashed during showers. The water pressure is excellent, but hot water may become a bit limited if you shower too late. The built-in niche shelves are a nice touch, making it easy to keep your toiletries organized. However, during my stay, I noticed many long-term guests leaving their items in the bathroom.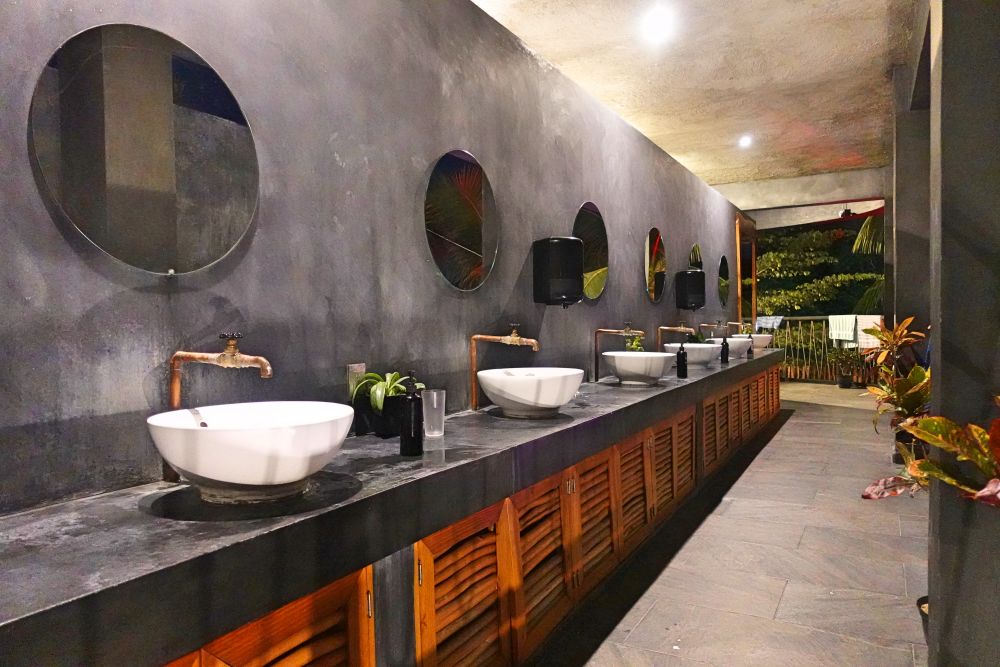 Another type of mixed dormitory has bathroom facilities located outside the rooms. Each side features seven separate toilets and seven individual shower rooms, with a sink area in the middle. The abundance of sink stations means you won't find yourself waiting for your turn.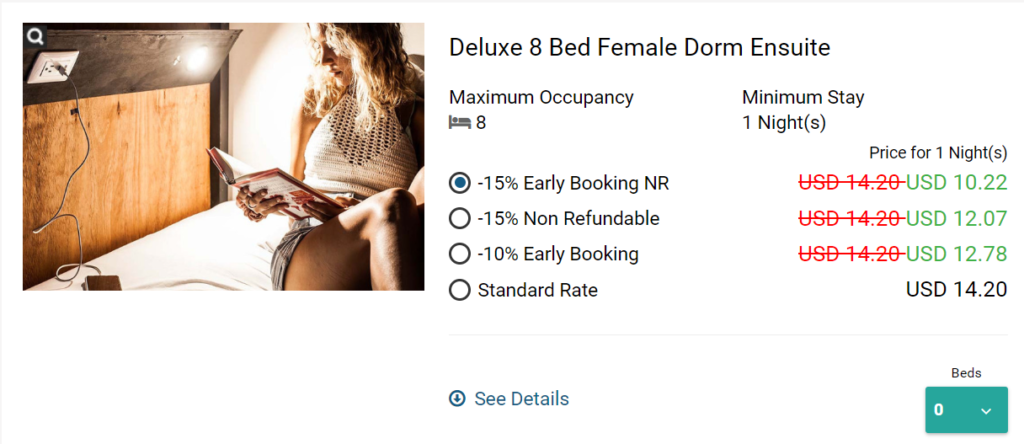 Since I inquired about room availability on the spot, I paid 681 Mexican pesos in cash (equivalent to US 39). Later, I discovered that my classmate, who had booked two nights in advance on Hostelworld, paid only half of what I did! It turns out that booking on the official website about a week ahead could have secured a one-night stay for as low as $10. The price difference was threefold, which was a bit disheartening.

If you choose to book in advance and opt for the 10-bed mixed dorm room type, you could secure a stay for less than $9!
Recommended Nomad Lodging – Spacious Accommodations Beyond Expectation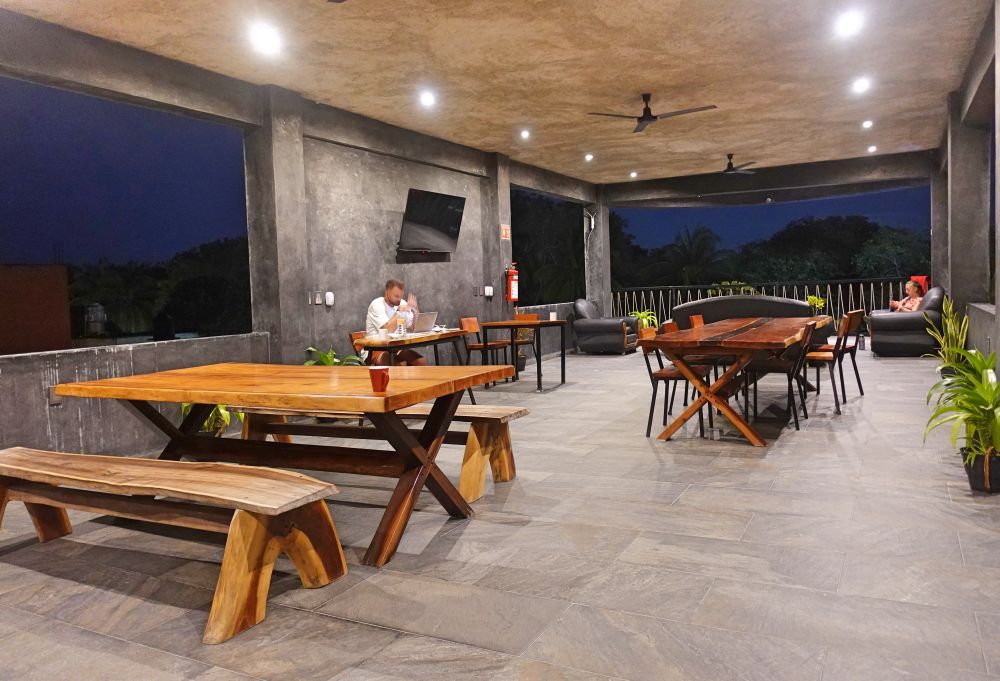 In addition to the aforementioned pool and terrace, there is also a communal kitchen and relaxation area on the third floor. Charging outlets are conveniently available throughout, making it easy to find your favorite spot to set up your remote office.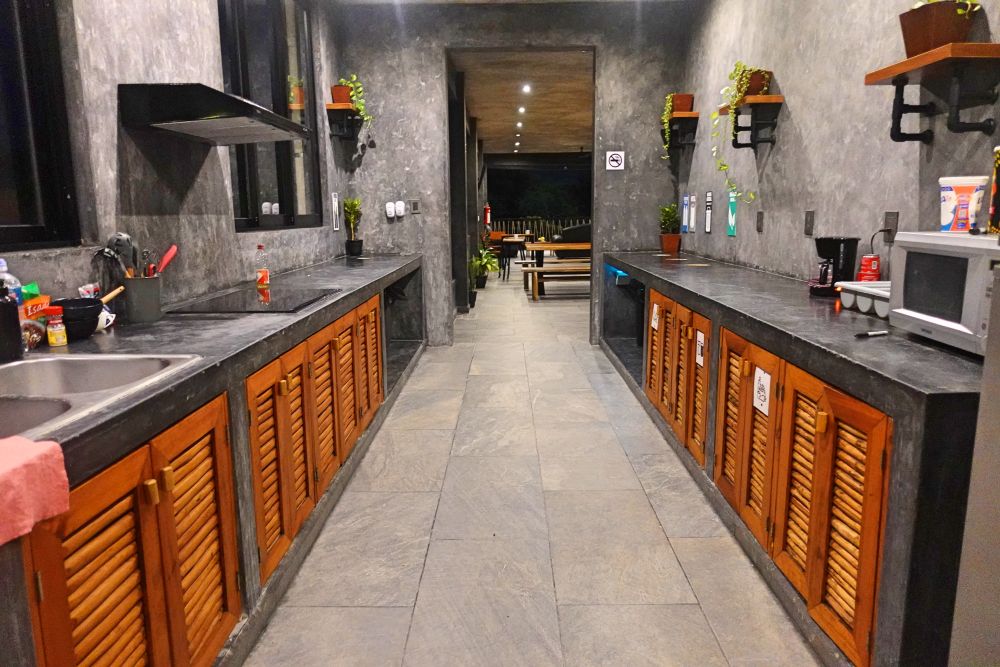 The spacious bar in the communal kitchen area features two large refrigerators that are often fully stocked, indicating a good number of guests staying for an extended period. You'll also find a microwave and stovetop, allowing you to purchase local ingredients and prepare your own meals.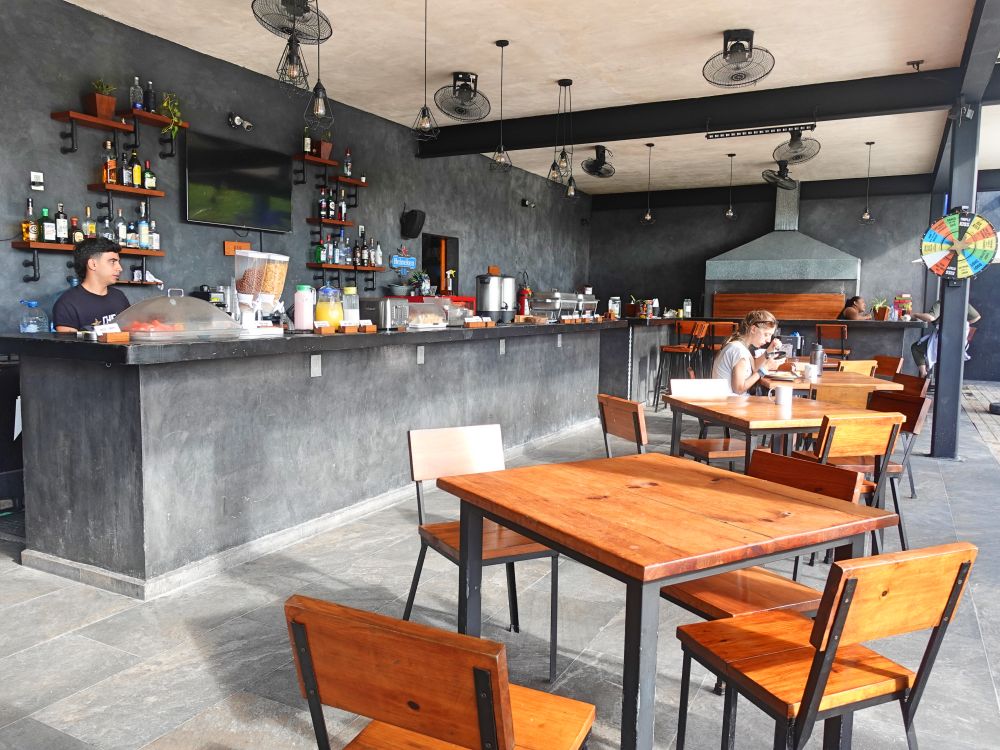 During the daytime, the bar transforms into a self-service breakfast counter.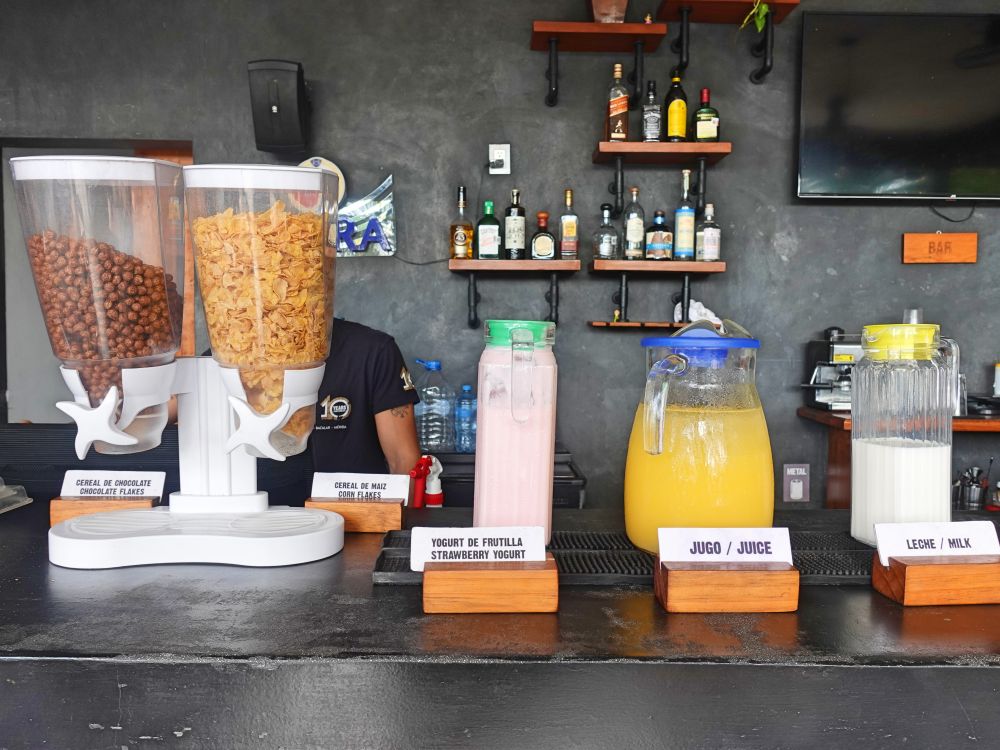 They offer a self-serve breakfast option in the morning, along with complimentary yoga sessions. Since I didn't have the chance to experience this part, I can't provide further details.
Is Che Bacalar Hostel & Bar Worth Staying at?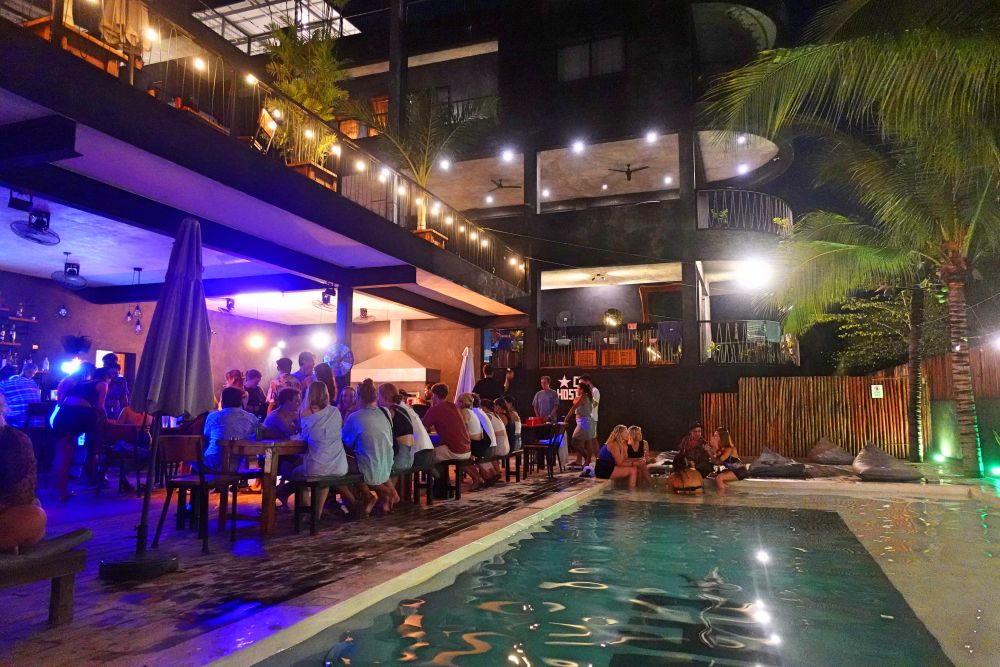 I've stayed in bar-style hostels before, but having such a large swimming pool and such thoughtful overall design is a first for me. The rooms and bathrooms have been designed with the customers in mind. In the past, whether in Taiwan or abroad, I've always enjoyed staying in backpacker hostels. Besides being budget-friendly, the main reason is that when I stay in a single room, I tend to overthink things. Staying in backpacker hostels allows me to meet friends from all around the world.
Che Bacalar Hostel & Bar hosts different themed events almost every night, but the soundproofing and timing control in the rooms are excellent. Therefore, even if you're not a fan of a lively atmosphere, you won't be disturbed in your room. In my next post, I'll share my disappointing backpacker accommodation experience in Playa del Carmen, where the parties went on until 3 am every night, and you could hear 50% of the music inside the rooms. It's not suitable for a hostel experience.